NOTE: Some of the things we want you, our readers, to walk away with at the end of the month are not only wonderful inspiration and new thoughts from the many articles you will read that may apply directly to your marriage, but some fun and tangible ideas for spending (and making) quality time with your spouse. Today's article brings you a glimpse into some of the great ways you both can reconnect. If you haven't already, be sure to check out our month-long date night link-up for other great idea.
~ Jen @ Enter Under My Roof
——————–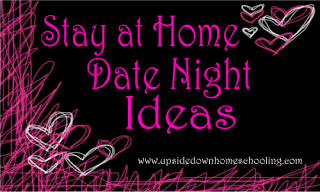 Date nights are a vital part of every marriage.
Actually being able to afford a date night and/or being able to find a sitter is another story.
Satan knows date nights are important and that's why it's often so hard to make it happen. Our marriages can not afford to skip out on date nights though.
So you can't afford to go out?
No babysitter available?
That's okay, have a stay at home date night!
Here are ten fun and inexpensive ways to have a date night with your spouse without ever leaving the house.
Put the kids to bed early and cook a nice dinner together. Pull out some candles and have a candlelight dinner.
Instead of going to the movies, stop by your local Redbox and pick a movie you'll both enjoy. Cuddle up on the couch and have a movie night!
Pull out a favorite board game and challenge your spouse to a showdown.
After the kids are in bed, grab a blanket, head outside and stargaze. Use this time to talk and reconnect after a long day.
If you have a child who is old enough to watch the younger children for a short period of time, grab your husband go out for a walk. Hold hands, chat, laugh, enjoy a few minutes together.
Have a date morning instead of a date night. If schedules allow, wake up an hour before the kids. Fix some coffee and head outside together to watch the sunrise and talk about the upcoming day.
Send the kids to bed early (one night a month won't kill them!) and have a romantic picnic on the living room floor. Candles, romantic music, really set the tone.
Find a hobby you both enjoy and can do together at home: cooking, art, music, etc.
Pull out photo albums. Browse the photos together and reminisce about the time you've spent together.
After the kids are in bed…and ASLEEP, enjoy a bubble bath together. Relax and enjoy the company of your spouse.
——————–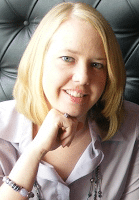 Heather Bowen is a homeschooling mom of two sweet girls and a wife to her best friend. She lives in southeastern NC where she spends her days writing, laughing, striving to live for Christ while loving the life she has been given. You can find her blogging at Upside Down Homeschooling and she will be launching a new blog, Spiritually Mismatched Marriage, later this summer.
——————–
(Visited 177 times, 1 visits today)