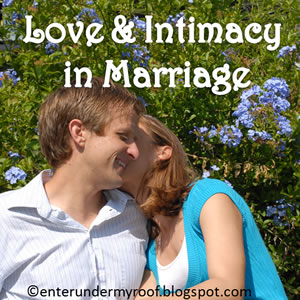 If someone asked you to define love
and intimacy, what would you say?
There
are many different definitions that could be used to describe these powerful
words. A group of professionals surveyed
young children on the definition of love and here is what a few of them had to
say (source unknown):

"When my grandmother got
arthritis, she couldn't bend over and paint her toenails anymore, so my
grandfather does it for her all the time, even when his hands got arthritis
too. That's love…" (Rebecca, age 8) "When someone loves you, the way they say your
name is different. You just know that
your name is safe in their mouth." (Billy, age 4) "Love is when you go out to eat and give somebody
most of your French fries without making them give you any of theirs." (Chrissy,
age 6)

Children are so adorable, aren't
they? Many of you are probably laughing
and smiling at their cute comments, as am I.
At the same time, however, I am struck at their ability to get it right. The above definitions of love include
humility, service, safety, and sacrifice.
I would say that those are very good words to describe love. In addition, St. Thomas Aquinas says that, "to
love is to will the good of the other" (Wenderski, 2001). The bible adds other important words to the
definition of love. In 1 Corinthians 13:
4-8, the verses state that, "love is patient, love is kind. It does not envy,
it does not boast, it is not proud. It
does not dishonor others, it is not self-seeking, it is not easily angered, it
keeps no record of wrongs. Love does not delight in evil but rejoices with the
truth. It always protects, always
trusts, always hopes, always perseveres.
Love never fails."
In my own personal definition of
love, I would add that to love our partner in marriage means to strive for the
kind of humility that allows ourselves to take an honest look at what is
holding us back from "willing the good" in one another and being open to
working towards overcoming those obstacles.
Many couples whom I know personally, who desire more love and intimacy
in their marriage, get stuck in a blame game.
"It's her fault, if she would only stop criticizing me." Or "It's his
fault, if he would come home from work on time and help out more around the
house and with the kids." Of course this
blame comes naturally, as we are only human… but the question is, "Do YOU want
the type of love that will last a lifetime and are you willing to do what it
takes to build that in your marriage?"

I can imagine many of you saying,
"Yes, of course!"…and then thinking, "Well, what exactly would that mean?" I believe that a good place to start is to
ask ourselves these three questions:
Am I accessible to my partner? (Are you present emotionally, physically, and
spiritually to your partner?)
Am I responsive to my partner? (Do you hear your
partners needs and respond positively to them?
And am I positively emotionally engaged with my
partner?" (Do we feel safe, confident, and comfortable with one another?)
(Questions are adapted from the ARE
Questionnaire of Dr. Sue Johnson 2010, and are expanded on by me, Mary E.
Jimenez, MA, LMFT).

If the answer to any of these
questions is no, then I encourage you to ask yourself why. Some of you will be able to answer these
questions with ease and be open with your partner about them. Others of you may find yourself wanting to
take a look at the questions and answer them honestly, but you may have
difficulty in doing so. This makes
sense. To do this requires an immense
amount of humility and an ability to allow ourselves to be vulnerable. In order to be vulnerable, we need to feel safe. Many of us, due to past hurts, have closed
ourselves off to being vulnerable as a way to protect ourselves from being hurt
again. We remain guarded and defensive,
even in the arms of the ones whom love us the most. But what if your partner and you were able to
feel completely safe in one another's presence, to have a deep love and
intimacy with one another? What if
you were able to share with each other what your innermost emotional and
intimate needs are, and to be able to trust that those needs will be met? Surely this is the kind of love that our Lord
presents to each one of us and I believe that it is the kind of love that He
would like us to have in our marriages.
If you find yourselves having a
difficult time answering the above three questions, I encourage you to reach
out to your pastor or even a Marriage and Family Therapist, both of whom could
help to provide a safe space for you to explore these questions with your
partner and to work towards having an even more intimate and love filled
marriage with one another.
References:
——————–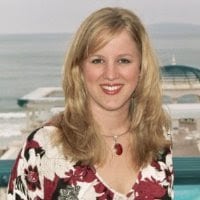 Mary
E. Jimenez has been married for five years and is a mother to a four month old
baby boy. In addition, she is a Licensed
Marriage and Family Therapist working in private practice. Mary's personal mission is to help
individuals, couples, and families reach their full potential in meeting goals,
attaining a healthy and balanced lifestyle, and gaining the skills necessary to
become the person or people they feel they are called to become. Mary believes
in the healing power of community and healthy relationships in one's life. She
strives to create a safe space where clients can explore and work through
issues that may prevent them from having these positive things in their lives.
Mary earned her Bachelor of Arts Degree in Psychology with a Minor in Theology
and a Certificate in American Humanics from Rockhurst University in Kansas
City, Missouri. She received her Master of Arts Degree in Marital and Family
Therapy and a Certificate of Advanced Study in Pastoral Care and Counseling
from the University of San Diego. For more information you can contact Mary at:
www.sdicouples.com
.
——————–
(Visited 187 times, 2 visits today)