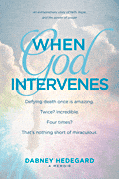 The story of When God Intervenes by Dabney Hedegard is an amazing story of one woman's 10-year journey through disease and complications – and the personal role God played in bringing her back from the edge of death each time. Dabney was diagnosed with cancer just after finding out she was pregnant, and this is her story of the challenges, decisions, and faith that she went through.
In reading this incredibly heart-felt book, I can tell you – I was in tears by page 17, laughing by chapter 2, and praying with her nearly every step of the way. Dabney has an easy-to-read writing style, and her vulnerability and strength are evident on each page. She is a fighter who, with the strength of her family, friends, and faith, shows us that miracles do happen!
I was most impressed by the strength of her faith. Each time her medical journey hit another challenge, she still came back to understanding (though at times she admitted it was hard!) that it was in God's hands and not her own. The faith her husband, Jason, has is also beyond remarkable – I've found myself trying to develop the kind of relationship with God that he so clearly finds comfort in.
I would recommend this book to cancer survivors, those in need, faith and faith-less, mothers, and anyone in the medical field. It's a wonderful story that – truly – shows God's hand in our lives!
Have you read the book? I'd love to know what you thought of it! (It will be released for the Kindle soon, too.)

——————–

Overall Rating: 4.5 out of 5

Return to Main Book Club Page

——————
Note: Tyndale House Publishers has provided me with a complimentary copy of this book.
This post also links up at Catholic Carnival & CBN.
(Visited 97 times, 1 visits today)