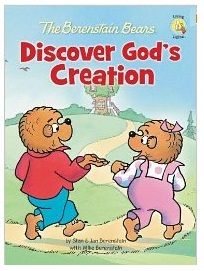 As children, we grew up reading The Berenstain Bears and I'm only too happy to share them with our son. …well, except The Berenstain Bears and the Spooky Old Tree. Remember that one? It still gives me goosebumps.
This book tells the story of the young bears who would rather stay inside watching TV than be outside exploring all that God has created. Mama Bear, who is clearly up on her parenting skills, limits their TV time and takes away the remote. The story quickly moves into all the wonders they find outside.
I like the story as it provides multiple lessons…not only is there an entire world to explore outside, but it incorporates God into our everyday reading time.
We also made a few great "discoveries" of our own when we decided to discover God's creations on our own! Check out our adorable handprint crab (and other God's Creation projects) that you can make at home to help reinforce the ideas in this book.
——————–
Overall Rating: 5 out of 5
Recommended Age: 4-7 years old
Return to Main Book Club Page


——————



(Visited 386 times, 2 visits today)