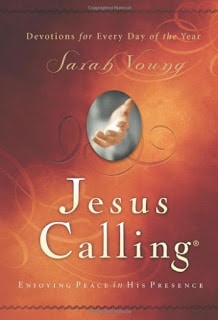 For my birthday, I received a daily devotions book from a sweet friend. I hadn't never had one before, so it was a lovely surprise!
The book, Jesus Calling: Enjoying Peace in His Presence by Sarah Young, provides 365 days of short readings followed by scriptural references which you can follow for additional information. Sarah's inspiration for this book came from an experience she had while reading God Calling, a book by two anonymous "listeners" who patiently waited quietly in God's presence and recorded the messages he sent them. Sarah felt called to do the same, and – after making herself available to His presence – recorded each of the daily messages He sent.
The book is therefore written in the first person, as if Jesus were speaking to you. It's amazing the comfort this instantly brings – it is as if He were sitting with you, speaking to you just as a friend would. I spend my quiet time in prayer each night before bed, and this book has become a staple in that nightly routine.
For me, it is a very strange intimate feeling as each reading somehow ties itself perfectly into the day I've just experienced, or a problem I'm running into, or a solution I'm trying to find. Most recently, I had been struggling with too many thoughts. It's so easy for me to get tightly wound up and lose myself in the dizzy circles I create (someone please tell me I'm not the only neurotic one out there that does this). I was having an especially crazy day, and the reading for that night read: "The peace that I give you transcends your intellect. When most of your mental energy goes into efforts to figure things out, you are unable to receive this glorious gift. I look into your mind and see thoughts spinning round and round, going nowhere, accomplishing nothing. All the while, My Peace hovers over you, searching for a place to land. Be still in My Presence, inviting Me to control your thoughts." I can't even begin to tell you how many times the reading for the day ends up being directly applicable to the day I just experienced.
I highly recommend this book for anyone looking to add a bit of devotional time to their daily prayer. The calming meditations within the book help center and steer you where you need to be. The high gloss pages, sturdy board cover, and ribbon bookmark will last for many years to come.
——————–
Overall Rating: 6 out of 5 <–yes, it's that good
Return to Main Book Club Page


——————
(Visited 355 times, 1 visits today)