IGNITES JULY 1, 2013
Love the message of this ministry? We do, too. Help spread the word of Hot Summer Nights to couples everywhere…you never know when the right message will end up in the hands of someone in need.
Share with your Parish and Friends

download our flyer for insertion in your parish bulletin, church bulletin board, or just about anywhere
Post in your Blog (& download the graphic below)

sample message: Marriage – it's one of the greatest gifts we've been given, yet – sometimes – one of the things we take most for granted. This July, spend 30 Hot Summer Nights with us as we bring you a different article each day focused on real life marriages, passion, love, and faith. Need some ideas for a romantic, fun, silly, thoughtful, or impromptu date night? Visit our Date Night Idea Linkup, where you'll find a ton of ideas for celebrating with your partner. Check back all month long, as new ideas will be posted each day. Visit: http://goo.gl/8bej8
Share on Facebook (& download the graphic below)

access our Facebook page to share the day's latest article
use the hashtag #hotsummernights when sharing!
Add to Pinterest

graphics within each page and post have the PinIt Button embedded to make sharing easy
access our Pinterest "Hot Summer Nights" page to share our pins
pin the "Hot Summer Nights" graphic (below) for full access!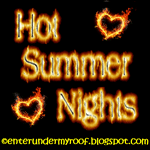 Post to Google+ (& download the graphic below)
Add a button to your Blog

<a href="http://faithandfabric.blogspot.com" target="_self"><img src="https://faithandfabricdesign.com/wp-content/uploads/2013/05/Logo3-150.png" alt="Faithandfabric" width="125″ height="125″ /></a>
(Visited 89 times, 1 visits today)