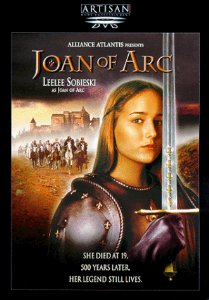 This year, to celebrate the feast of Saint Joan of Arc, hubby and I will be watching Joan of Arc (the 1999 version staring Leelee Sobieski). We watched it many years ago – not long after it originally came out – and are looking forward to again having an opportunity to witness the amazing story of a 19 year old warrior for God. We are always open to learn more ways to celebrate, so if you have a favorite way, let us know.
Joan of Arc is amazing to me in so many ways. Think of all that she was – a teenager, a girl, a peasant…and what she became – a leader, a seasoned soldier, a martyr. Her spirit and drive is nothing short of a miracle.
So, this May 30th, we'll be having a glass of French wine and celebrating the feast of Jeanne d'Arc with Family Movie Night. The little man, who probably won't be that into the movie (Elmo is more his style), will be coloring these amazing (and free!) printables from Catholic Heritage Curricula.
(Visited 219 times, 1 visits today)