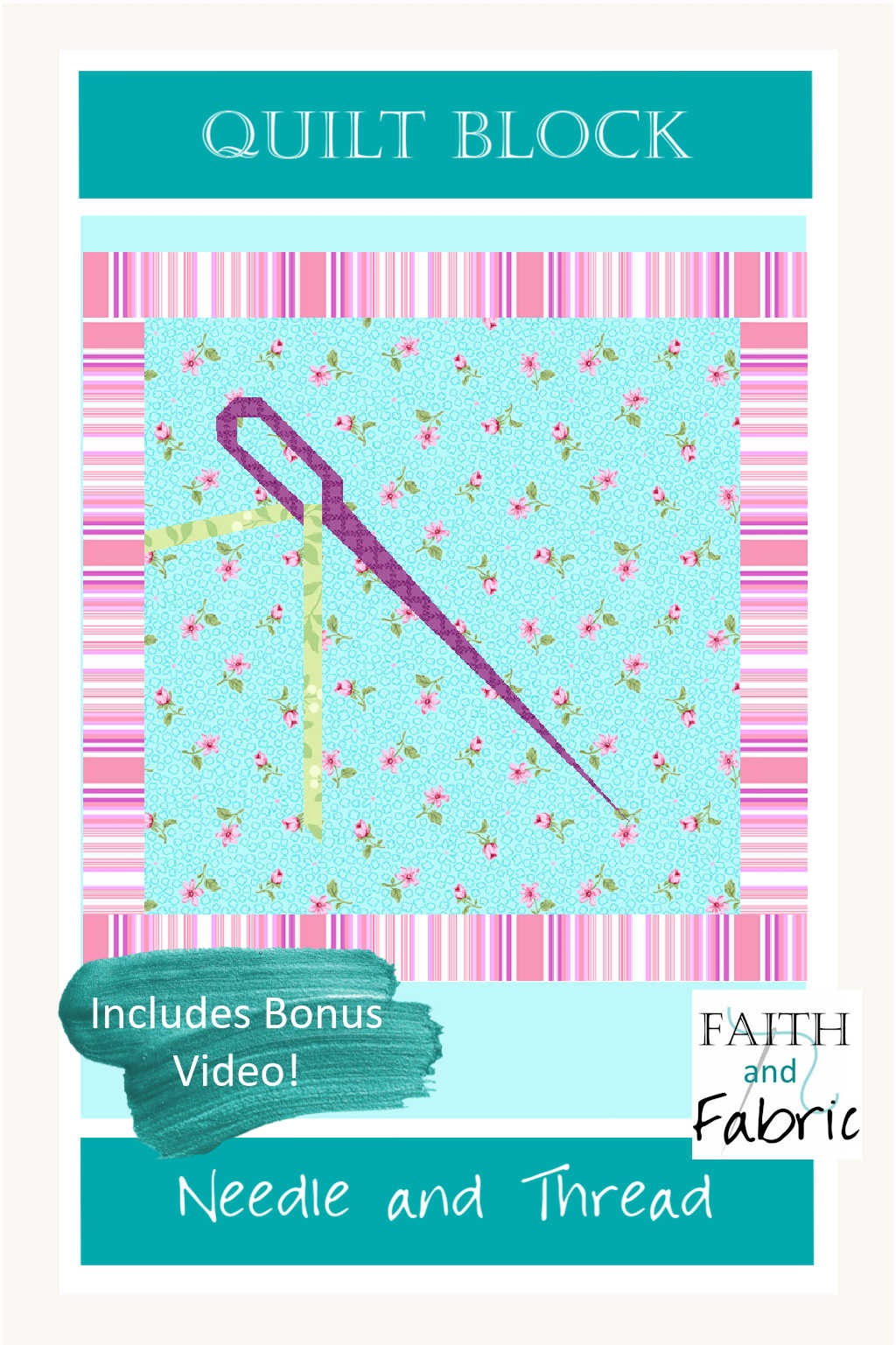 Welcome back to Faith and Fabric! It's been a while since I've had the chance to share my spool of thread block with you as part of the Sew Much Fun tour, and I'm glad to see you here again 🙂 As you know, this year's Quilt Around the Block theme is Sew Much Fun, which means we'll be quilting 6″x6″ blocks that are all sewing themed. This fun QAL is hosted by Kathryn LeBlanc of both Dragonfly's Quilt Shop and Block of the Month...you can pick up her block here if you haven't already, but be sure to register at the main Quilt Around the Block Tour page so you don't miss a thing!

We're up to week 25 – my week – and I'm excited to share a needle and thread quilt block with you! Now you all know I LOVE foundation paper piecing, so this block is FPP'd. Since my last contribution to this quilt along was a spool of thread quilt block which you can see here, it seemed only fitting that the needle and thread be the next block I create 🙂
This little block was created using those same gorgeous fabrics as I used for the spool of thread: Rose Whispers from Eleanor Burns for Benartex. These gorgeous vintage prints are honestly some of my favorites. It even had this ultra light purple that works as a silver/gray tone for the needle. Win win!

If you're new to foundation paper piecing, or just need a refresher, no problem! I've prepared an in-depth video taking you through all the basics…and even an advanced tip or three thrown into the mix:
Ready to download your simple needle and thread block? Great! To pick up a basic copy of the FPP pieces, as well as how to assemble them, enter your information below and you'll automatically be sent the "mini pattern". I'm calling this a "mini pattern" as it's just the basics for making the block as shown above, as opposed to our full pattern as shown below which includes the pattern pieces for both the spool of thread and needle, as well as the secondary pattern for each block, fabric requirements, border, ideas for layout, coloring pages, and more!

I look forward to seeing how your block turns out, so be sure to tag me @faithandfabric on both Facebook and Instagram! Also, be sure to head over to see the past few weeks with Week 24 at Quilt Fabrication, Week 23 at Rona the Ribbiter, and Week 22 at Orange Blossom Quilt Designs. It's going to be a fun year!
(Visited 1,269 times, 4 visits today)