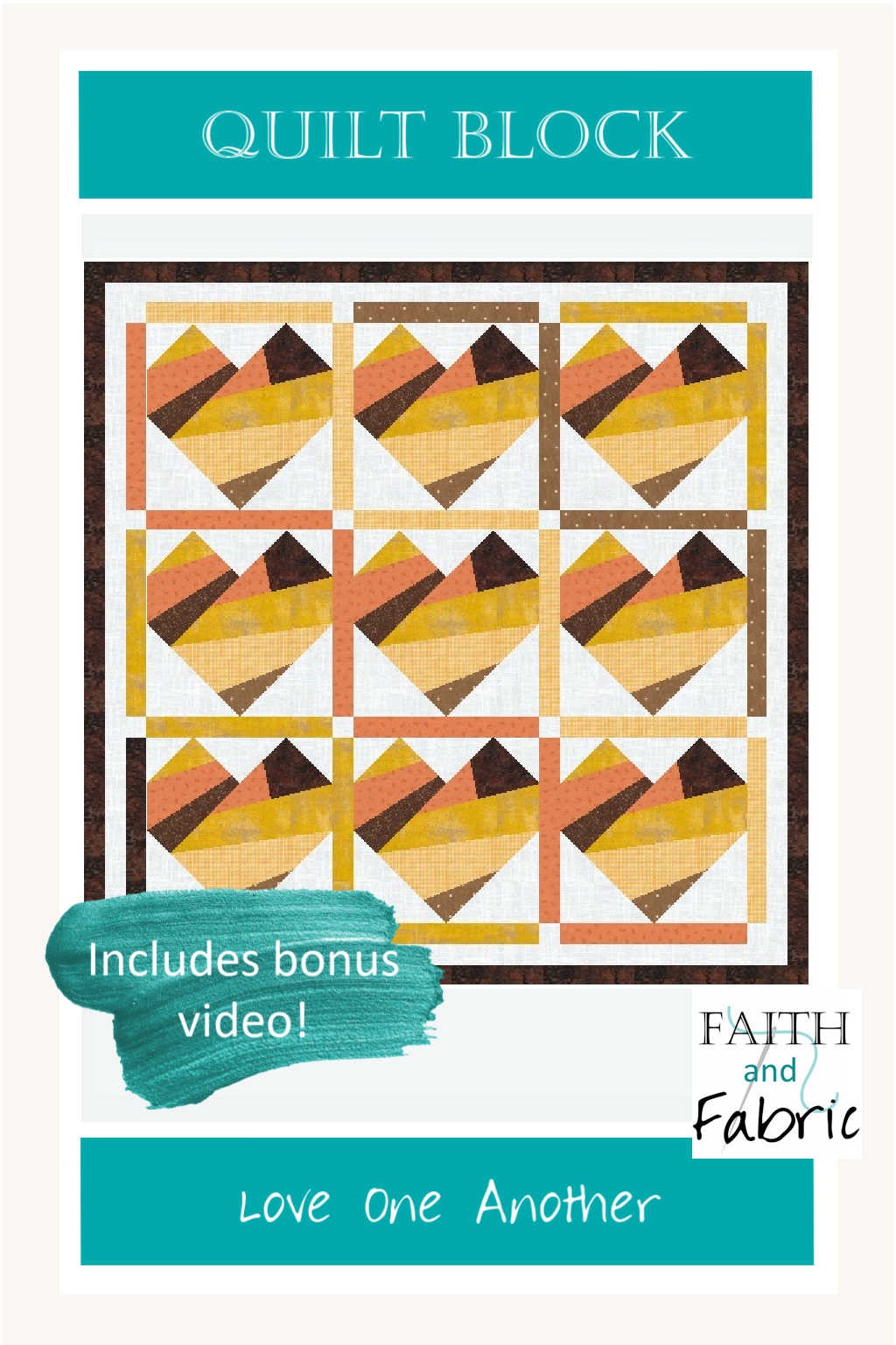 Welcome to Quilt Block Mania, and welcome to Faith and Fabric! I'm Jen, and here you'll find Christian-inspired quilt patterns, quilt bocks, and fabrics. If you're new here, I invite you to stick around for a bit, or even learn a little more about Faith and Fabric here.
This month's block is themed "international", and we were each left to interpret it however we wanted. I wanted to something that expressed each of us globally *and* something from scripture (this is Faith and Fabric after all!). "I give you a new commandment: love one another. As I have loved you, so you also should love one another." (John 13:34) . We are called to love one another, no matter how different, no matter how similar. We can disagree, and we will, but we do so with kindness, understanding, respect, and love. I hope you enjoy the full devotion in the pattern itself.
Speaking of love, I know you're going to love the blocks from these amazing other quilters:
Holland Windmill by Carolina Moore
Dutch Mill Tulips by Perkins Dry Goods
International Airport by The Quilted Diary
Three Amigos by Heidi Pridemore
Making Memories by Blue Heron Quilting
World's Fair by Blue Bear Quilts
Highlander by Orange Blossom Quilt Design Studio
Love One Another by Faith and Fabric
International Space Station by Duck Creek Mountain quilting
Friends by QuiltFabrication
World Trip by Patti's Patchwork
Hollyhock Flower by PhoebeMoon Designs
Olympic Rings by Slice of Pi Quilts
All Together Now by Inquiring Quilter
Butterfly Block by Oh Kaye Quilting
Coming Together by Cotton Street Commons
Friends Around the World by Appliques Quilts and More
Greek Cross by Mom and Me Quilting Co
Caracalla by Pretty Piney Quilts
Walking Together
Mystery Quilt: The Kids
In creating this block, I played with what I'll loosely call "flesh tones". I used fabrics that ranged from light tan to deep brown, some yellow hues, and some red. Together, we – in our uniqueness – are all part of God's family, all part of his heart.
This block comes together so quickly, and I really appreciate the improv look it has. It's actually foundation pieced, and creates the most lovely repeating pattern, doesn't it? I used the same colors in the block to create a basic border that plays up the scrappy look. It has fall vibes, don't you think?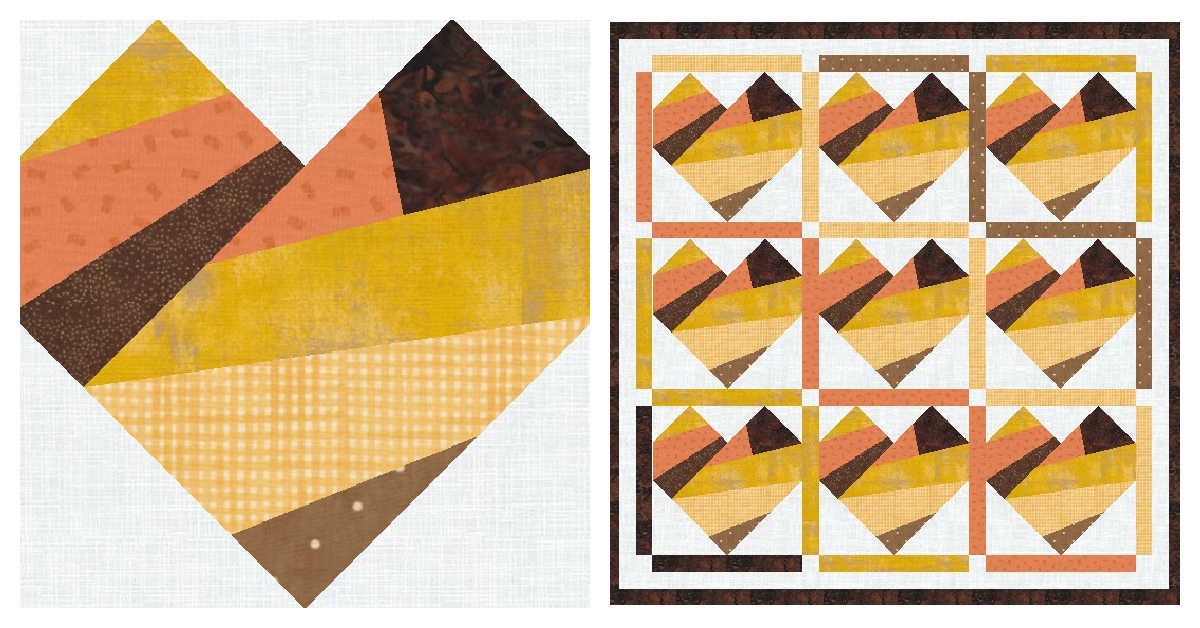 If you want to go for more of a summer feel, you can replace the warm tones with cool hues – this simple change makes an entirely different quilt!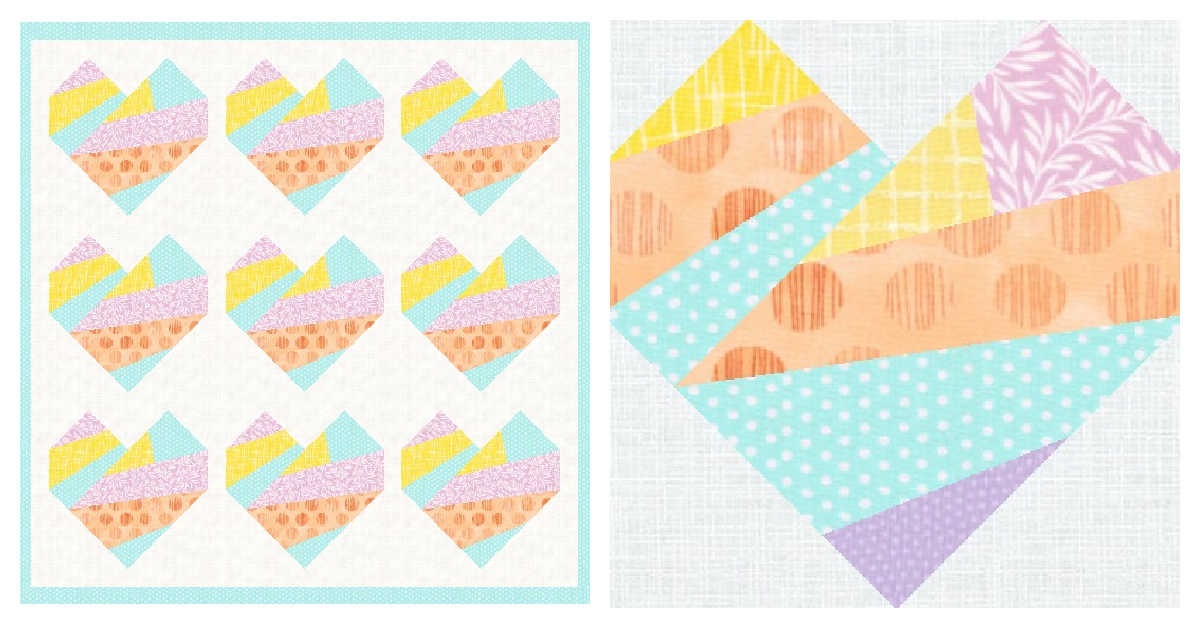 Have you been following along our weekly free motion tutorials? Here's all the free motion designs we've done so far. The hearts we've been working on this and last week would be perfect for quilting into the negative background space!
This block is free this month as part of Quilt Mania, but will be added to our list of Scripture Quilts™ patterns come month end. Until then, you can download this block for free by joining our semi-monthly newsletter:
This bock is foundation paper pieced, so if it's been a while since you've foundation paper pieced, no problem! Here's a quick tutorial on how to foundation paper piece. It uses the Easter Chicks quilt block, but the process is 100% the same:
One of my latest obsessions is to turn my quilt blocks into pillows! This heart quilt block pattern would make gorgeous toss pillows year round, don't you think ? Using some of the extra fabric you have on hand, you can add some sashing and have a great envelope pillow that you can use year round…and re-cover whenever needed 🙂
Like many of our quilt blocks, this block is foundation paper pieced and the pattern includes three sizes: 8″x8″, 10″x10″, and 12″x12″ as well as a coloring sheet. Pick up your quilt block before month end at which point it will become $3 per pattern, same as all our quilt blocks. Happy sewing, and may we always love each other!
(Visited 1,541 times, 4 visits today)