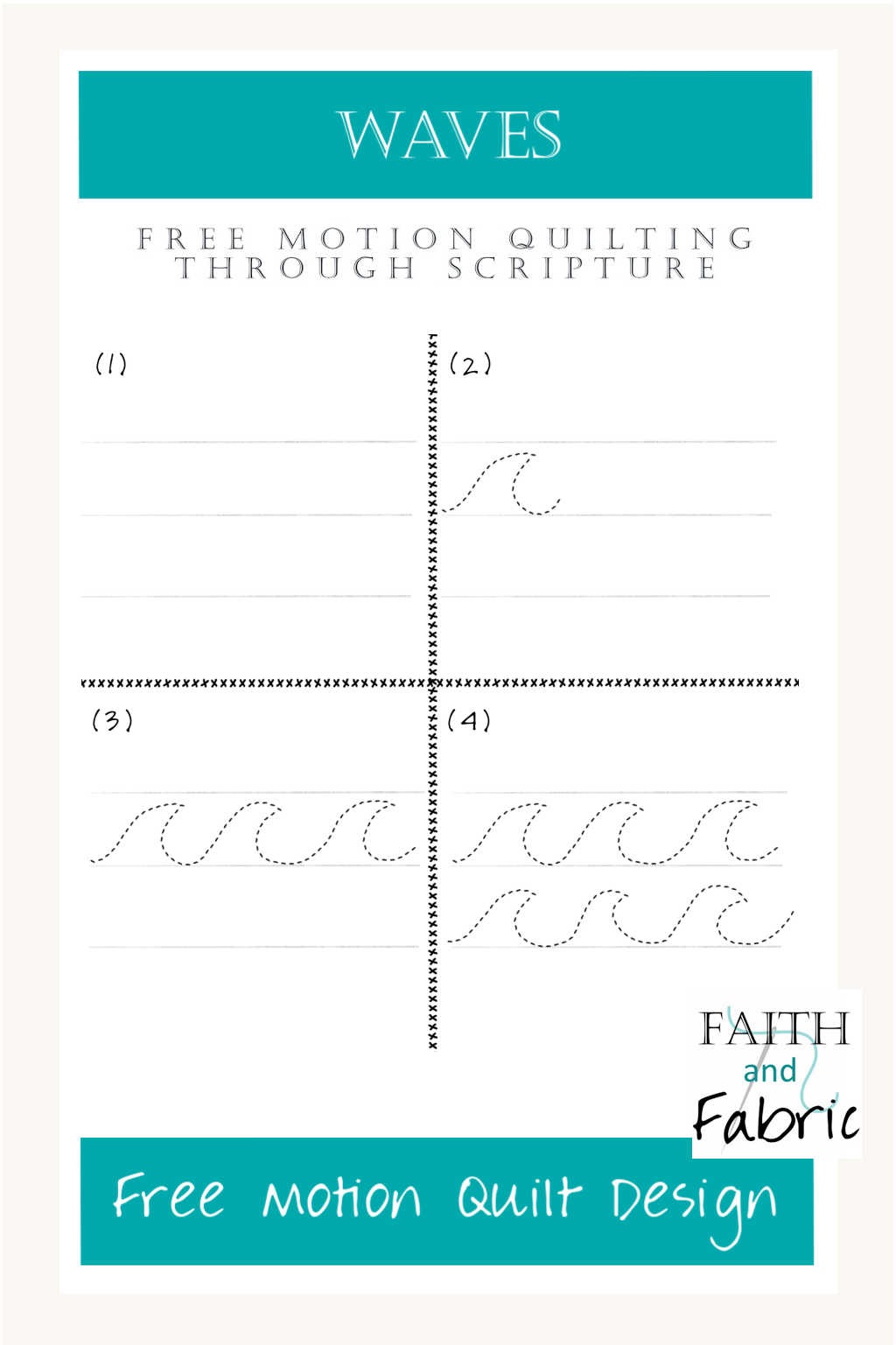 Welcome back to Week 17 of #freemotionfriday! Our video library is growing with these awesome free motion quilting videos, so if you've missed any of them be sure to search for them here. Learning each week with you, as we share our faith journey, is such a pleasure. If you're just beginning your journey, here's a post to help launch your free motion practice this year.
This week we'll be making a free motion quilt design called "waves".  It's inspired by Matthew 13:21-31, and it's probably one of the most known bible stories. Jesus has just finished feeding the 5000, and he tells the disciples to head over to the other side of the water so they can all rest for a bit and that he'll meet them there. The disciples get in the boat, and a storm ensues. In the thick of the storm, they see a figure on the water that they realize is Jesus! Peter sees him, and goes to him – right across the water.
I imagine this moment: Peter is looking desperately, with fear, into Jesus's eyes, clinging to him as he walks across the water. He's doing fine, he's got this – until he breaks eye contact with Jesus and looks down. As soon as he does, he begins to sink. He cries out for help, and Jesus reaches out to help him. Together, they climb aboard the boat and the storm winds die down.
There's so much to unpack here! We're going to focus on that moment when Peter took his eyes off Jesus, looked down, and started to sink. It was at this moment – when he broke that connection with Christ – that he began to fall. He called for help, and Jesus was right there to help him…and the storm ends. We can relate to that so much, can't we? Life is hard, because it's life. When we keep our faith central to it all – when we keep our eyes on Christ – it's manageable. When we take our eyes off it, though, and we look down, or look to the world around us to solve our problems, we sink. We get lost in the depths of despair. Yet, just as Jesus was there for Peter, he is there for us. Just as the wind died down when Peter called for help, so too will our wind die down when we turn to him. Will the situation (storm) magically disappear? Of course not…that's not what dies down. Instead, it's the wind that dies down. Think of the eye of a tornado; in that small space, there is no wind. There is peace even though the storm still surrounds you. This is the message: though the storm/situation will still be there, we can find peace when we place our trust in Christ. Amen to that!
So let's get started in sewing water, our free motion quilting design for the week. Here are three tips to help you as you create this design: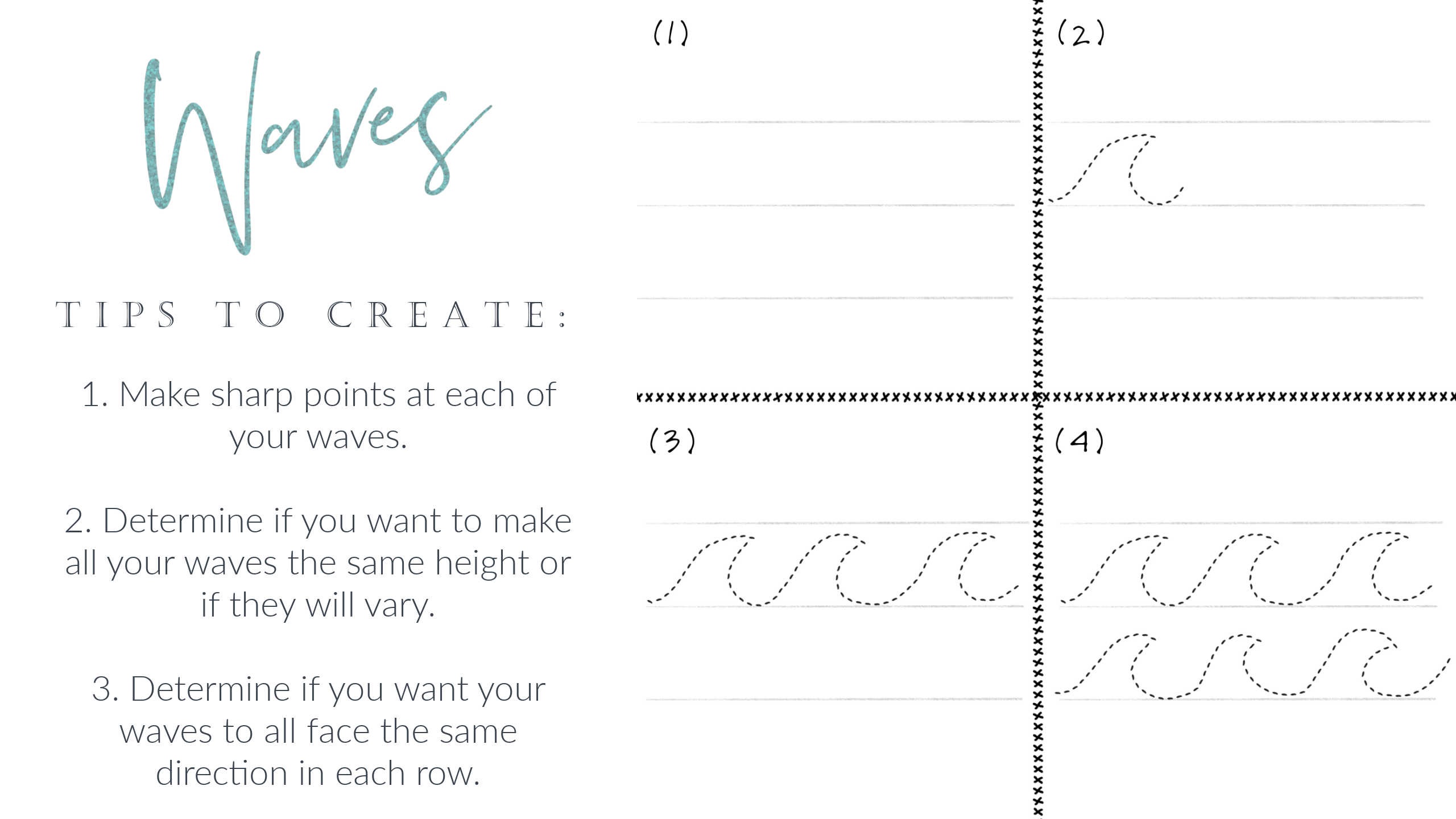 As you'll see in the video above, one of the most important tips is to determine if all your waves will be the same and what direction you want your waves to be. In the photo above, the free motion waves are the same size and go in the same direction. In the video, they are different sizes and go in different directions. So many possibilities!
…and that's it! Watch the short video above that breaks down the free motion quilting process even more. I look forward to hearing how your sewing goes; leave a comment letting me know how you did, and be sure to share your work on IG using the tag #freemotionfriday so I can see your beautiful work!
(Visited 482 times, 2 visits today)