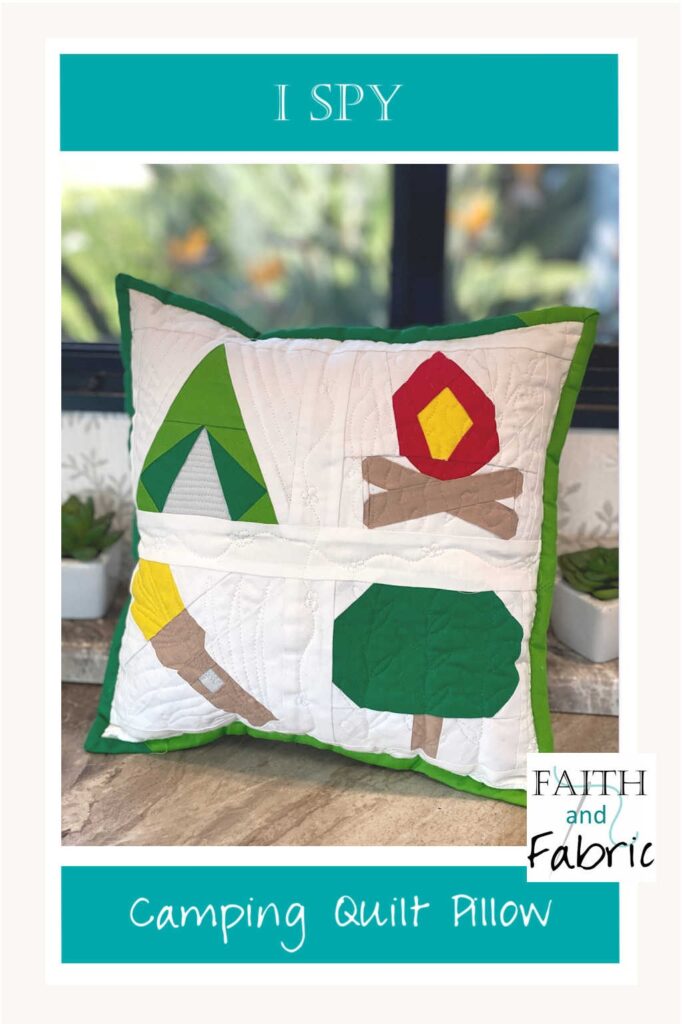 This past week I had *so* much fun doing some sewing for myself! This past year, I've been – in addition to sewing – redoing the entire interior of our camper. I'm not sure who is on the interior design team for these things, but it's like a pile of brown-on-brown-on-brown…ugh. So, over the course of four months, I repainted the cabinets white, put up beautiful white and gray wallpaper with silhouettes of trees, created new toss pillows with additional tree imagery, ripped apart the awful Las Vegas-inspired prints in the nook and replaced them with soft grays, and put pops of green everywhere. My family and I love to camp (remember that cross country trip we took for seven months last year?), and it's so much more fun in the beautiful camper!
Fast forward to this past week. Kimie and Missy, the lovely quilters of On Williams Street, have just released a new pattern book called "I Spy". It's filled with 100 – 4″x4″ foundation paper pieced blocks of *the* cutest shapes! I'm so excited to share what I made with you today: using four of the blocks from the pattern book, I created this adorable little pillow for our camper.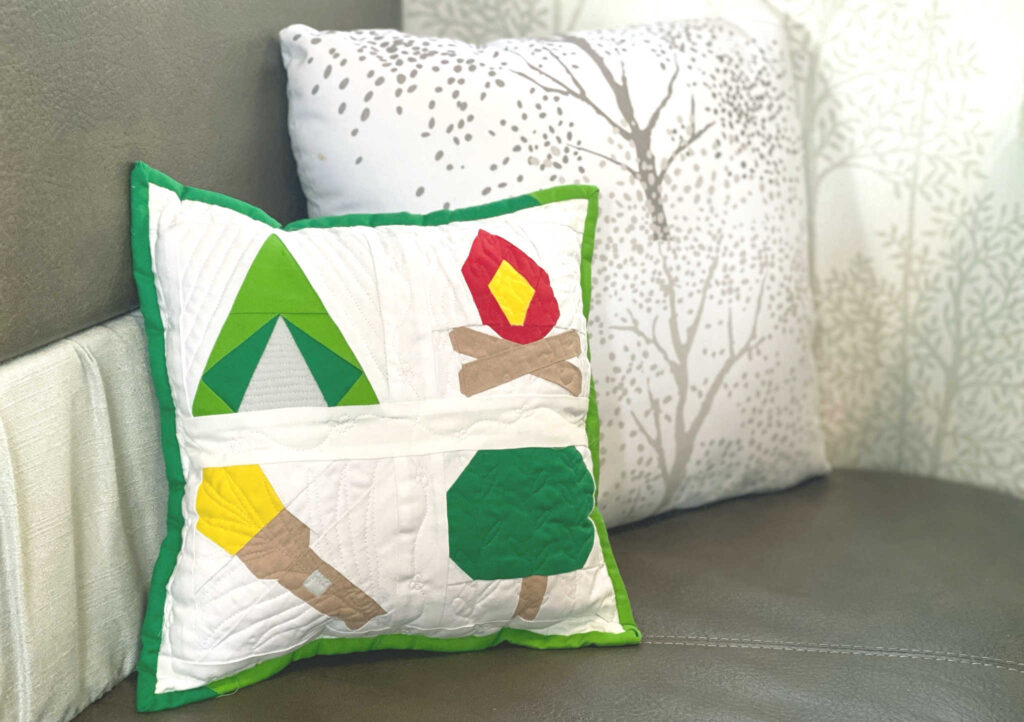 How cute did it turn out? I honestly love it so much! I focused on choosing camping-themed blocks from the I Spy quilt pattern book, as well as pulling the greens into the pillow since I have the pops of green throughout the camper. I also balanced the light and dark greens in the pillow by alternating colors of binding in the pillow. Lastly, I added some super fun free motion quilting to the pillow: flames to the fire, light rays to the flashlight, echos to the tent, and leaves to the tree. (I'm hosting a special free motion quilting series beginning January 1 – to get on the waitlist for this complimentary series, click here.)
The I Spy quilt pattern is such a great book to have, and it's one I know I'll turn to again and again for fun little projects. With the squares being just 4″x4″, they come together SO quickly…and with over 100 patterns to pick from, and countless ways to mix and match them, the possibilities are endless. The book itself is broken out into sections, like "around the house", "playtime", "let's celebrate", "in the garden", and more. There's also a great section at the start if you're new to paper piecing (though, if you're a regular here at Faith and Fabric, I'm sure you're a pro by now!).
You can pick up a copy of the I Spy quilt pattern book on Etsy by clicking here. Use code ISPYBLOGHOP to save 10% from now through December 16th!

Over the next few days, several other quilters will be sharing their blocks, too – I encourage you to check them out:
November 30: Kimie and Missy of On Williams Street
December 1: Audrey Mann of The Cloth Parcel
December 2: Jen Frost of Faith and Fabric
December 3: Bea Lee of Bea a Quilter
December 4: Sarah Goer of Sarah Goer Quilts
December 5: Joanne Harris of Quilts by Joan
December 6: Susan Smith of Stitched by Susan
December 7: Simone Fisher of Simone Quilts
December 8: Lissa LaGreca of Lovingly Lissa
December 9: Catalina Barcelo of Amarar Creacions
December 10: Laura Strickland of Orange Blossom Quilts
December 11: Laura Piland of Slice of Pi Quilts
December 12: Carolina Moore of Always Expect Moore
December 13: Tammy Silvers of Tamarinis
December 14: Kim Niedzwiecki of Go Go Kim
(Visited 1,454 times, 3 visits today)