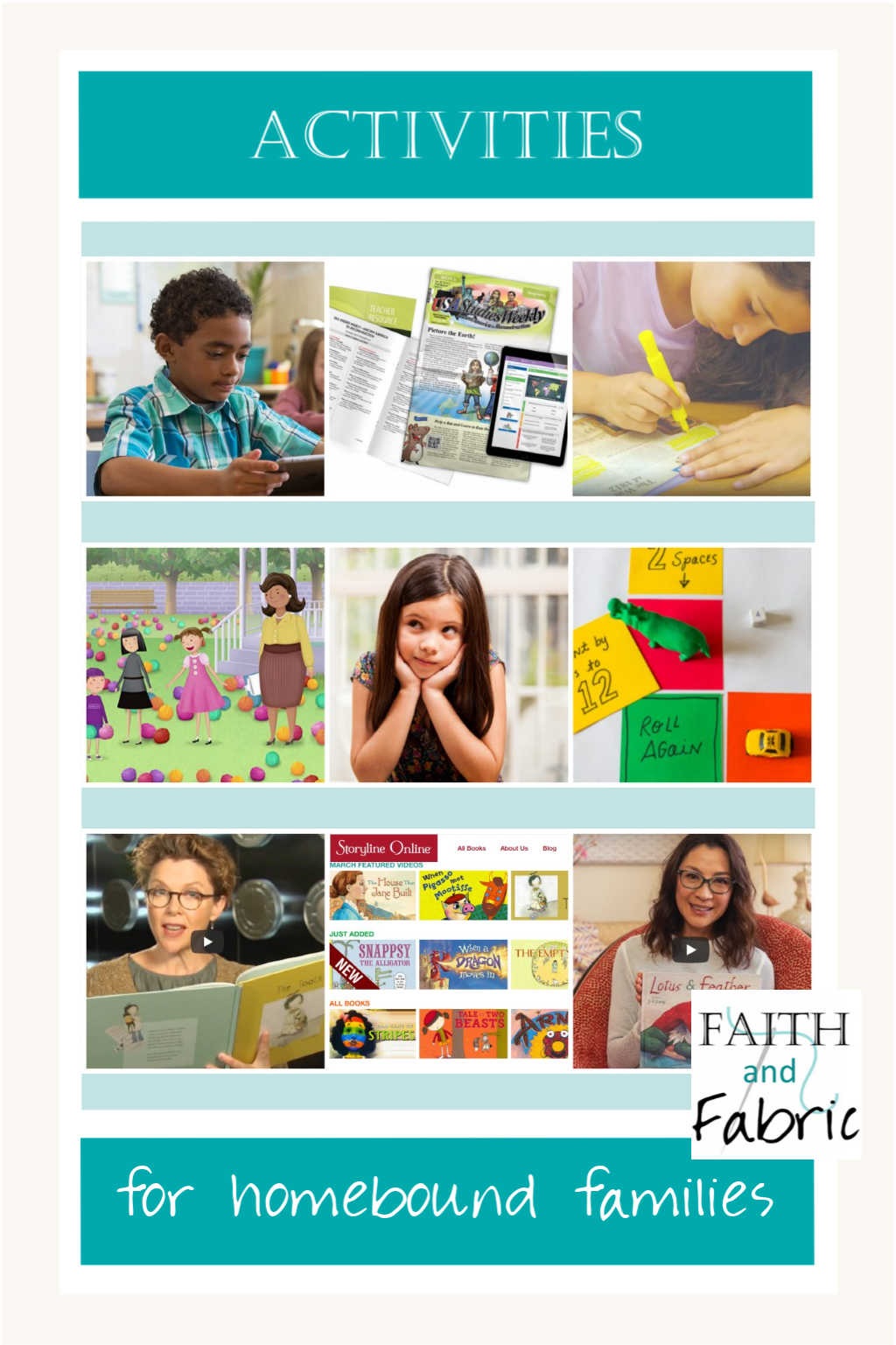 The news changes on a daily basis, it seems, and each morning we're waking up and adjusting our day based on the news.
Our family is slightly less impacted, from a school perspective, than other families as we already homeschool three days per week. So, for us, it's just the addition of two extra days per week through mid-April. Yet, even that is a big change as I work those two days at our church – which is also closing amidst the new Coronavirus regulations.
There are so many activities popping up online with ways to engage with your family, and things to do at home with your children that I wanted to pull them together into one place so I don't loose sight of any of them! My favorite activity? This kit for online playdates for kids. We've had so much fun with our friends playing online!  I hope you find this helpful, too – and I'd love to hear in the comments what you're doing or what you've come across so we can add it to the list. 
LITERATURE: With news that the libraries are closing, and even more time at home on our hands, I ordered an Amazon Kindle for Kids (not Fire, but the actual Kindle) for our son. I LOVE IT! There are so many great parent controls, an interface for my phone so I can see not only time spent but what he is reading, discussion questions for us as a family for many of the books (!!!), and the best part? A year of unlimited FreeTime, which is access to the kids library of books. PLUS – they're running a deal that if you buy more than one, you'll receive 20% off.


READ-ALOUD: It's so so important to read stories to your children…but going to the library may not work for you, and you might feel like going crazy if you read The Littlest Puppy one. more. time. Storyline Online is wonderful free site offers A TON of books, all read aloud by incredibly talented readers.

HISTORY, SCIENCE, & ONLINE LEARNING: Studies Weekly offers a newspaper for kids each week. They're offering a FREE 90-day subscription right now to help continue schooling at home. We've tried it out and enjoy it *so much* that I think we'll sign up for their in-print edition, too. Nat Geo for Kids is FULL of experiments, learnings, and lessons to keep every day full of learning fun. Into the Book offers teaching tools, lessons, and games for children to build their reading comprehension. Seussville is a dive into the world of Dr. Seuss with all the crazy that Thing 1 and Thing 2 bring! ABCYA has learning activities broken out by grade for your child, making it easy to find age-appropriate activities. Highlights Kids brings everyone's favorite childhood magazine to life online! Scholastic at Home has grade-appropriate content that you can set up for your student to read and learn from home. Your geographic area may have a link, but San Diego Unified  has set up this wonderful curriculum for grades K-12.
ART, MUSIC, & GEOGRAPHY: Travel – virtually – through these twelve gorgeous museums! Travel and Leisure has pulled together virtual tours of museums from London to Seoul that you can tour, right from the comfort of your own home. Google Arts & Culture's collection includes the British Museum in London, the Van Gogh Museum in Amsterdam, the Guggenheim in New York City…just to name a few! Dive into the world of Opera with the Metropolitan Opera House, who will be offering nightly concerts streamed directly to you.

PHYSICAL EDUCATION: My favorite at-home workouts are through Les Mills, which offers subscription-based workouts for adults. Their kids workouts, though, are FREE – and so much fun! If you're looking for an outlet for yourself, Beach Body is offering two weeks of FREE adult classes, too. Much safer to work out at home than at the gym.  Are you more of a Zumba fan? Meg A Zumba is offering a few free classes via her Facebook page Live streamed into your home!


ARTS AND CRAFTS: McHarper Manor is offering a series of online art classes for kids – how fun is that! There are supplies that are needed, but they're pretty basic and there's a good chance you already have most of them on hand at home (or maybe we're just the only family whose school room looks like a craft store!). This looks like a lot of fun, and we're excited to join in. Makit Takit has a great Make-it-at-Home project series starting up, complete with easy to access supply list and FB lives.  The Creativity Patch has a way for you to make a DIY sewing loom and try out weaving at home! Kids can join up for a free week of quilting with On Williams Street. Join the newsletter at Phee Fabrics to take part in a weekly beginner sewing class for kids. The Crafty Nomad is having a free stash buster sew-along. Work with Sola Wood Flowers in this series of Facebook Live videos shared by Oh You're So Lovely.

HAVE A (VIRTUAL) PLAYDATE: With technology being so awesome, grab Skype, FaceTime, or Google Chat and call your favorite friend. There are a bunch of board games you can play against each other; our favorites are the retro Guess Who? and Battleship, as you each play on your own board from home. Want even more fun? Download the Virtual Party Kit for Kids, which comes packed with games and activities for the kids to play with friends using video chat online!

FIGHTING BOREDOM: PBS Kids is offering a free daily email, jam packed with ideas for fighting boredom for kids. We've received two editions now, and have had a lot of fun with them! We've made our own boardgames, written stories, and watched a few little videos. Plus, they have great resources on teaching your kids about the virus and decreasing any anxieties they have. Another great option isDaily Livestreams, which is offering a livestream video for kids every day at 10:00am PST.

RELIGION: Magnificat is offering their online edition *for free*. We love using this as adults, and the Magnifikid is a favorite of our little man. Also, don't forget to check out your local Diocese for online Mass. Catholic Icing has resources to supplement the Mass at home with your family. There are some great tips from Detroit Catholic on Keeping Sunday a Holy Time Without Mass, too. Join the Be Not Afraid Conference for daily videos, on your schedule.

NEW TO HOMESCHOOLING? There are some great resources to help you out as you make this transition. Kendra Tierney offers some great tips for teaching multi-age and multi-grade students. A Joyfull Mess with Jess is sharing tips from the trenches, as they're a regular homeschool family of 5. Tammi is sharing one homeschool tip each morning on Chasing Time & Drinking Wine.
This is the list I've come up with…what have you found? I look forward to adding more to this growing list!
(Visited 1,305 times, 3 visits today)