My finish today for TGIFF is really more of an almost finish – but after three years of sitting around, I'm so very ok with that!
This quilt was many, many years in the making. It started in 2015 when my mother-in-law bought me a really unique fabric bundle, called The Emperor's Garden. The fabrics were unique both in color and design; the prints themselves were large and playful, and very different from the novelty fussy patterns I'm used to purchasing.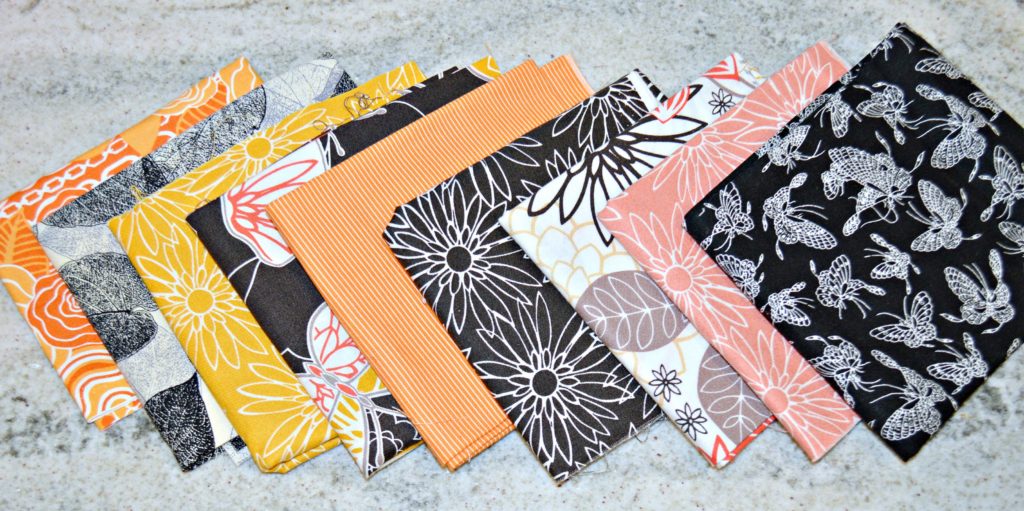 The fabrics sat in my cabinet for about two years, until I pulled them out to work on The Quilter's Planner 2017 blocks. Each block that year finished at 12″x12″, so I thought the larger size would work perfectly for these blocks. The year started out strong; I completed January's two tone block and was happy with the result. February's block pulled in three colors; I was able to fussy cut some of the butterflies, and – again – I was overall happy with the way it turned out. Then came March's block…four fabrics. I chose four that I thought would compliment each other well, but they ended up not being different enough and my block looked like a mess of undefined blotches. I figured one bad block wasn't bad, though, and I could always put it on the back of the quilt.

April's block redeemed me; I loved how it turned out! I felt like the colors really complimented the shape of the block, and everything stood out in a great contrast between fabrics. I started to fall back off the train, though, with May ; the wide variety of colors in the blocks made it such that the color patterns really didn't pop – and I made what was going to be my last block in June for three years.

I wasn't enjoying with the fabrics. I didn't like how my blocks were turning out. I didn't think the blocks would connect together well. I didn't know how *to* make the blocks work with each other. So, I packed it away as (yet another) unfinished quilt.
Fast forward to this year. My bin of unfinished quilts was overflowing, and this quilt was sitting at the top. Somehow inside, I knew it was time to work on it. So, I pulled it out. I went back to The Quilter's Planner and finished three more blocks from their 2017 lineup to have a nine-block quilt. I added black borders (something I've *never* done) and four little color blocks at the intersection points. And you know what?
I love it.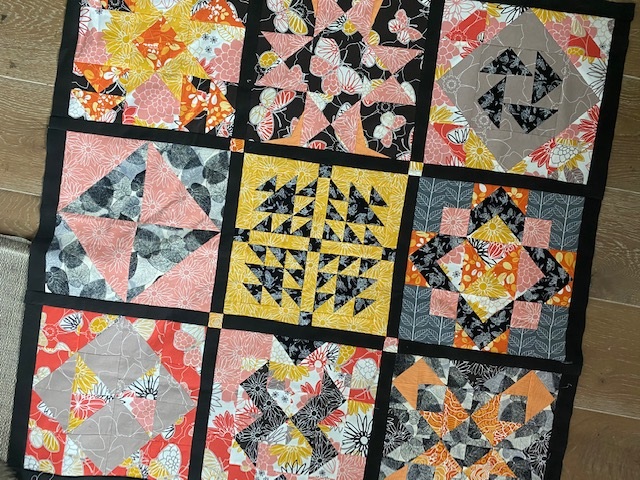 I love how the blocks are so different. I love how, somehow, they all tie together. I love how the center block has the least amount of color play and those surrounding it the most.
I love how the back of the quilt is a mess of all the scraps that were left, and how it harmoniously comes together in a unique design.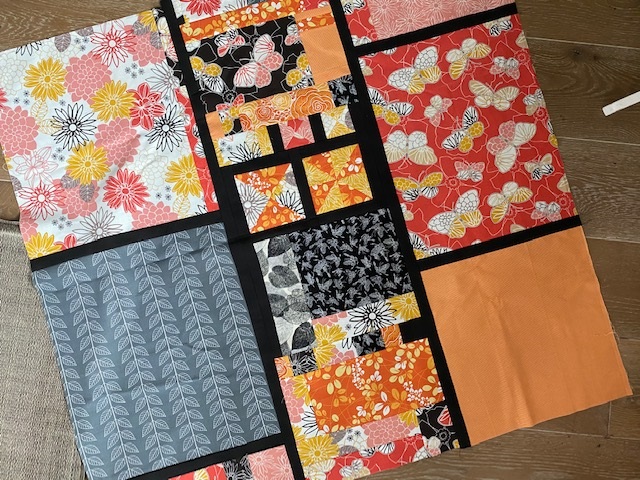 This was a huge lesson learned for me. I began to learn to work with more "wild" prints, if you will, and how to pair (and not to pair) them. I learned that a bit of black can tie it all together. I learned that the sum is always better than its individual parts. I learned, next time, to not just give up.
I'm looking forward to finishing this quilt now, and to add the orange butterfly binding to pull it all together. Here's to having that as my 2020 goal.
How about you? What have you been working on lately?
You are invited to the Inlinkz link party!
(Visited 500 times, 2 visits today)