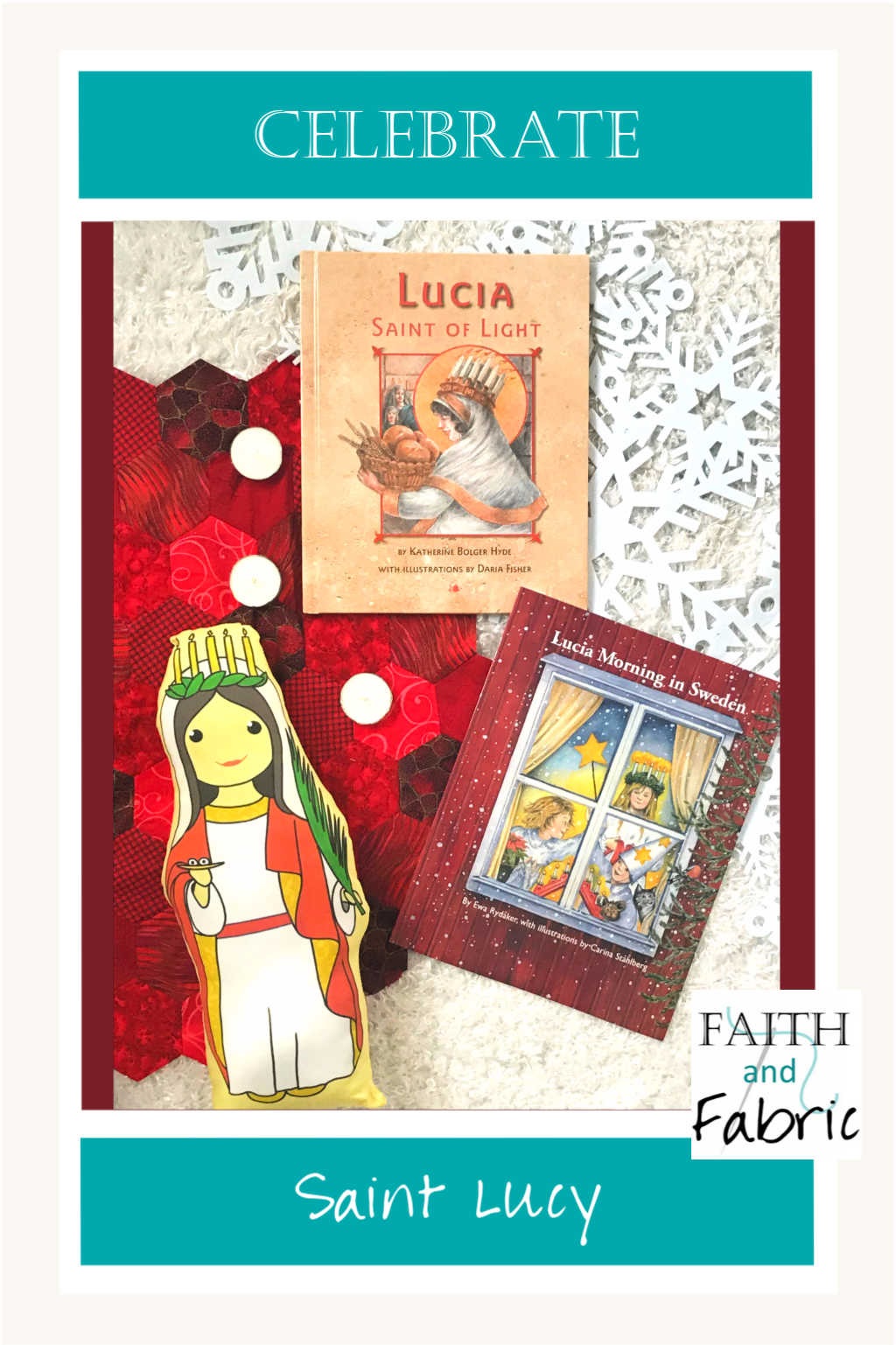 St. Lucy, or Saint Lucia, was a young Christian martyr (283-304) who, along with Mary, is one of eight women commemorated by name in the Cannon of the Mass. Her story is a harsh reminder of what life was like for early Christians (and still is, for some): tradition shares that her eyes had been gouged out by a suitor in order to discourage his advances. Later, after her execution, as her family prepared her body for burial it was discovered that her eyes has been miraculousy restored! Because of this, St. Lucy is the patron saint of eye illness and disease.
In our home, while my boys know the story of St. Lucy and always have a few gouging eyeball moments, we tend to celebrate the less gory side of the story and celebrate the light! Lucia, derived from the Latin word LUX, means light…so, her brilliant light and faith is the focus for us. Here are a few of the things we do to celebrate this wonderful young woman:
We wait each year to put up our Christmas tree until her feast day. I know, I know, my friends always call me a Scrooge as they happily put their trees up beside the Thanksgiving turkey, but seriously, it's so beautiful to wait until mid-December to really put up the tree! Not only does it keep the feel of Advent truly being a period of waiting in joyful hope, but it enables us (me, really!) to not want to pack the tree away immediately after December 25th. But back to St. Lucy…when we put the tree up, we only put the lights on. No balls, no decorations, just the beautiful tree with white lights.
Once the tree is up, we continue the light theme by each making a cup of hot cocoa and heading out to the car. Each year, we drive the neighborhoods admiring all the Christmas lights. Where we live, there are several developments that go all out (seriously – the lights even flash in time to a radio station) so it's a lot of fun, and a very inexpensive family night, for us to take in the sparkle.
What would hot cocoa be without some cookies? Making candle cookies is a cinch – especially with these simple candle-shaped cookie cutters. Seriously, how cute is the little stand that the candle sits in? Sugar cookies are a special (if messy) family activity of ours, and it's usually when they bake that we read…
…both these books. The first is Lucia, Saint of Light by Katherine Hyde, and has the most beautiful Scandinavian drawings inside! At the end of the book is a music score for Santa Lucia, which we've tried out a few times on the piano. It also has a yummy recipe in the back for Lucia Cat Buns, which we're wanting to make one of these years for our Christmas light drive! The second book we read is Lucia Morning in Sweden, and tells the story of a family who celebrates St. Lucy's feast day each year. Written for a slightly younger audience, this book, too, has music and recipes in the back. I love both these books so much!
Of course, we have our St. Lucy Sew-a-Saint doll. I keep a few pre-made samples in my sewing room, and she's one of them. Each time I see her on the shelf, I'm reminded of the "This Little Light of Mine" song, and try to let my little light shine, too.
Wishing each of you a wonderful Saint Lucia Feast Day celebration on December 13th! I'd love to hear how you celebrate; drop a comment and share your favorite traditions below.
(Visited 1,365 times, 5 visits today)