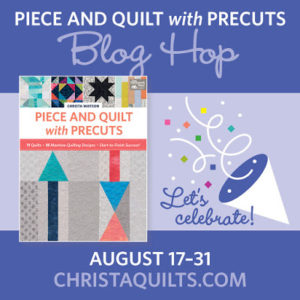 Hi there, and welcome to the Piece and Quilt with PreCuts! I'm excited to be a stop on Christa Watson, of Christa Quilts, launch tour for her new book Piece and Quilt with PreCuts. This lovely book includes great tips and tricks for piecing gorgeous precut fabrics (and fabric scraps) in eleven different patterns. Once the quilt top is done, choose from one of the 18 different machine-quilting motifs to finish off your quilt!
I've been a fan of Christa's for a while, and have learned a ton from her Craftsy classes. The idea of working on a quilt made entirely from precuts was appealing to me, as I haven't made one in a *very* long time! The designs in the book were lovely, yet the one that I liked most was dots and dash – it's simple design seemed to lend itself most to keeping the larger sections of fabrics in tact so the prints on the fabric could really shine through.
When it came to fabric selection, I couldn't resist this Rainy Day jelly roll from Me and My Sister Designs. Moda always has such great prints, but the colors in this one – along with the adorable designs – was so cute!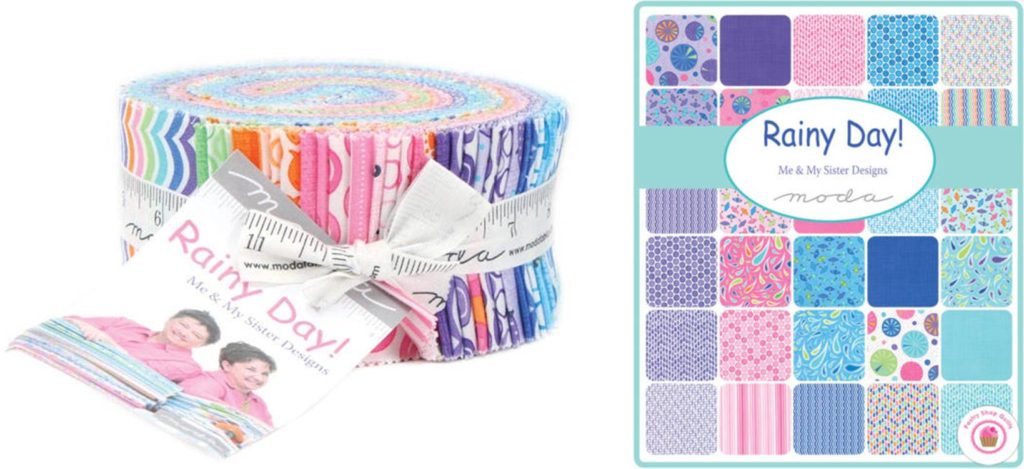 You guys, Christa's pattern was so well written and easy to follow! In what felt like no time at all, I had this lovely quilt top made: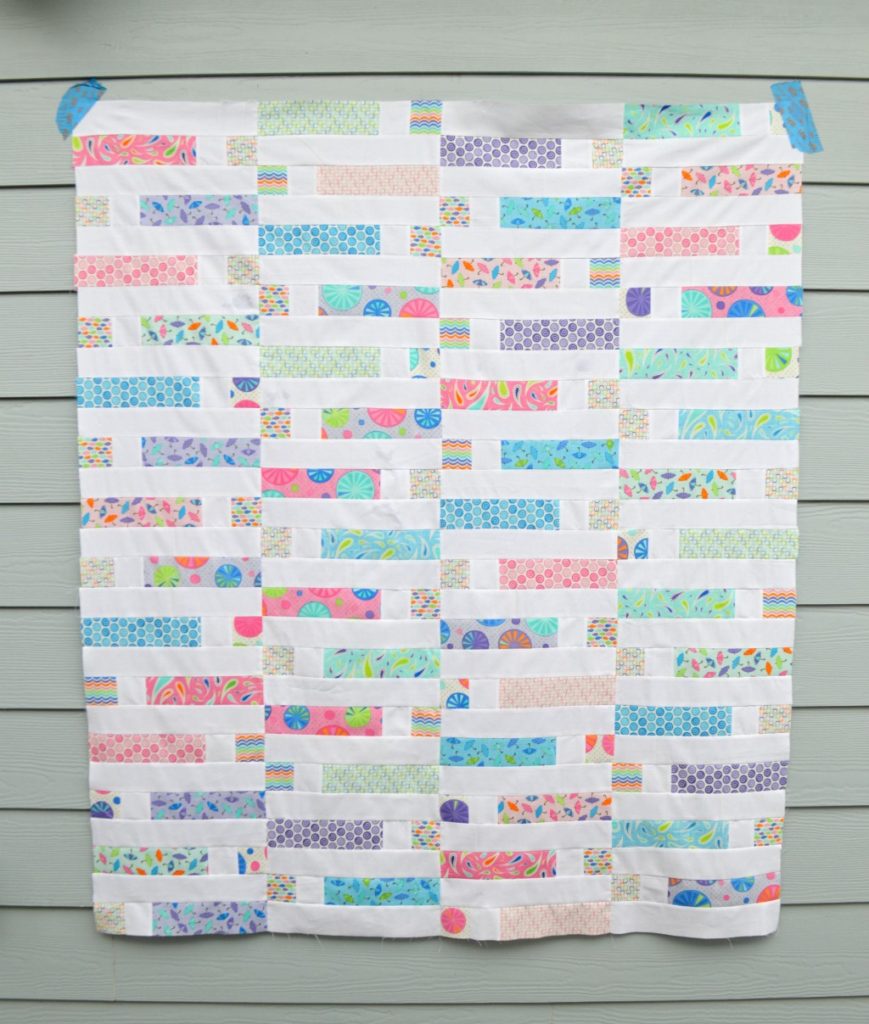 I chose to use white as the background, as it played up the whites already in the prints. It also made a brilliant background and let those rainy day colors pop!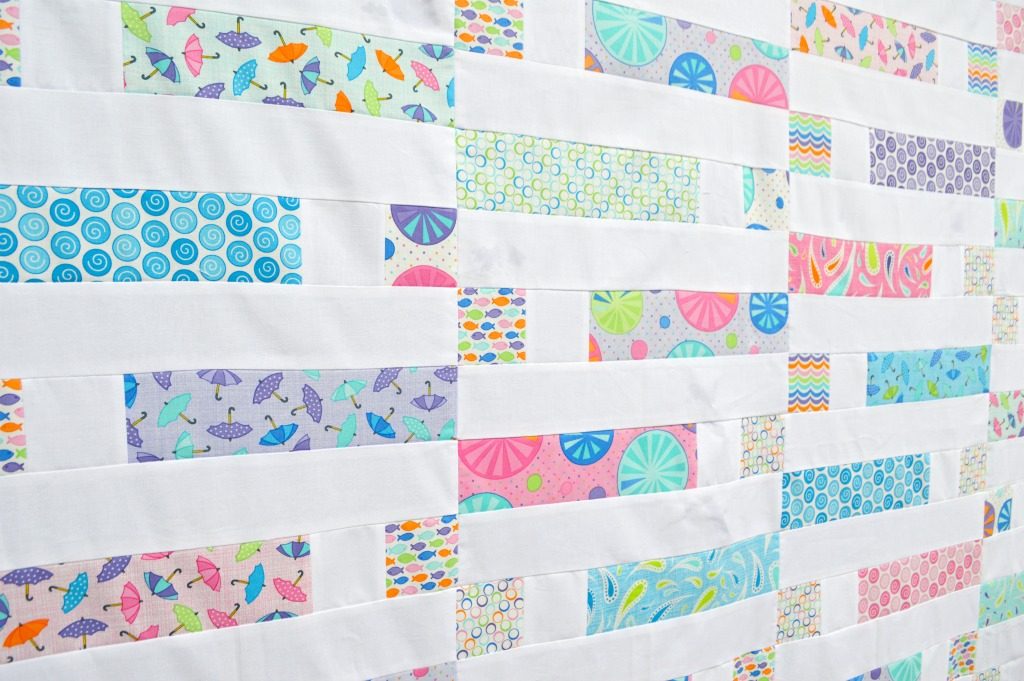 I'm not sure yet how I want to quilt this, which is why it's still in the quilt top stage. I'm leaning towards using these pink and purple Blendable threads from Sulky; they would make such a lovely contrast against the white. Doesn't it look like it was made for the Rainy Day fabrics??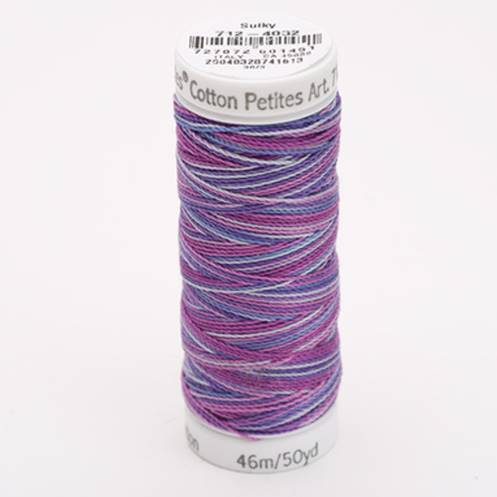 Thanks for stopping by to see my Dot and Dash quilt top. Be sure to check out the other stops on the blog to see their lovely quilts made from the book  Piece and Quilt with PreCuts!
FRIDAY AUGUST 18 – SQUIGGLES
Kathy Bruckman Blog: Kathy's Kwilts and More IG: @kathyskwiltsandmore
Kate Colleran Blog: Seams Like a Dream IG: @seamslikeadreamquilts
Sharon Parcel Blog: Yellow Cat Quilt Designs IG: @punkydoodle53
Click here to see Christa's version of Squiggles.
SATURDAY AUGUST 19 – GRIDWORK
Sandy Maxfield Blog: Sandy Star Designs IG: @sandystardesigns
Joanne Harris Blog: Quilts by Joanne IG: @turtlequilterjo
Teresa Mairal-Barreu Blog Sewn Up: IG: @teresadownunder
Click here to see Christa's version of Gridwork.
MONDAY AUGUST 21 – FREQUENCY
Nancy Scott Blog: Masterpiece Quilting IG: @masterpiecequilting
Martingale's Blog: Stitch This! IG: @martingaletpp
Lorinda Davis Blog: Laurel Poppy & Pine IG: @laurelpoppyandpine
Click here to see Christa's version of Frequency.
TUESDAY AUGUST 22 – S.W.A.K.
Sherry Shish Blog: Powered by Quilting IG: @poweredbyquilting
Michelle Bartholomew Blog: Michelle Bartholomew IG: @michellebartholomew
Allison Dutton Blog: Allison Sews IG: @allisonsews
WEDNESDAY AUGUST 23 – STARSTRUCK
Lissa LaGreca Blog: Lovingly Lissa IG: @lovinglylissa
Sherri Noel Blog: Rebecca Mae Designs  IG: @rebeccamaedesigns
Sandra Healy Blog: Sandra Healy Designs IG: @sandrahealydesigns
THURSDAY AUGUST 24 – DOT'N'DASH
Laura Piland Blog: Slice of Pi Quilts IG: @sliceofpiquilts
Cheryl Brickey Blog: Meadow Mist Designs IG: @meadowmistdesigns
Jen Frost Blog: Faith and Fabric IG: @faithandfabric
FRIDAY AUGUST 25 – TWINKLING DIAMONDS
Jessee Maloney Blog: Art School Dropout IG: @jessee_artschooldropout
Jessica Caldwell Blog: Desert Bloom Quilting IG: @desertbloomquilting
Anjeanette Klinder Blog: Anjeanette Klinder IG: @anjeanetteklinder
SATURDAY AUGUST 26 – WINDOWS
Terri Vanden Bosch Blog: Meanderings Along Lizard Creek IG: @lizardcreekquilter
Suzy Webster Blog: Webster Quilt IG: @websterquilt
Katie Joy Church Blog: Wild Prairie Studio IG: @katie_joyquilts
MONDAY AUGUST 28 – KITES
Pam Cobb Blog: The Stitch TV Show IG: @thestitchtvshow
Jen Rosin Blog: A Dream and a Stitch: IG: @adreamandastitch
Rashida Khanbhai Blog:  No. 3 Quilt Studio IG: @no3quiltstudio
TUESDAY AUGUST 29 – ARROWS
Lynn Kline Blog: Monkey Needle IG: @monkeyneedle
Kathy Bruckman Blog: Kathy's Kwilts and More IG: @kathyskwiltsandmore
WEDNESDAY AUG 30 – SPOOLS
Jen Shaffer Blog: Patterns by Jen IG: @patternsbyjen
Sandra Starley Blog: Textile Time Travels IG: @textiletimetravels
(Visited 1,693 times, 1 visits today)