Can you believe Advent starts next weekend? As a family, we'll be celebrating with our Jesse Tree. Online, we'll be celebrating with our Fabric Jesse Tree – a daily journey from creation through Christ's birth paired with some of the most beautiful fabrics to tell this joyful, hope-filled story.
The story begins on the 1st Day of Advent with creation, and walks its way chronologically through the Old Testament with stories from Genesis, Exodus, Ruth, Kings, and Daniel (to name a few). It moves into the New Testament, ending on Christmas Day with the birth of Christ. A gorgeous fabric will be paired with each day's reading, helping to share the message.
I invite you to join in the journey beginning the first Sunday of Advent on Instagram.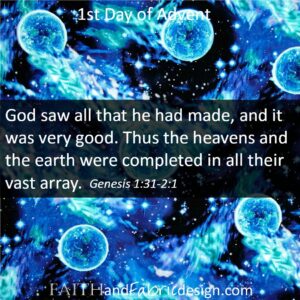 Fabric: Kanvas Cosmos Earth Metallic Blue by Maria Kalinowski for Benartex, Kanvas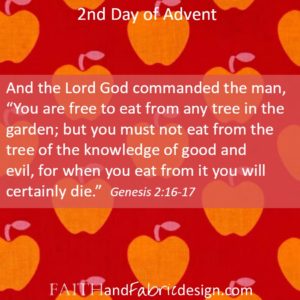 Fabric: Apple Hill Farm Apple Hill Red by Christine Sharp, Rachael Wright for RJR Fashion Fabrics

(Visited 199 times, 1 visits today)