Last day at LA Congress…can't believe how quickly Day 1 and Day 2 went.*
Today called for an extra cup of coffee, so we started the morning off right by stopping at Café Justo. Café Justo is a coffee grower cooperative based in Salvador Urbina, Chiapas, Mexico. They market a pure, organic cofee which is grown, harvested and marketed in the spirit of justice. With a goal of providing incentives for people to remain on their family lands, and a simply delish tasting coffee to share, this is definitely a company that cares and supports all of mankind.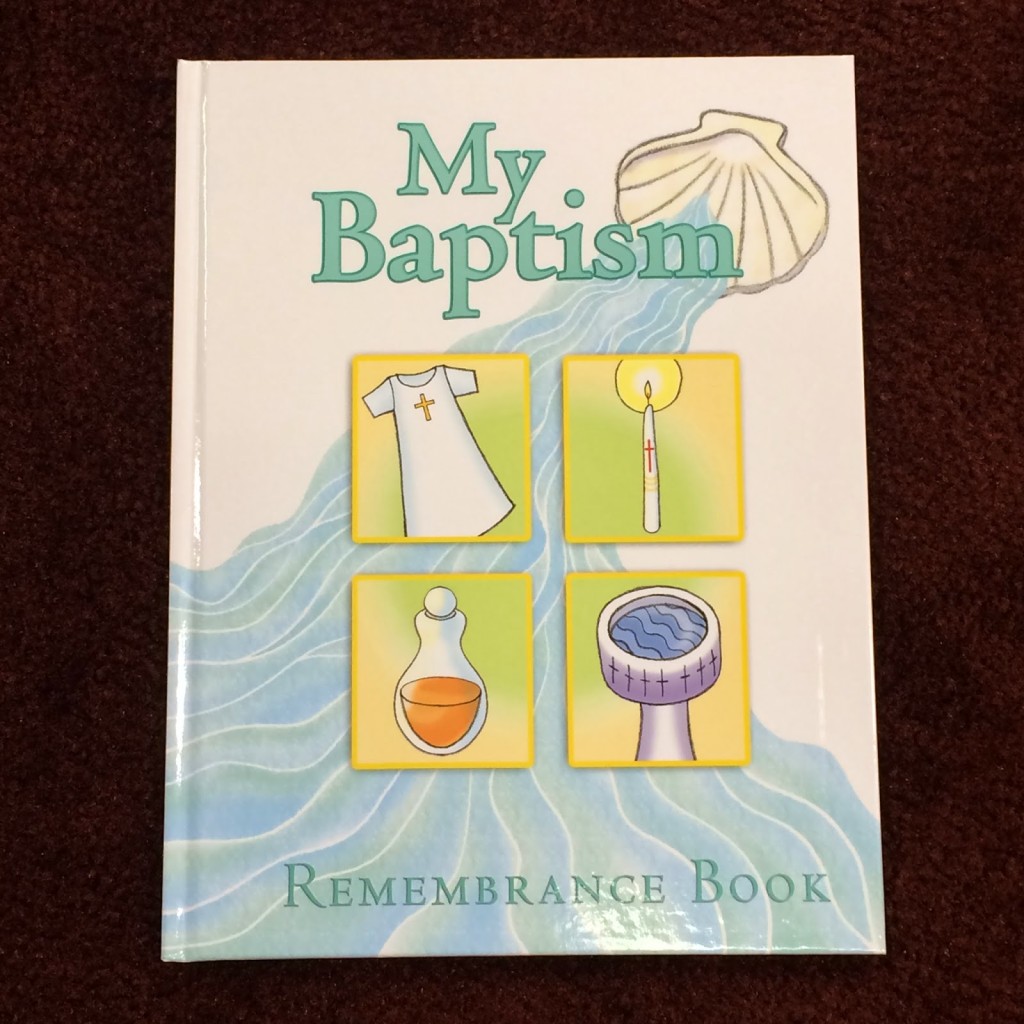 With a chance to walk around the Exhibit Hall this morning before the crowds descended, I truly enjoyed the opportunity to talk with the vendors. One of the first stops was at Pauline Publishing (the daughters of Saint Paul!), where I picked up this adorable Baptism Remembrance Book for my soon-to-be nephew. Roughly 50 glossy pages in total, the book is a wonderful combination: there are pages to record memories from the child's special day as well as faith-filled stories that you can read to the child as they grow. It's this combination that sets the book apart from others out there. Children love stories about themselves, and this book does a seamless job of integrating the two.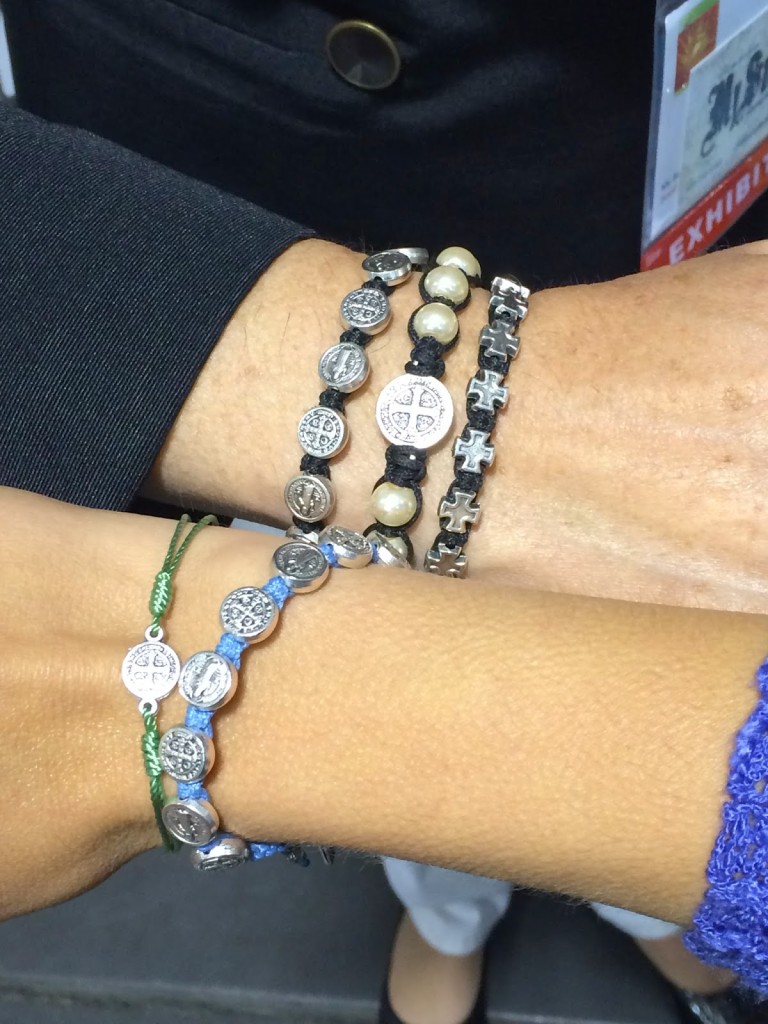 The next booth I stopped by was My Saint My Hero, a jewelry designer. I had been eyeing their stunning designs all weekend, and knew I'd regret leaving without one (or two!). The company who designed these lovely bracelets is made up of talented women whose mission "is to bring elements of Faith Hope and Purpose into everyday life through traditional prayer.
Inspired by our Heavenly Father, our Blessed Mother and all the angels and saints, My Saint My Hero brings you wearable blessings, hand-made heirloom rosaries and prayer tools to help create a place of prayer in your heart, your home, and your workplace." Pretty cool, no? Definitely check out their website & store…the photo I took doesn't begin to do these lovely bracelets justice (and they make more than just bracelets, too!).
First session of the day today brought us back to John Allen Jr. and his talk on The Francis Revolution. I admit, after hearing his talk yesterday on Francis I was expecting more of the same, but he brought a whole new sense of energy and topics (yeah!). There were a few really great nuggets in here: first, the pillars of interest. Francis, as we all are incredibly aware, has huge popular appeal. All over the world, this pope has an approval rating that the leaders in those countries can't even achieve! With Catholics in the US alone, his approval rating is 90%…for a group who can often appear divided, this is huge. Not only do the people love him, but the media can't get enough of him. Media Foundation did a
study and found him to be the most searched human being on Google in 2013 – and he only had nine months to earn searches. He's' been on the cover of Time, Rolling Stones, and countless others…including Italy's own Vanity Fair where Sir Elton John dubbed him "a miracle of humility in an era of vanity". He's driven a cultural revolution through Rome: simple is the new chic. John Allen Jr brought the focus back to the change that Francis is driving – the substance behind the popular appeal he has gained. He appears in person on the Sicilian island of Lampedusa to call for a change to immigration form, calling out the thousands who have died trying to find a new life and the blind eye the country has turned to them. He went to Rio's "Gaza Strip" to call for an end to the violence…and with the level of popularity he has attained, he was listened to, and the government began talks on how to begin change. He led the Christian world in a Global Day of Prayer for Syria, a peaceful action that challenged the countries looking to bring armed forces into an already damaged country. Again, the power of his actions can't be overlooked – it's like when Lady Gaga raves about a new designer's pink sweater, and suddenly that shade of sweater is seen on every woman walking down the street. He has influence, and uses it to ensure that human dignity is always put to the forefront of political agendas. He is truly a powerful presence driving a message of mercy.
After a quick break for lunch, we headed up to see the Catholicism Around the World display. Being of Polish and Czech descent, I spent most of the time reading the information at the Polish table. The Madonnas were stunning, and the intense pride they hold in Pope John Paul, one of their own, couldn't be missed.
The closing speaker was David Wells, a hysterical, understated British gentleman who brought tears of laughter, sadness, and joy. Through story after story, he reminds us that the New Evangelization is all around us, and that copying the actions of Christ is the first way we spread the good news. It's not through
shouting scripture, or condemning actions…it's through patience, looking others in the eye, giving when you think you have nothing left to give. It's being the message, not just speaking it. We are to be the manifestation that Francis is exemplifying and that Christ calls us to be. Such a simple message, but – of all the sessions – one that probably stuck with me the most. On a personal level, I would never consider myself someone equipped to evangelize. I don't know the saints. I haven't memorized scripture. I've never read the entire Bible. How can I possibly be equipped to evangelize? But I am. You are, too. You have everything you need, as we are called to be examples of mercy, champions of human dignity. For, as Gal. 2:20 tells us, it is no longer that I live, but that Christ lives in me.

Closing liturgy – the Prelude sang, "United in one Spirit, each different in appearance, all are welcomed in the house of God." The strongest moment, for me, was when they brought forward the children whose parents had been deported. My heart melted to see their faces…truly, I felt a change within. Every life, every person, is worthy of the same level of dignity, opportunity, and love. With readings and song done in five languages, traditions incorporated into a single celebration, and the beauty of our differences brought together, we left this year's conference as a team truly afire!
*Please know these are my summarized notes, mixed with thoughts and a few interruptions along the way. Any misstatements are my own as it relates to the speaker. Please stop by the LA Congress site to see the official presentations made by these amazing speakers.



(Visited 190 times, 4 visits today)