Day 2 of LA Congress – can't believe we're already nearing the end. Day 1 feels like so long ago, not just yesterday! *
We started the morning with morning prayer, presided by Julianne Donlor-Stanz, the Director of the Department of New Evangelization for the Diocese of Green Bay. Originally from Ireland – and with St. Patrick's Day right around
the corner – she told a legend of St. Patrick. One day, St. Patrick was climbing a mountain to spend some quiet time with the Lord. On the way up the mountain, he was repeatedly attacked by black birds – demons in disguise – who wanted to stop him on his journey. He fought them off, armed with only a walking stick. At the top of the mountain, he encountered the Mother of Satan in the form of a snake. She encircled him, tempted him, attacked him…and he fought her off, swing by swing by swing with his walking stick. Fast forward to today: we – you, I, those before us, and those yet to come – all have our own demons we fight. Our internal demons of anger, mistrust, self doubt, hardened hearts, and more. We fight these battles each day, and – much like St. Patrick – must battle the Mother: Our Pride. It's our pride that stands in the way of forgiveness. It's our pride that doesn't let us back down, admit when we're wrong, let go of past angers and injustices. But, like St. Patrick with his walking stick, we have the opportunity each day to swing and chip away at our pride each day. Ouch – and wow. …and the day has only just begun. (thanks to Unique Teaching Resources for the graphic!)
Up next – the one and only Fr. Robert Barron. He emulated the Word on Fire from the moment he stepped on the stage, and gave us a wonderful plan on how we can bring Christ to today's culture: (1) Lead with the
Beautiful – Catholicism is a beautiful faith, from our traditions to the kind of people we are (or should be). Be that person, lead by example, and share the beauty of our faith. This leads to the goodness we offer and subsequently to the biblical truths. Trying to do it in any other order is a loss. (2) Don't Dumb Down the Message – people of all ages can handle such complexity. We teach math and science in kindergarden yet have elementary school children gluing pompoms onto a "Paschal Lamb". Why must we oversimplify our faith when we don't need to? Give people the heavy – or someone else will. (3) Preach with Ardor – be strong. Be excited. Vatican II was not to modernize the Church but to make us light bearers as we go to the ends of the earth sharing the Good News in a way people could understand. Share that news. Be excited! (4) Tell the Great Story – and keep Jesus in context of the Old Testament. Without the Old Testament, Jesus is just another bearer of peace. With the Old Testament, he is a prophecy filler. He is the Savior of not only Israel, but the world. (5) Remember that God Doesn't Need Us (wait…what??). God utterly loves us, but doesn't need us. Think of a relationship you're in – it's reciprocal. You do something nice for me and I do something nice for you. We're dependent on each other. The difference here is God doesn't depend on us for his happiness – he loves us no matter what we've done and will never stop. (6) To quote Bruce, Everybody's Got a Hungry Heart. We are WIRED to want more. So many are seeking the wrong thing because what they really need is a relationship with God, not the worldly goods of today that don't permanently satisfy. (7) Use the new media ONLY once you've completed steps 1-6. …and suddenly his hour and a half ended with us all wanting more.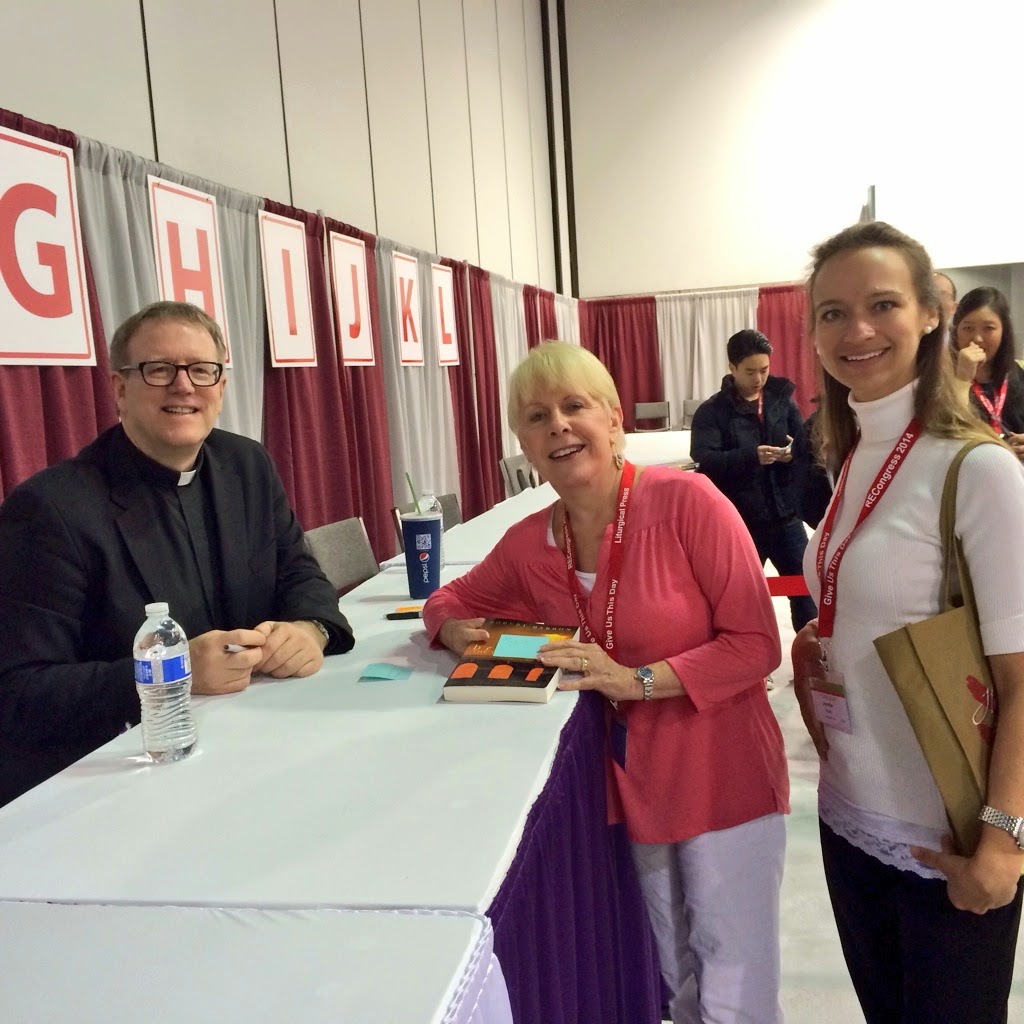 Wanting more, we did the natural thing at break – headed straight to his book signing table for a chance to meet him, thank him for sharing the gift he was given with us, and get this really awesome photo 🙂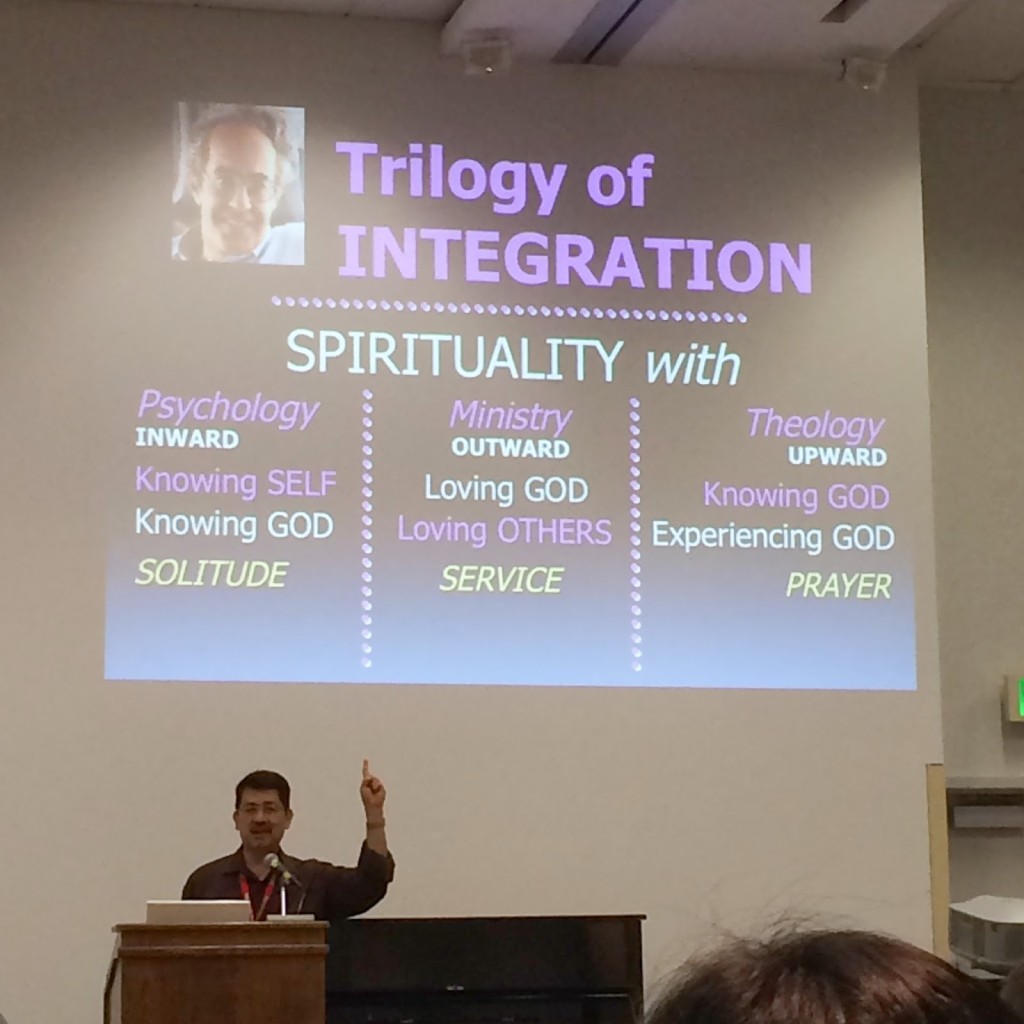 The second session of the day was deep – as in pastoral theology deep. Our pastor often speaks of Henri Nouman, so it was a great opportunity to sit in on a session all about Mr. Henri himself. The discussion was largely Philosophy 101, with Will Hernandez centering around the topic of polarity. Polarity, or two opposing contradictory statements, are at the core of our faith. Take woundedness and healing: it's not the wounded who need a doctor, but the sick – Jesus's affirmation that only those who face their wounded condition can be available to receive God's healing. We are all wounded, and we need to figure out how to put our woundedness into the healing of others. Take solitude and community: the space within us and the space among us are fully intertwined; in our solitude we discover God in our innermost being, and in community we discover God for our life together. Take presence and absence: we need to be fully present to others around us, but need to make sure we aren't in the way of the work of the Spirit; we can't cram theology and faith down at someone without partnering and letting the Spirit work as well. The summary? (1) We need to subscribe to a both/and (inclusive) instead of an either/or (exclusive) and watch our lives expand. (2) We need to move closer to the center as the truth lies in the middle of two extremes; we realize our sameness with others when we meet in the middle instead of living life at the periphery. (3) We need to work towards integration and wholeness; labeling is always limiting. These three messages stood out like a blueprint for how we are called to live – such wonderful takeaways.
After such a deep session, there was just one obvious choice: go shopping. CatGear, a company that wears their faith (as opposed to their heart) on their sleeve, had some adorable sweatshirts and t-shirts. My favorite was hard to pick – I was torn between the calligraphy-styled "Catholic" (see photo) and a second that literally matched the same blue with white lettering gym shirt that I remembered as part of my uniform from elementary school. In the end, calligraphy won out. Love this shirt.
The third session, led by the ever-present John Allen Jr., looked at What's Hot and What's Not in Catholicism today. To start off, he covered what's just plain not true: (1) Fallacy of Doctrine: Francis is not a doctrinal radical, but he's still a child of the church. If the litmus test is whether he changes doctrine, well…you get the idea. (2) Francis = good, Benedict = bad: actually, there is a HUGE affection between the two popes. Francis has described it like having your grandfather living at home with you! He wants us to know Benedict isn't a wax statue in a museum and wants him to be present…after all, some of the
reform that Francis is being credited with started under Benedict. (3) All Sizzle, No Steak: In actuality, significant changes have and are taking place. The financial ministry that has been put in place is a cultural revolution in Rome as the Old Guard has the purse removed. Francis's instatement of a publically-transparent budget, with three tiers of checks and balances, is shattering. Key Trend to Watch For: Anti-Christian Persecution. Low estimates are that one Christian is killed each day. High Estimates are that one Christian is killed every hour. The real number is likely somewhere in the middle – around 5,000 per year. Again – that's roughly 5,000 PEOPLE PER YEAR killed because of their Christian faith. Our Western idea of suffering is when mass runs an extra :20min long or being hungry on Ash Wednesday. For a huge segment of the Christian population (there are 2.3B of us, or 1/3 of the world's population), suffering is a daily choice between faith and death. Expect to see this at the forefront of his global leadership meetings, including March 27th with Barak Obama, in the Holy Land on May 24-26, and in Korea in August.


We finished the night with liturgy – a beautiful liturgy led by Rev. Henry Sands in the Native American spirit. Through interpretive tribal dance, the liturgy opened with a Cherokee morning song: "We n' de ya ho, He ya ho" – I am of the Great Spirit, it is so. The gatherings, refrains, hymns, and closing were spoken in the voice of the Inuit, Lakotas, Hopi, and Incas. Their sacred drums gave us the back beat as we sang Amazing Grace: "u ne la nv i u we tsi". Truly, we are one family united in spirit!
…can't believe tomorrow is the last day.
*Please know these are my summarized notes, mixed with thoughts and a few interruptions along the way. Any misstatements are my own as it relates to the speaker. Please stop by the LA Congress site to see the official presentations made by these amazing speakers.





(Visited 206 times, 1 visits today)