Wow – what a day! Ever wonder what awesome-amazing-faith-filled-on-fire feels like with 40,000 other people? Here you go – Day 1 at LA Congress.*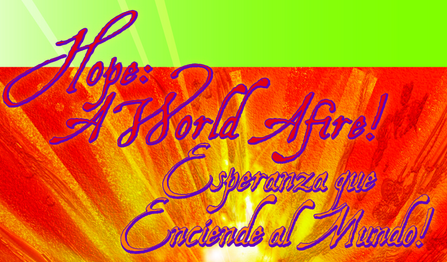 We started the morning with a truly engaging talk by Rev. Ronald Rolheiser. His message was one of fear – and how we want to be healthy in our fear of God and not unhealthy. Our fear can either dampen or strengthen our faith. Bear with me here. Think of every instance in the Bible where God comes to man. What are his first words? Don't be afraid. The healthy fear is the kind of fear we want – after all, fear of God is the beginning of all wisdom. Our healthy fear is rooted in karma – somewhere out there is a moral nonnegotiable imperative at the heart of our lives. What you measure out is what you will receive. Recognizing this fear, and acting in accordance, deepens our faith and strengths. It's the unhealthy fear that causes us to stumble. We should never fear God's character – he understands our mistakes, he knows our limitations, and he totally gets our faults. Totally. As humans, we tend to stay away from God when it's actually then that we need him most – we fear he can't handle us in our broken, lost states. Truly, that's the time we should come to God and ask for his help! There's the pathological fear of pleasure (aka Catholic guilt). Yet, read across all four Gospels and you find the story of the woman annointing Christ's feet…pure, raw affection. Christ takes pleasure in this and we should take comfort in knowing he wants us to find pleasure and be happy! There is also the fear taught years ago…the fear of committing a sin and going to hell. This is the wrong kind of teaching – teaching fear is not teaching the Gospel. It's the antithesis. Remember, God says do not be afraid…so don't be.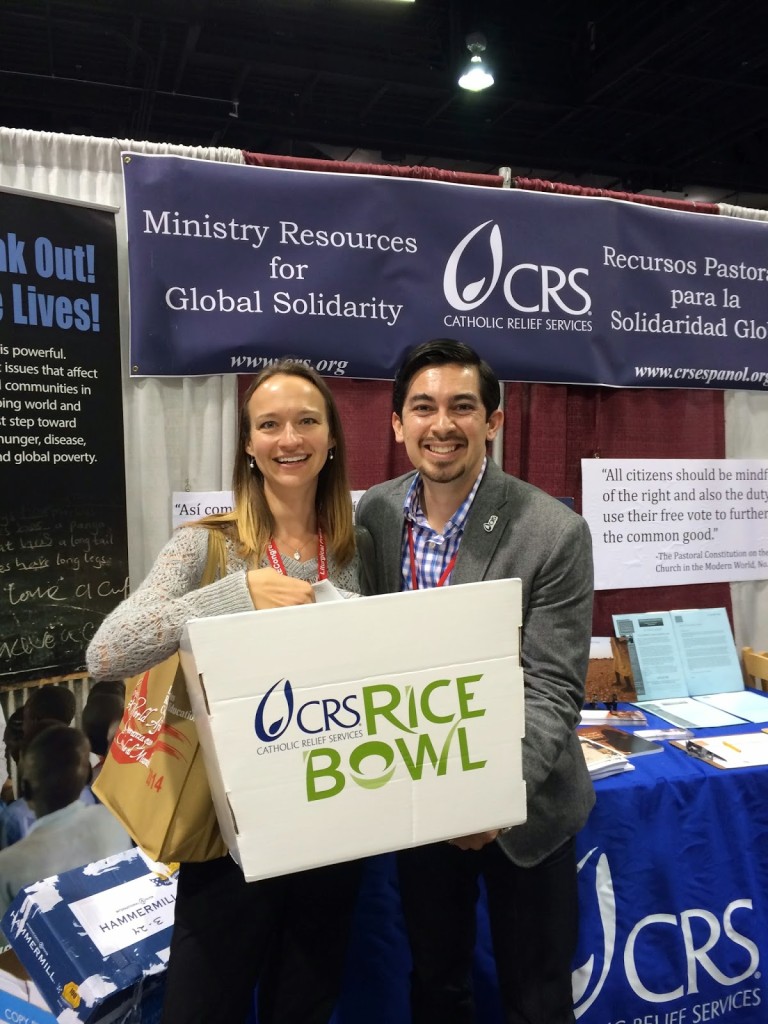 …I have about ten pages of notes but I'll save you from them! We took a short break between the first session in the hall where I had to stop by CRS for a photo opp with The. Largest. Ricebowl. Ever. Seriously, this is a Lenten commitment if I've ever seen one. Thanks to Sergio Lopez and his team for sharing all the wonderful things CRS is up to, like their Fair Trade housewares, jewelry, and crafts, their Helping Hands partnership with Stop Hunger Now to offer food and long-term, sustainable solutions so people can lift themselves out of poverty. So much amazing work being done by this organization above and beyond!
The second session was by Jim Wallis, an Evangelical Christian, who instilled in everyone listening a sense of HOPE….and that there is so much hope in what can feel like a hopeless world. Pope Francis has graced the covers from Time to Rolling Stones. Just a few days ago the world – not just Catholics – celebrated his first year. Why? He offers us something new: unexpected hope.The question is, are we willing to follow his – and Christ's example? If we are, then we are that very source of unexpected hope. We offer hope that the politics, the bureaucracies, our leaders will see the very dignity of each and every person regardless of race, religion, creed, orientation, or any other factor by which people are divided. Jim reminds us that the movements on the outside are changing the inside – it's working all around us already with the increased attention that immigration reform is receiving driven, in large part, by the faith communities. It is our job to continue to push the envelope, ask the hard questions, and act with a sense of urgency – and, above all, ensure we continue to be a source of unexpected hope to those around us.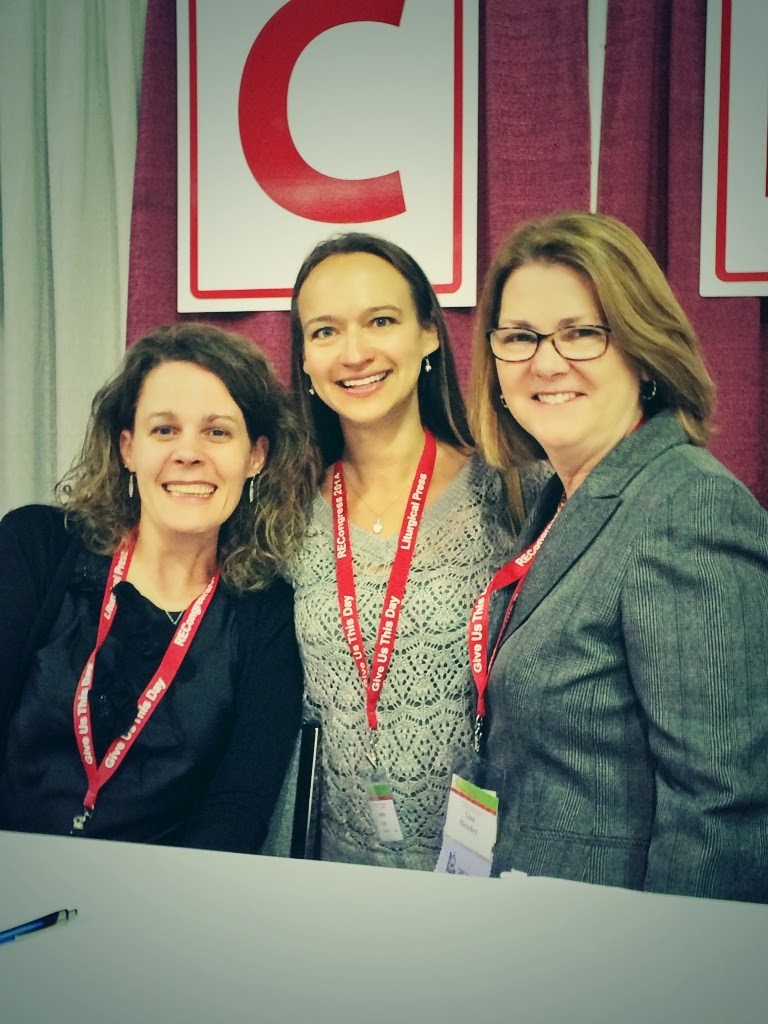 Time for the second break of the day – and what an opportunity it turned into! I love (love) Catholic Mom and am privileged to have contributed articles to this amazing site. Both Lisa Hendey and Sarah Reinhard also shared articles during our Hot Summer Nights Marriage Focus program last summer, so meeting them both in person was truly an honor! They are just as kind, sweet, and funny as they come across online. They're also both awesome presenters…since my second session ended a bit early, I had a chance to sneak into their talk on Driving a New Evangelization. The talk, along with the videos, will be posted on Catholic Mom in the next few days. Check it out for some great ideas on how you can evangelize your own domestic church.
Last session of the day by Life Teen and Mark Hart, who himself needs no introduction. His talk – or rather his ENERGY – was about Dying Young: Why the Young Church is Falling Away and What We Can Do About It. It's true…and scary. So many young people leave the church, and so few come home. Mark reminds us – what do young souls want? Family. Intimacy. Truth. We have a generation – adults included – who are so busy looking down, into their technology, that we need to help them look UP. We need to first recognize them, and each other, as individuals. We need to realize that the Holy Trinity is not made up of me, myself, and I and fix ourselves to be the models they need before even trying to fix others. Mark's energy was contagious, and before the session ended we were all looking up the next Steubenville. Makes me actually wishing I was a teen again for a few moments…ok, done.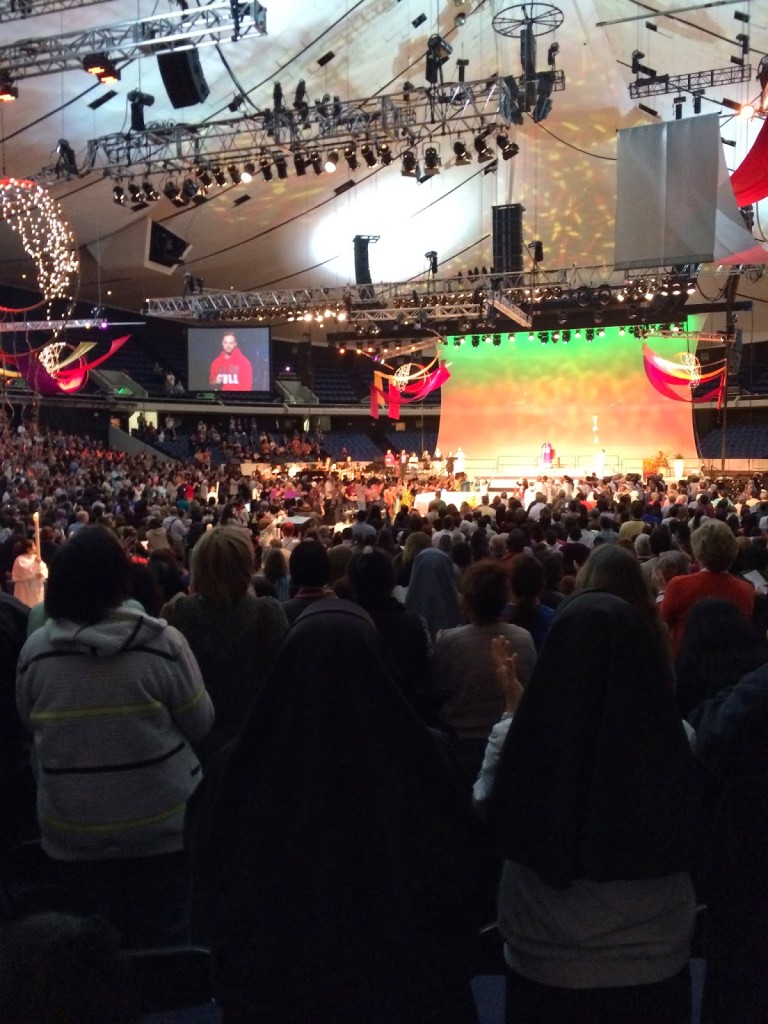 …and just when you thought it couldn't get any better…it does. We ended the night at the Urban Fusion liturgy, presided by the amazing Msgr. Ray East of St. Therese of Avila in Washington DC. Urban Fusion: think spray paint + incense + hula + rap + Christ all mixed, slightly shaken, and stirred served on the rocks. This mass – quite literally – rocks your world. From the spoken lyrical prayer to the interpretive dance and on to the praise & worship throughout the entire audience of thousands, you truly felt afire. I've got to figure out how to share video…this picture does no justice to the priests, ministers, and laypersons, dancing at the close of the liturgy to the sound of beats, steel drums, sticks, and urban vocals. Even Msgr. Ray busted a move. Stuffy Catholics? Nope, not here.
Can't wait for Day 2 and Day 3.
*Please know these are my summarized notes, mixed with thoughts and a few interruptions along the way. Any misstatements are my own as it relates to the speaker. Please stop by the LA Congress site to see the official presentations made by these amazing speakers.
(Visited 101 times, 1 visits today)