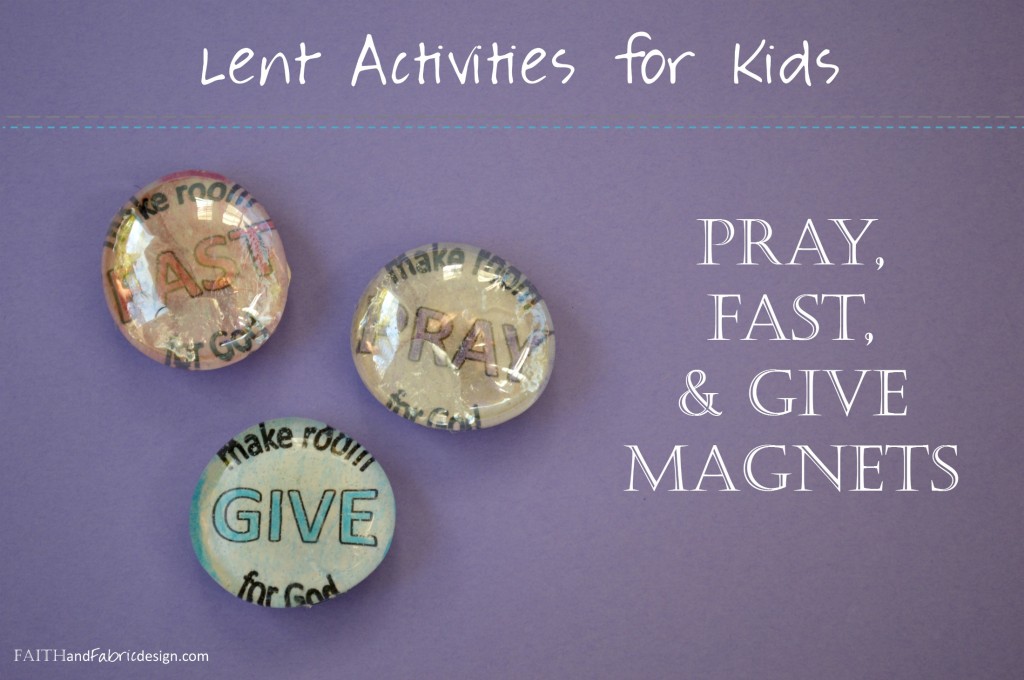 With all the kids projects, fish fry schedules, fasting days calendars, and <insert a thousand things here!> going on, it's easy to lose track of both the white space on your refrigerator door as well as where we should be focused during Lent. Keep your refrigerator door – as well as your heart – organized with these adorable "Make Room for God" Lent magnets – they are a perfect Lent activity for kids or Sunday school. Each of these three magnets reminds us to "make room for God" with three simple actions: PRAY, FAST, and GIVE. Use them to hold up your Lenten Promise card!
WHAT YOU NEED
HOW TO MAKE
Color and cut out the 3 circles (Pray, Fast, Give).
Be sure to flip them over and have your children write their name on the back of each…this makes it great for classrooms as each magnet will have the child's name on the back of their three magnets.
Squeeze a small amount of glue onto the PRAY/FAST/GIVE side (the top) of each paper circle, one at a time. Place the glass jewel/marble on top of the glue and press down to get out the air and ensure the glue flows to the edges of the paper circle. Repeat 2 times, and let dry.
Glue (using the glue gun) the magnet on the back of each piece of paper, and let dry.

TIP: Let your magnets dry overnight. They're quite sturdy once dry, but if they ever come unattached from the glass, a quick new layer of glue will re-secure them no problem.

(Visited 5,001 times, 4 visits today)