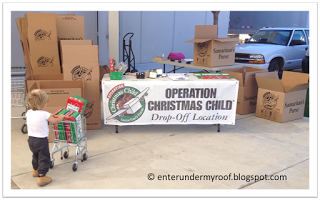 We dropped off our boxes today! In case you missed our update last week, we got together with some of our favorite mommy friends and pulled together three boxes for Operation Christmas Child. Today, we dropped them off at one of their designated drop locations! Rather, I should say little man dropped them off in his favorite little shopping cart (that thing goes with us everywhere).
I was humbled to see how many boxes were there, ready to be distributed! When you think about how many boxes this drop location alone had, times how many sites globally are collecting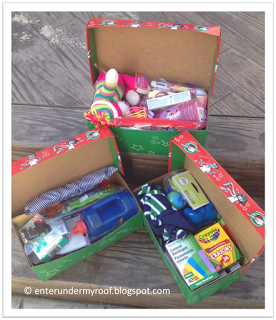 boxes…wow. Just wow. It's no wonder they've delivered to over ONE HUNDRED MILLION – that's 100,000,000 – children! Something cool for me is, when sharing with my mom about this project, she said she remembers us doing this at kids when we were in school. See? It's already a family tradition! Who knew.
When you donate your box, you have the option of paying the $7 per box and getting a tracking number…which I think is going to be lots of fun. I'm looking forward in weeks to come to track our packages and see where they end up! We'll be sharing their location as we find out, too. Can't wait!
P.S.: if you're wondering about that adorable tot-sized shopping cart little man has, it's this one from Melissa and Doug. Seriously, it goes everywhere with us…the metal look and feel are just like the ones mommy has, and he loves having his own version just the right size. One last thing…if you're one of the people little man has mowed down in his path of fury through the grocery store aisle, please accept my sincere apology. Ice should get rid of those bruises no problem.
(Visited 323 times, 1 visits today)