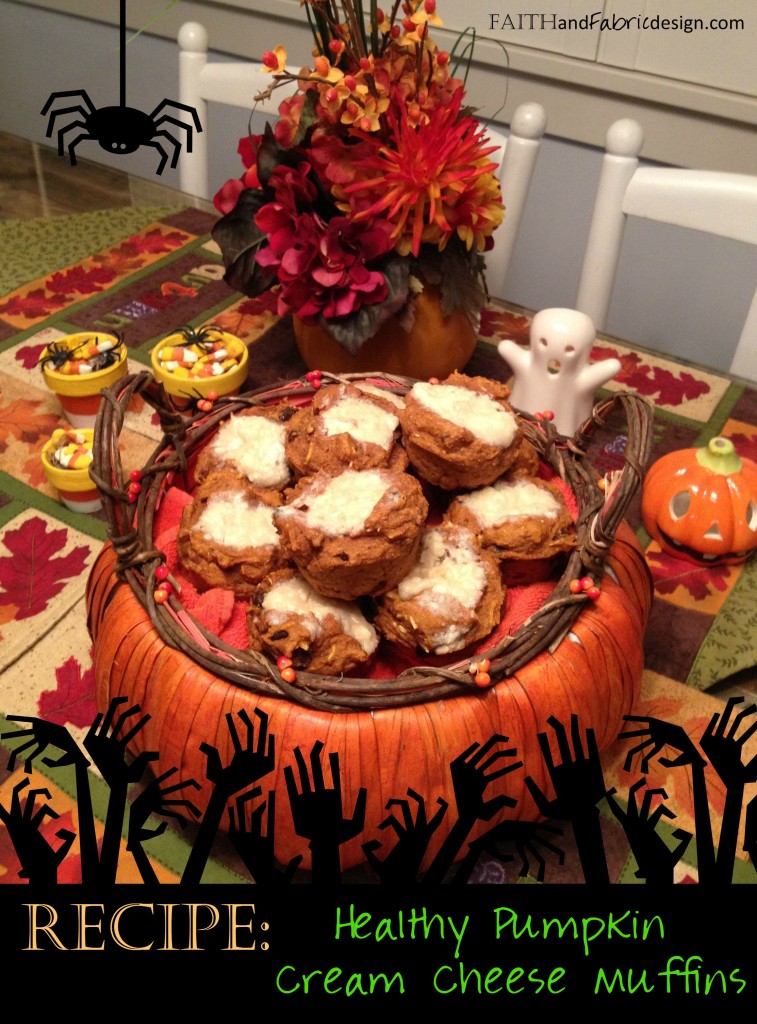 Mmm…nothing smells like fall more than the amazing smell of pumpkin muffins baking in the kitchen. I love pumpkin flavored anything, and really wanted to share the wonderful taste with our family – but in a healthy way. I took a favorite recipe of ours, tweaked it a bit, and came up with these outstanding healthy pumpkin muffins stuffed with low-fat cream cheese. Honestly, to die for. Who says healthy can't taste decadent??? …for more decadent ideas, try the Boo-rownie S'mores. They're to die for (bwahahaha)! You can also package them up fresh out of the oven and leave them for your neighbors as you do a bit of pre-trick or treating with the "You've Been Boo'd" tradition. It's a great way to get the whole neighborhood in the Halloween spirit!
WHAT YOU NEED
muffin pan – I swear by this non-stick Wilton's pan
8 tbsp. softened low-fat cream cheese
2 tbsp maple syrup
2 cups whole-wheat flour
1 tbsp baking powder
1 tsp pumpkin pie spice (or more if you like!)
1/4 c. shredded coconut
1/4 c. chopped walnuts
1/2 c. raisins
2 eggs
1 cup canned pumpkin puree – NOT pie filling
3/4 c. apple sauce (more or less to make the desired "wetness" of your muffins)
HOW TO MAKE
Preheat the oven to 350*
Prepare the filling: mix the softened cream cheese with the maple syrup. Set aside.
In a large mixing bowl, combine the flour, baking powder, and pie spice. Once combined, mix in the coconut, walnuts, and raisins.
In a second mixing bowl (with mixer ready), beat the two eggs until they are fluffed a bit (about 2 minutes). Gently mix in the pumpkin puree. Once mostly mixed, add the apple sauce. You can add a bit more or a bit less depending on how dry your batter looks (some whole wheat flours "absorb" the liquid more than others, and some apple sauces are wetter than others). See photo for how my batter looked.
Pour batter into greased (I spray Pam) pan.
Make an indent in each muffin. Place a scoop of cream cheese filling into the indent.
Bake for 20min or until a fork comes out clean.
As these muffins have cream cheese, they will need to be refrigerated if you need them for the next day.

Just for fun…this post links up at Good Tastes Tuesday and these other great Catholic & Quilting sites!
(Visited 288 times, 1 visits today)