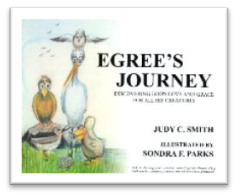 I have the pleasure of reviewing Egree's Journey by Judy Smith, a sweet children's book that centers around a Great Egret named Egree. She is a sweet, kind bird who sets out on a journey to find a new home and ends up finding not only a place to call her own but finding friends, a sense of community, and the love of God on the way.
The book opens up with a sad Egree, who feels alone and unloved. She starts her journey to make friends and find a home by traveling to several places…but each turns out to not be the right one for her. Some spots are too noisy and others have bullies. Egree ends up settling in at a local church, and awakens to the beautiful sounds of the parishioners attending Sunday mass. The story continues on her journey as this new church becomes her home, and comes full circle with her and the bullies ending up as friends.
There are many
cost of generic valium
things to like about this book – the gorgeous watercolor illustrations (by the talented Sondra Parks), the messages around bulling which is so prevalent in our society today, and the peace and joy she finds in God's love. The end of the book contains several quotes on scripture that you can share with your family – each is focused on a bird in the bible.
This is a wonderful book for early school age children, and has a message that applies to us all regardless of age. With timeless topics like making friends, dealing with bullies, and finding our place in life, its message is sure to resonate with readers for years to come.
We had the wonderful opportunity to meet with both the author and illustrator of this sweet book – take a moment to read their stories and inspiration for Egree!

Just for fun…this post links up at CBN and Paradise Praises.
(Visited 108 times, 1 visits today)