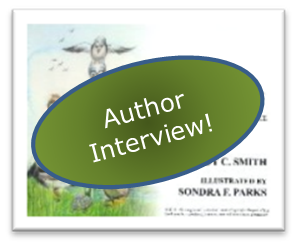 Today I am very pleased to share with you an exclusive interview with Judy Smith, the author of Egree's Journey (the children's book we recently shared). Judy is a talented, gifted woman and I had the opportunity to sit down with her recently to chat about her new book.


Me: So tell me…where did your inspiration for this wonderful children's book come from?
Judy: The Great Egret in the book is based on an actual bird that seems to have adopted the land around our parish. That is amazing, as the Parish is approximately 8 miles inland from the ocean and marshes. The first time I saw her she flew past the windows behind the alter, while our pastor was giving his sermon. It is a very large bird with a wide wing-spread, and the congregation let out a big gasp as she flew by! After Mass I jokingly told our Pastor that he was 'upstaged' by a large bird. As I was heading for the parking lot, many of us witnessed the Egret catching and swallowing mice while under a Kumquat tree on the church property. She swallowed the mice whole. It was awesome to see that big lump slowly sliding down the bird's long, thin neck.
The next day, as I was doing my morning meditations, when the idea for what is now known as Egree's Journey came to be. I truly believe my book was God- inspired ! Especially in this era when there seems to be so much fighting and bullying in the schools. I also wanted the story to speak to children who feel alone or 'left-out', as Egree does in the story, until she discovers the joy in God's love. I felt it important to introduce God's love, compassion and grace to very young children and in a way that they could initially understand. Children, and adults, are attracted to the story and the colorful artwork in which Sondra Parks brought my feathered characters to life (read our interview with Sondra here!). I have also enjoyed biblical passages that reference God's creation of birds of the sky. Those references allow the parent and/or teacher, to extend the discussion of God and all his wonderful creations.
Me: "This story is focused around a bird. Have you always been interested in birds?"
Judy: Yes, they have been a part of my life since early childhood. When I was
quite young, I loved going to the dentist because he had a collection
of bird figurines, and I especially wanted a flamingo figurine like his.
He actually gave me one of his and that was the beginning of my bird-
collection. I think I had about 30 different birds figurines, by the time I was an adult.
My husband and I enjoy feeding the variety of wild birds that visit our
backyard. Our feathered visitors that come and go with the seasons
include Quail, Doves, Hummingbirds, Gold-and-House-Finches, Hooded-Orioles, Crows (very cognitively smart birds), Cooper Hawks, Mallard Ducks, and Sparrows, just to name a few. My husband says we may go broke one day on what we spend on birdseed !
Birds have been messengers from God at least twice in my life, and probably more times than I was consciously aware of. I told you about
'Egree'. The other is when I first moved to California, after a couple difficult years in my life. I had a Bird-of-Paradise plant next to me while relaxing on my apartment patio one lovely sunny day. A Hummingbird began to feed off of one of the plant's blossoms, just inches away from my face. I was mesmerized watching her, when suddenly I felt a presence behind me, directing me to go inside and began writing on a long, legal pad that I had on the table. I knew not what I was writing, and at one point I (telepathically) said, "slowdown, I can't write that fast!" When I had finished writing, I no longer felt that beautiful presence behind me.
It was a moment in time that I didn't want to end. Than I began to read what I had written. My loving God Almighty's message was so beautiful, meaningful and humbling. It was meant for me at that time and place. I have kept it in my Bible to this day, and refer to it often. Any doubts that I might have had before than, never returned. From thence forth, I knew, with no reservations, that God exists and there is hope and life-after-death!
Me: "Tell me a bit about how you came up with the characters for your story."
Judy: I have particularly enjoyed the many varieties of birds here in southern California.
We often see Sandpipers at the beach. They are so precious, I wanted to include them.
I'm originally from Minnesota, so I always loved ducks, which are plentiful there.
Here we feed up to 30 ducks cracked corn in the winter months. They come like clock-work for breakfast and dinner ! One pair fly over our fence, into our backyard. After eating their fill, and bathing in our bird fountain, the two of them actually cuddle together and sleep right next to our St. Francis of Assisi statue. Interesting, huh? There is also an owl in the story. I was first fascinated with a pair of owls named, "Molly and McGee". They lived in an owl box in San Marcos, CA. The couple who had the owl box in their yard, placed a camera and sound system in the box and shared the owl's activities with the world on the Internet. We watched their owlets be hatched,fed, grow and fledge, right before our eyes (so to speak).
I had to include a striking Cooper Hawk in my story. One occasionally lands on our fence searching for his prey. I do scare him away though, because he catches some of the smaller birds that we feed. Of course, living by the ocean, I wanted to include the Pelicans and Seagulls. Both are such interesting and industrious birds.
Me: "In addition to the sweet story, the paintings in the book are simply darling. What can you tell me about the artwork?"
Judy: The paintings were done by a friend and parishioner ,Sondra Parks. Sondra and I met when my husband and I were part of a large group of volunteers from our church, who spent time in New Orleans renovating homes after Hurricane Katrina. Sondra is a talented artist. I have always appreciated her art, particularly her rendition of John Paul II. In the original draft of the book I had done the artwork and asked her how to improve my sketches. After she described ways to bring the feathered characters more to life, I knew she was the one to do the 'job' right! Sondra provided her time and talent pro-bono.
She did so because she knew that if and when I realized any profit from sales, that I planned to share the profits with children's charities through our church programs. I will be forever indebted to her for her generosity! I hope you will be able to interview her also.
Me: "Anything else you'd like to share about your story?"
Judy: When I first wrote the story about Egree, I addressed her as a 'he'. Later, after Sondra had finished all the paintings, I decided to make Egree a 'she'. Primarily because in an anticipated sequel, I wanted her to get married and have little Egrees. When I told Sondra, she said, "no problem ! I will just go back and put long eyelashes on Egree!" I have to say that worked like a charm!
I found it interesting that when you go to the Internet and type in the words
'birds in the bible', you will get seven pages of quotations in which birds are mentioned in the old and new testaments.
Also, in my book, I wrote in some of the musical notes from Amazing Grace. You will see it on the page in which Egree is perched on top of the church, listening to the choir. It shows musical notes 'floating' out of the building. I hope those that can read music, will recognize it.
————————–
See more about this book on Amazon:
(Visited 138 times, 1 visits today)