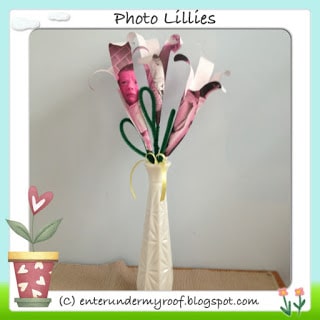 I had been wanting to do this project for some time now, and Mother's Day is the perfect occasion. I had seen paper lilies like these at the local elementary school, and thought – how fun to make them out of photographs! This way mom (or you!) will have beautiful flowers that last forever and provide lasting memories for many years to come.
WHAT YOU NEED
printed photographs (TIP: they "curl" better like flowers if printed on standard printer paper and not photograph paper)
HOW TO MAKE
First determine who will be making the flowers. If the hand being used is adult size, print out the photos on 5″x7″ paper. If younger children, you can print them out on 3″x5″ or 4″x6″. Print out three or so of your favorite photos.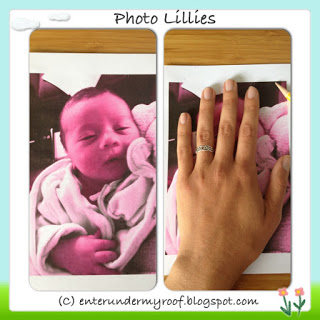 To make the flower: Using a pencil, trace the hand on top of the photo, putting the best part of the photo (the part you want to keep) under the hand/fingers. Cut out the photo. TIP: I made the fingers a bit wider in the cutout so more of the photo would be preserved. See example above.
To make the stem: bend the tip of a green pipe cleaner and tie a yellow ribbon at the top. This will be the inside of the flower. See example above.
To put together: Make a cone out of the handprint. Glue or tape the bottom. You want to make the cone nice and tight so the pipe cleaner *barely* slides through. Once you have the cone, slide the pipe cleaner through. To hold it in place, use a second pipe cleaner to make a leaf at the base of the flower. See example above.
Repeat the process for additional photos until you have a bouquet!
Note: this post is also featured on Catholic Carnival .
(Visited 451 times, 2 visits today)