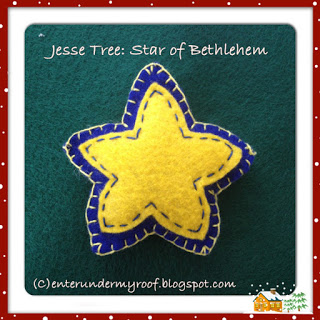 23rd Day of Advent: the Three Maji follow the Star of Bethlehem
Matthew 2:1-12
WHAT YOU NEED:

HOW TO MAKE:
INSIDE STAR: on the yellow, draw out your star. TIP: I slightly rounded the sides of the star so they weren't perfectly straight/sharp.
OUTSIDE STAR: lay your yellow star down on the blue felt and trace a shape similar to but approximately buy klonopin australia 1/2″ larger. Cut out two pieces…one will be the back and one will be the front.
ATTACHING STARS: using blue floss, stitch the yellow star onto the blue. Then, attach the two blue stars together with the yellow floss. You can either do a straight stitch (like you did on the core) or a blanket. I really prefer the blanket stitch 🙂 I added a bit of stuffing to mine just before sewing it closed. It's also up to you if you want to make the colors contrast or coordinate with the felt.
…we will come back at the very end and attach the ribbon to the ornament for hanging.
(Visited 273 times, 1 visits today)