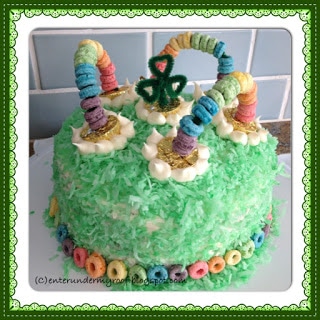 Yes, this cake is a bit more on the commercial side than the Catholic side, but what's not to love about edible rainbows that end in pots of gold? (For more faith-filled activities, check out all the Saints Activities for Saint Patrick.) This was such a fun cake to design and create, and it was super easy. Super yummy, too! I made this cake, along with these yummy Saint Patrick's Day cupcakes, for our Lenten Fish Fry at our parish and they were a hit.
WHAT YOU NEED
one box of white or vanilla cake if you want to dye the cake green – otherwise, any flavor will do
white icing (has to be white)
fruit loops cereal – generic brand ok
green food coloring
coconut flakes
individually-packaged peanut butter cups – try to find those in a gold wrapper
HOW TO MAKE
Bake the cake in an 8″ or 9″ pan according to directions. Allow to cool thoroughly.
Once completely cool, ice the cake with a layer of white icing, reserving about 1/2 cup for the white clouds at the end of the rainbows.
Add about 1.5 cups of coconut flakes to a large plastic baggie. In a cup, add 2 tablespoons of water and about 10 drops of green food coloring. Dump onto the coconut flakes in the bag and shake-shake-shake until everything is evenly coated.
With your (clean) hands, press the coconut into the top and sides of the cake.
To make the rainbows, string three of each color of Fruit Loops onto a pipe cleaner in the "red orange yellow green blue violet" order. Trim the pipe cleaners until there's only about 3/4″ left on each end and press them into the still-wrapped peanut butter cups (the pots of gold!).
Take the three rainbows and arrange on the top of the cake. Using a cake pipe, squeeze "clouds" around the pots of gold. If you don't have a cake decorating tool, you can probably just spoon some on – no worries.
In alternating rainbow colors, press Fruit Loops into the bottom of the cake as a border.
OPTIONAL: I used some of the extra pipe cleaners and made a mini shamrock for the center of the cake. See? This is still a faith project!
(Visited 362 times, 2 visits today)