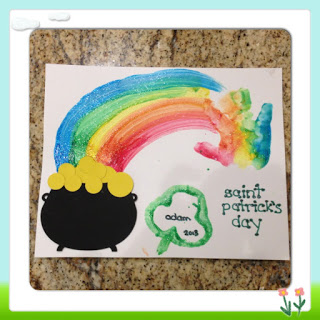 In honor of Saint Patrick's Day, a fun activity to do with kids – in my opinion – is anything that involves handprints or footprints! I think they're a great way to capture the tiny little size of those adorable babies…and a way to get them to make handprints you actually *want* as opposed to the jelly handprints on the wall that you don't. Besides, it's a great way to still be Irish if you can't be in Ireland to celebrate.
We made this amazing Pot o' Gold – complete with shamrock – at a Saint Patrick's Day party sponsored by the amazing Kylie at Made by a Princess / Parties in Style. …and, if you're order generic cialis online uk into a rainbow-themed Saint Patrick's Day, be sure to complete it with a rainbow & pot of gold cake.
WHAT YOU NEED
white paper – the thick kind (construction paper is perfect!)
embellishments…we had a cutout of a pot and "gold" to fill it with
tiny little hands to stamp
HOW TO DO IT
Paint the hand of your little guy (or girl). Run different colors down each finger in the rainbow order: red, orange, yellow, green, blue, violet
Stamp their hand onto the paper
Paint a rainbow towards the bottom corner
Add embellishments, and enjoy!
(Visited 1,256 times, 2 visits today)