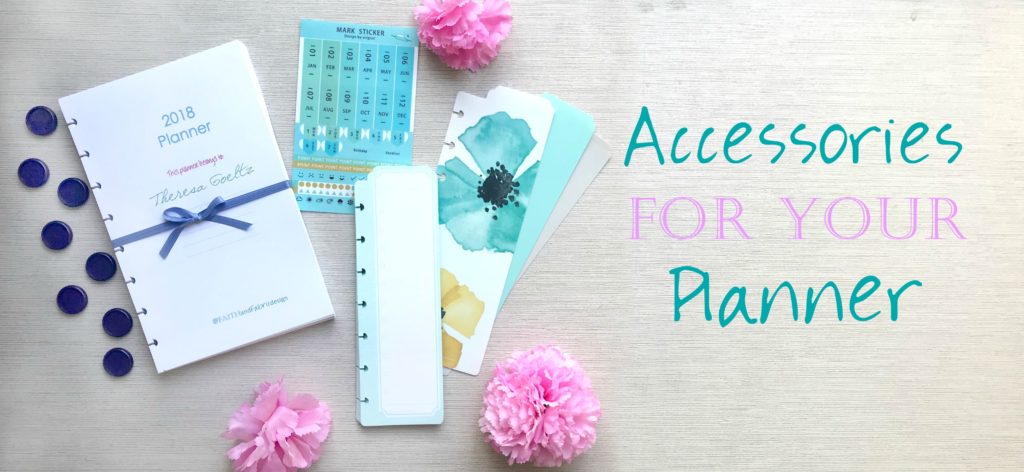 Yeah for ordering your custom junior-sized ring planner and making this the year you are more organized than ever! Now it's time for the fun part – accessorizing your planner. Below are some of my favorite ARC-compatible accessories that I use in my planner…they're accessories that I think you'll love, too. Beyond the rings and cover, you don't actually *need* to purchase anything…but with all the wonderful accessories, the possibilities to continue making your planner perfect are limitless!
(Note: this post contains affiliate links to Amazon, where I purchased the supplies for many of the images below.)
RINGS
First up – planner rings! Your planner comes with ARC hole punches, which means you'll need to pick up some rings to hold it together. The rings come in all different sizes, ranging from 3/4″ all the way up to 2″. Depending on how many other pages you will be adding to your planner, you'll want to select a ring size that's about 1/4″ taller than the height of your planner. This ensures you can turn the pages easily and have room to grow. I use the 1-1/2″ size, and find this gives me plenty of additional space for some of the other items mentioned below. Rings come in so many lovely colors, like teal, rose gold, pink, black – just to name a few!

COVER
Now that you have a great planner, you'll want to keep it safe. A solid plastic cover will protect the interior pages from spills and bending, and add a personal touch to your planner. You can find covers in clear, which let the beautiful scripture quote shine through. Or, you can pick up a cover in a variety of prints, like fresh flowers, french swirls, colorful geometric designs, or even inspirational quotes – it's totally up to you! I recommend a size of 6-3/8″ x 8-3/4″ to ensure your pages (5-1/2″ x 8-1/2″) fit snugly inside.

TAB DIVIDERS
Planning on adding extra pages to your planner? You'll probably want some tab dividers to keep each section clearly identified and easily accessible…and not let it get mixed up with other pages. There is a wide assortment of dividers to choose from. You may choose to opt for a simple tab system, like these in black or (my favorite) these colorful prints. Prefer dividers that have pockets? These dividers in smokey gray or vivid tones will keep your loose papers safely stored away. I recommend any tab dividers that are sized at roughly 5-5/6″-6″ x 8-1/2″.

STICKERS
Stickers are one of those adorable things that – no matter how old you are – they're always fun! Planner stickers are an awesome way to add pops of color (not to mention organization) to your day. Whether you opt for a classic variety pack, one just for busy moms, stickers focused around getting in shape, or just those designed to make your weeks a bit more colorful, these are a fun way to have fun with your planner.

ADDITIONAL PAGES
Want to add additional pages to your planner? There are some great packs out there to choose from! Whether you like to-do lists, a home finance kit, or even Already have pages you want to use? The ARC hole punch will turn any pages you have into ones that fit neatly into your planner.

PAPER
Did you order a digital copy, and are you printing your planner yourself? I highly recommend a 32-lb paper like this one, as it is ultra thick, luxurious, and won't bleed through.
So there you have it! These are a few of my personal favorites mixed in with some options to help make your planner even more personal to you. Are there other accessories you love to use? Drop me a line – I'd love to hear about them!
(Visited 541 times, 1 visits today)