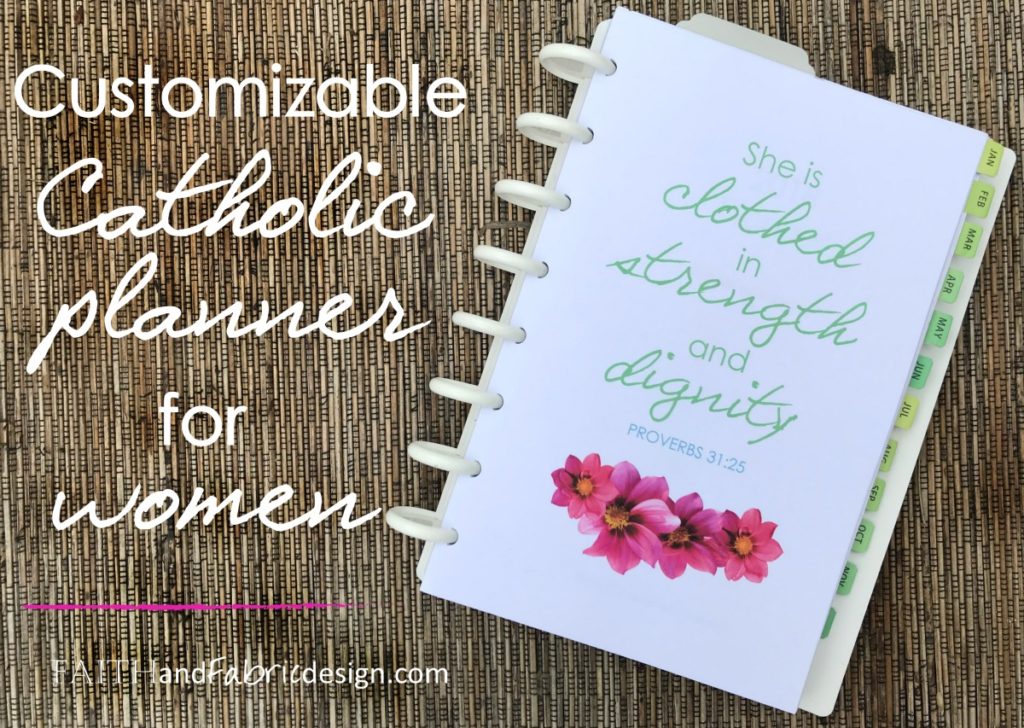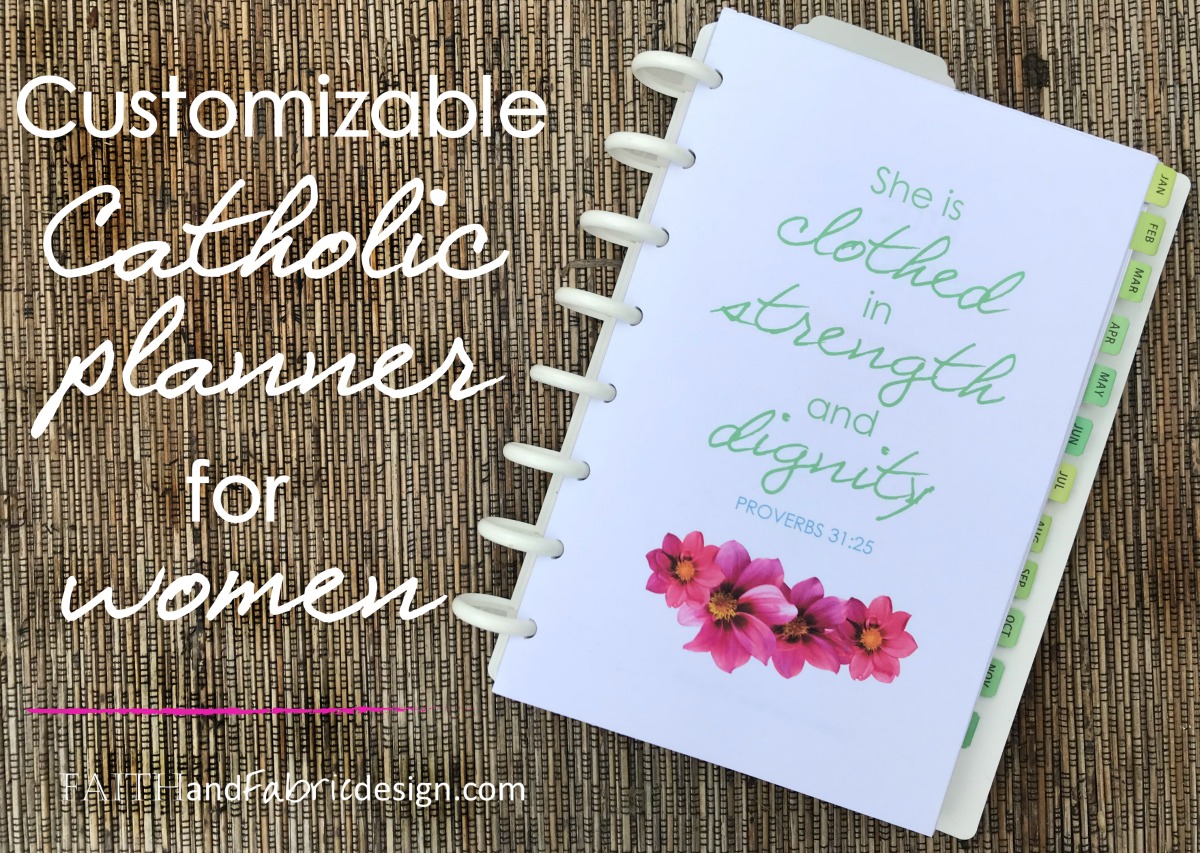 Each day, I wake up and check my phone to see what's on the day-to-day schedule for the next few days. Then, I check my Etsy account to see what open orders I have, and check the lined paper I jotted some notes down on the previous few days to see what to-do's are left for my business. I see the bulletin from this past weekend's Mass sitting there, a few items circled that I need to remember, and behind it sits my son's permission forms, supplies list, and birthday list for his school. The family wakes up, and life begins…and, as I collapse into bed that night, I realize today was a feast day that I again missed celebrating with my family.
So, I sat down and created a planner, and included a few items I love to pair with it (all are affiliate links to items I use). Unlike other planners available today, this customizable Catholic planner is designed for YOU – a beautiful woman who is constantly juggling multiple hats and needs a planner specific to the many demands in YOUR life. That's what makes this planner so different – it has seven sections within each week that can be customized to be exactly what you want, along with an eight section for keeping track of weekly goals…whatever is most important to you. You pick the headers for each of the seven sections within the page, as well as the "title" for whatever you want to get done each day in the bubbles.
The planner is broken into several sections, each created to support you and your busy life:
*monthly views: show key feast days, liturgical colors each Sunday, days of obligation, holy days, and secular holidays. Lots of white room leaves space for you to add your own details.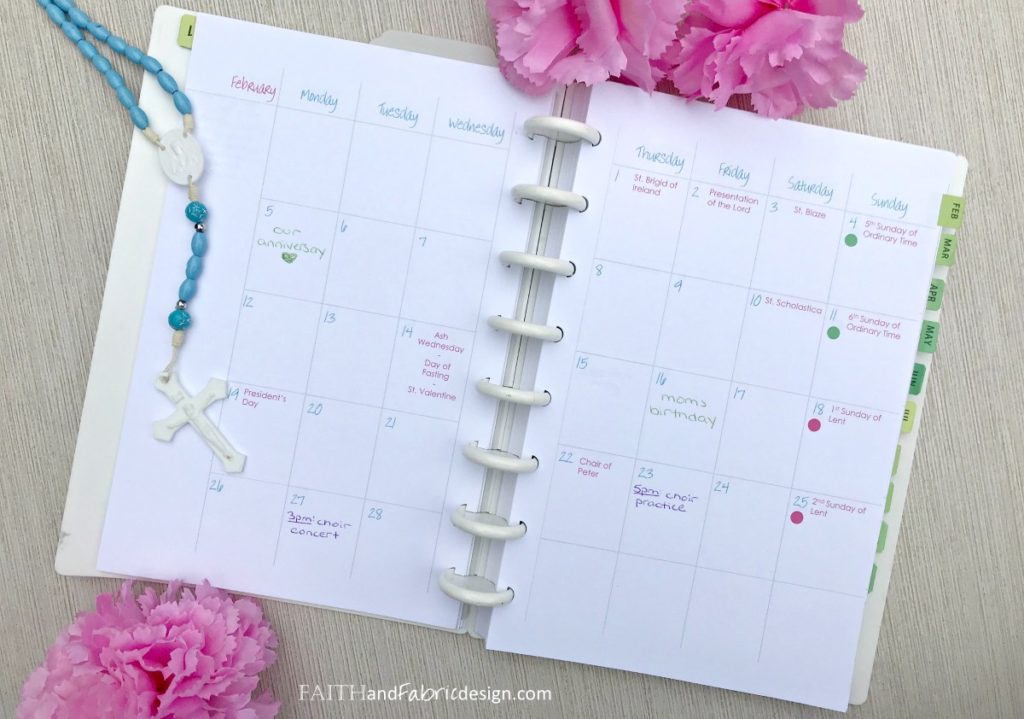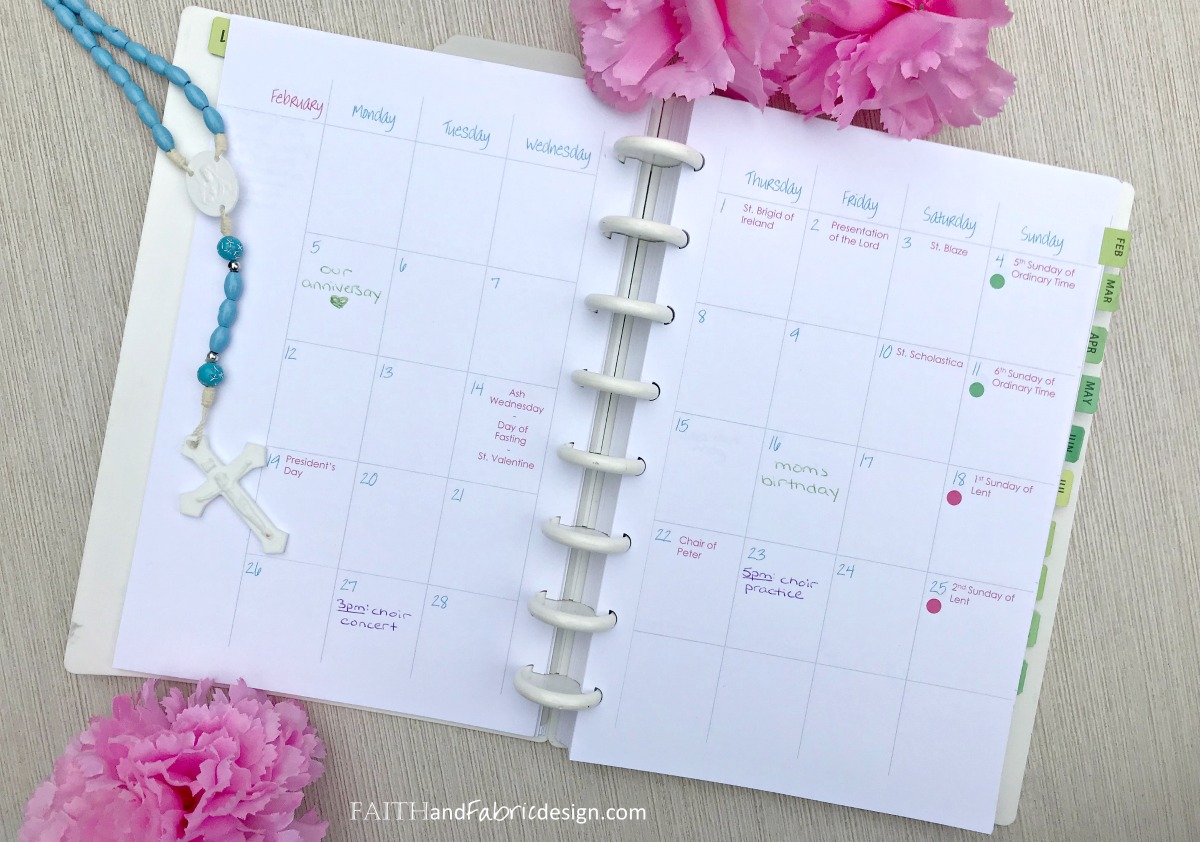 *saints feast days and notes: behind the monthly view, a two-page spread shows saint feast days on the left page. The right page is left blank for you to record thoughts, stick post-it notes, write monthly goals, or anything else you'd like! The two pages display the Monthly Dedication at the top of the page, showing the devotion for the month.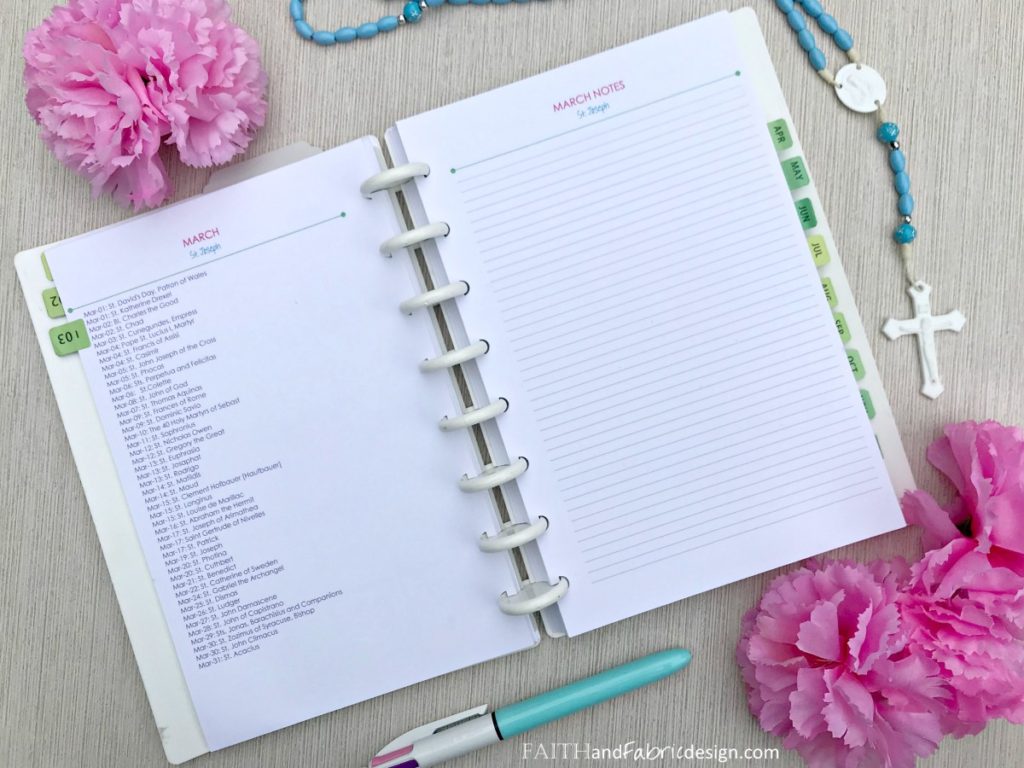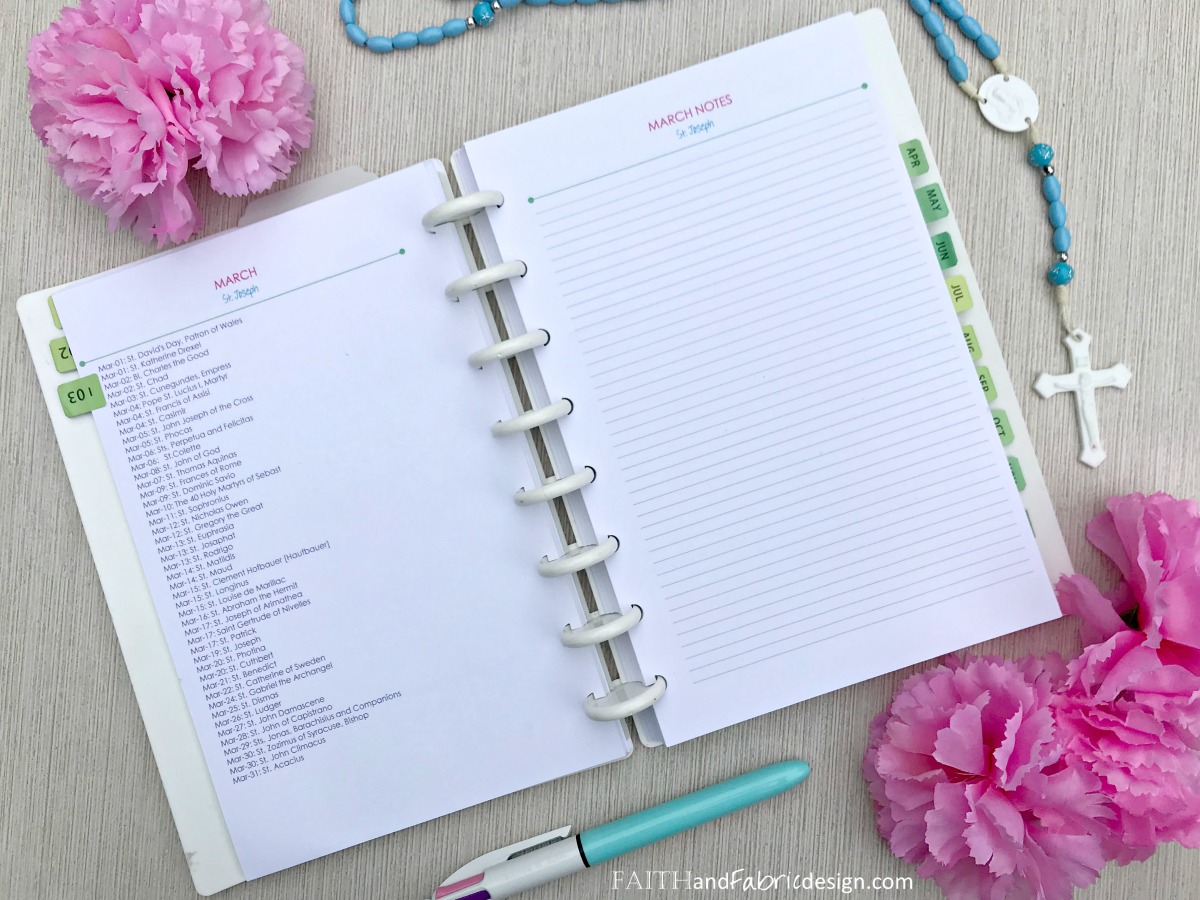 *weekly views: then, it's into the custom area made just for YOU. At the top left page is the date range for the week, followed by a beautiful scripture verse. At the top right page, you'll find seven tracking bubbles with a header that YOU can customize – because only you know what you want to keep track of. Maybe it's water intake, saying the rosary, working out, or telling your spouse you love him. It's all up to you. Beside this is a spot for you to record all the things you're thankful for that week…because a thankful heart is an absolutely beautiful heart.
The weekly views of the planner is broken into seven customizable titles/areas – each determined by you, making it exactly what you need to manage your life. Keep track of the items you need to make that week, the to-do's you have to run your business, specific needs of your children, a traditional "Monday-Friday", or anything else you need!
At the bottom of the lower right page is a space for you to keep track of prayer requests for the week, as well as the corporal and spiritual acts of mercy (all of which we are called to practice).
Here are a few of the beautiful custom planners that we've created showing the weekly views that these creative women have chosen to manage their busy lives. Each has chosen different titles/areas to manage their week, as well as a different goal for the tracking bubbles:
for the maker mama who is taking classes, involved at the church and school, and still tries to squeeze in a few workouts a week, we created this lovely layout. The left side of the page is for keeping track of her business and has sections dedicated to "to make" and "to do". Below that is a space for her Spanish class, so she's never behind on assignments. She also has a space for key family faith activities she wants to share with her family (we always love the devotions and food in Grace Before Meals).. The right page has space for her to keep track of all the things she needs to accomplish "at home", "at church", and "at school" (for her son). She's an avid athlete, so uses the tracking bubbles at the top to make sure she fits in her five workouts per week.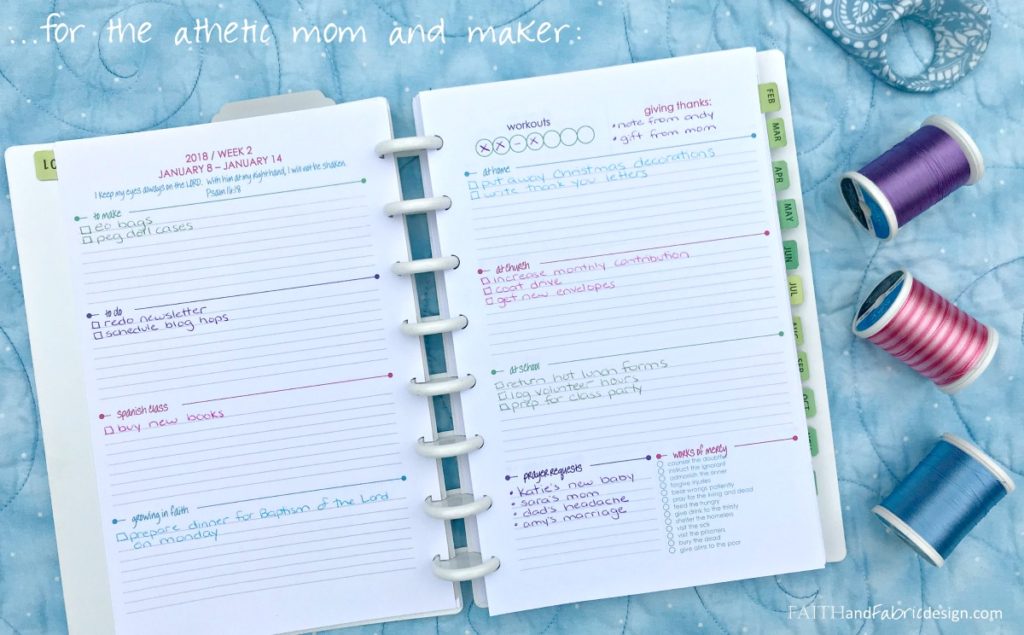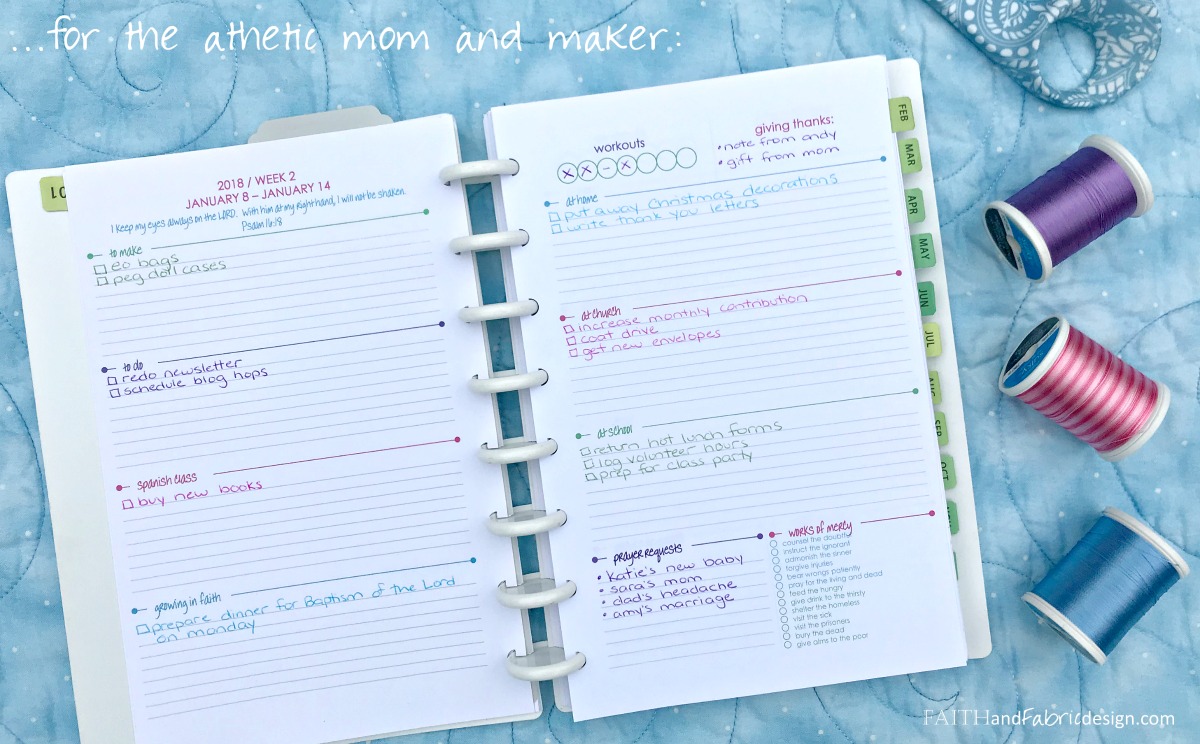 for the mom of multiple children who is involved at all levels! This lovely mama used the left pages to keep track of her "to do" lists, "school" projects, like PTG meetings and events, "church" projects, like MOPS and bible studies, and "growing in faith" for her personal faith development. On the right page, she used the categories to represent the names of her three children, so she can always stay on top of what needs to be done for each child throughout the week. She has a personal goal of drinking extra water each day, so is using the tracking bubbles at the top to monitor her water intake.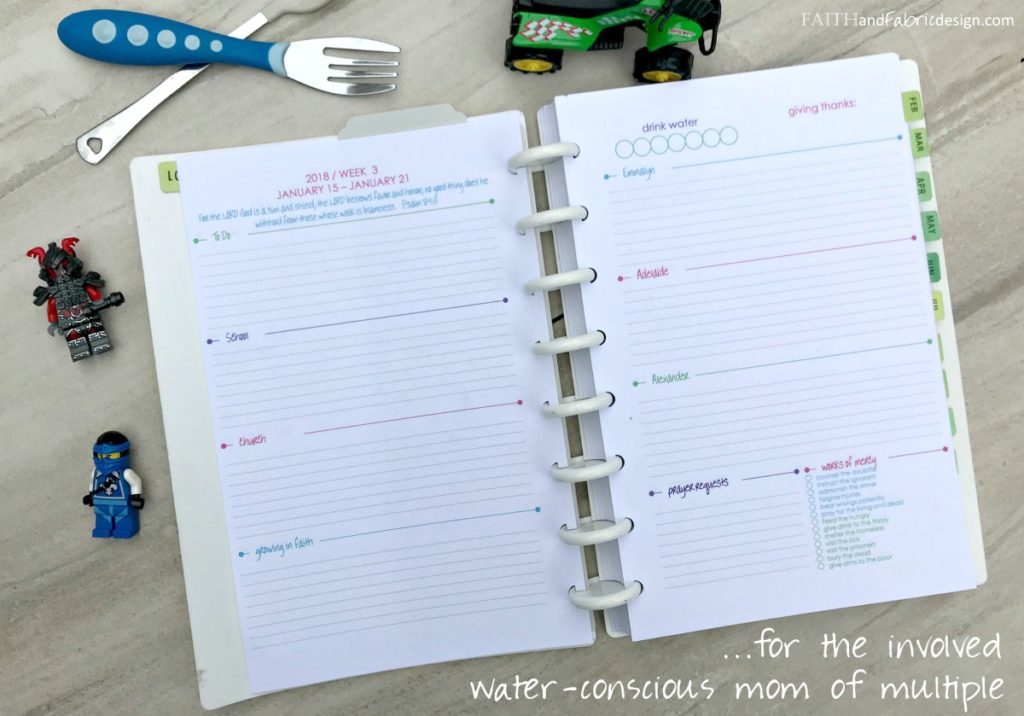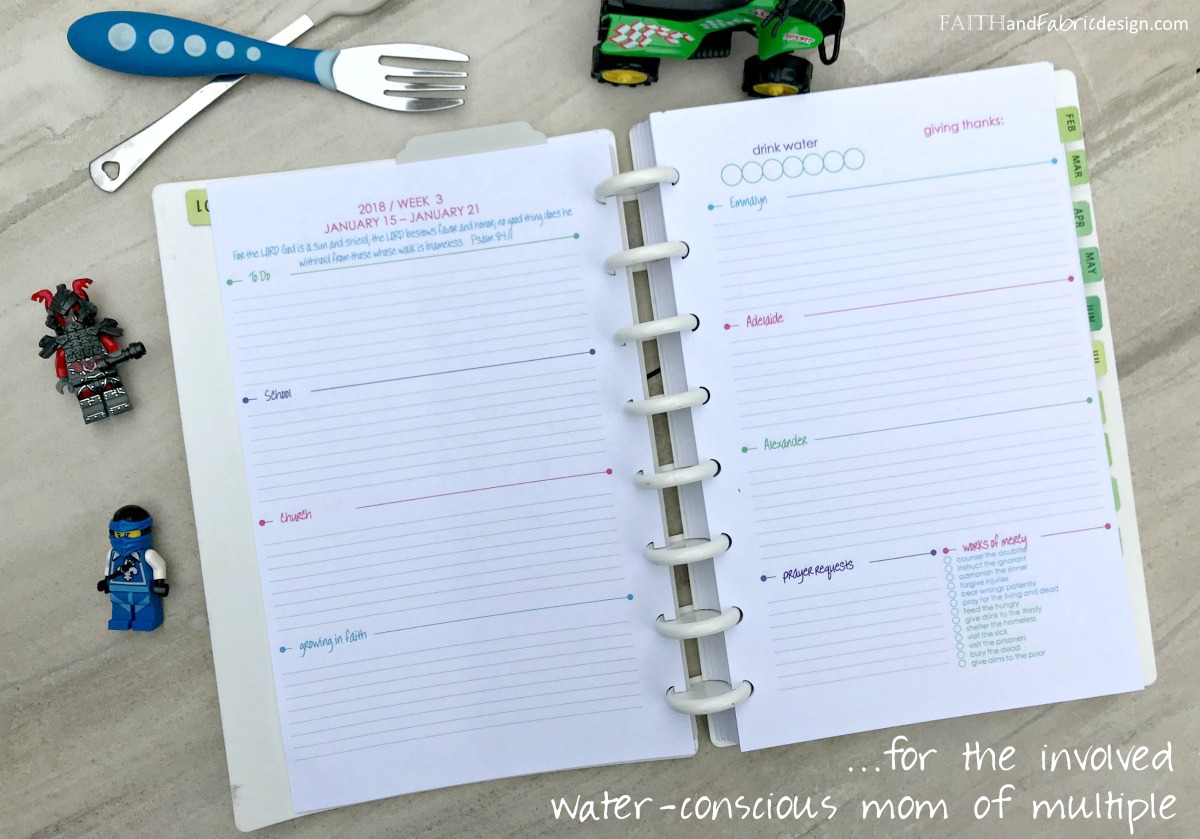 for the faith-filled woman who has a busy life, full-time job, and active involvement in her community. She opted for a traditional setup, where each of the seven customizable planner headers reflect the seven days of the week. She is striving to pray the rosary each night before bed, so uses the tracker bubbles to help her reach her goal.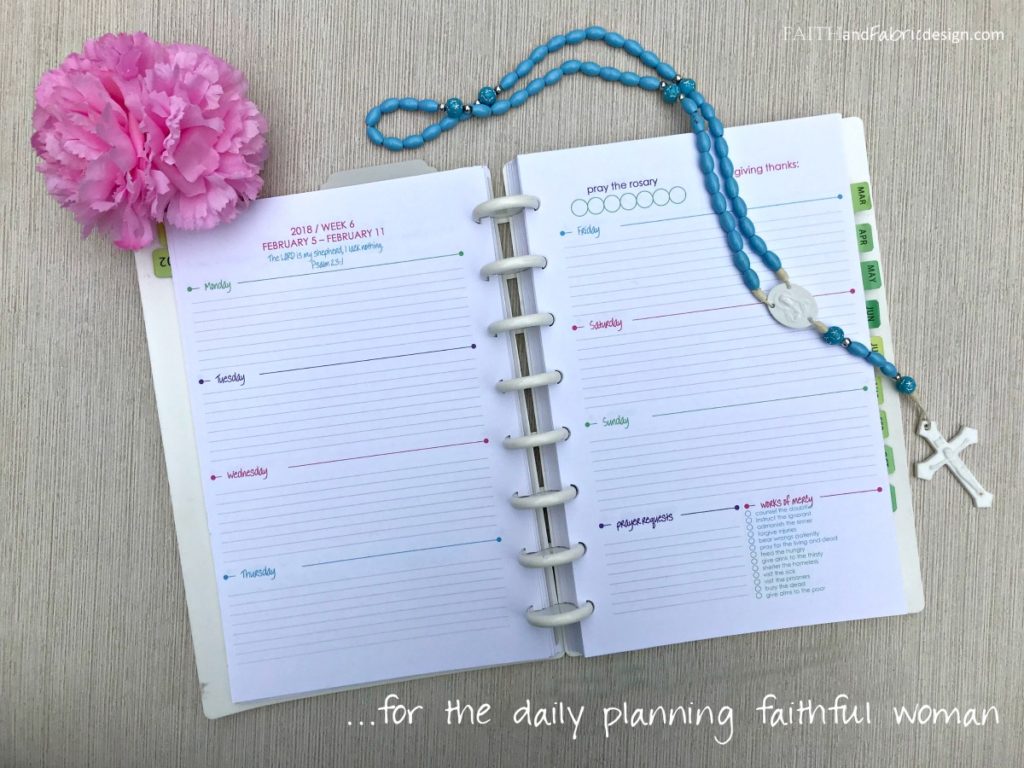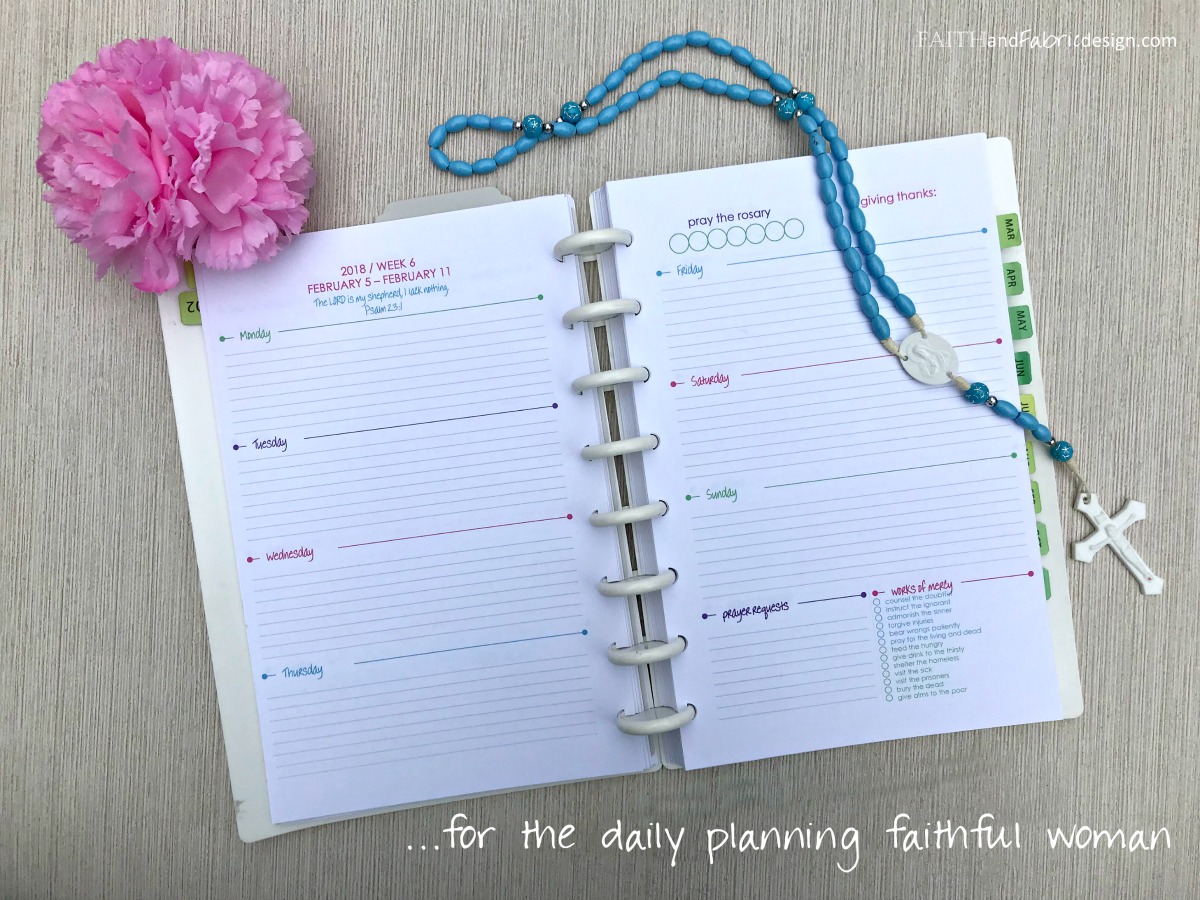 The organizer is available for purchase in two formats, letting you select what option is best for you:
.pdf:  purchase the .pdf version, and a file will be emailed to you with all your custom planner headers. You'll still be picking each of the seven categories, as well as the title of the "bubbles". You can then print it out, hole punch, and bind however you like.
printed copy with hole punches: prefer a version already printed out with the option of having ARC-ready hole punches? No problem – purchase the "in print" version, and we will print and hole punch for you (optional), mailing you a copy ready to bind and use. All pages are printed on extra thick paper, so your colorful pens don't show through.
A few details…
If you purchase the planner as a pdf: print out *all* the pages double sided on a nice thick paper, flipping on the long side (they're designed to lay out perfectly if all are printed, but if you only print from the current date forward, they won't print in the correct layout). Cut pages, order, hole punch,  and enjoy!
If you purchase the planner "in print": please specify whether you would like the pages not hole punched (in which case you hole punch yourself) or punched with the ARC system. While a small 3-ring binder would work, I can't recommend the ARC system enough! I've been using it *for years*, and it's absolutely the best. It offers the benefits of a 3-ring binder PLUS a spiral notebook – all in one! The accessories are adorable, making it 100% unique to *you*. Check out our planner accessories page for more ideas.

Disclosure: while every effort has been made to ensure the accuracy of every detail in this planner, there may be something you catch that I missed. It has been quality checked by three amazing women, but – like you – we are not yet perfectly made 🙂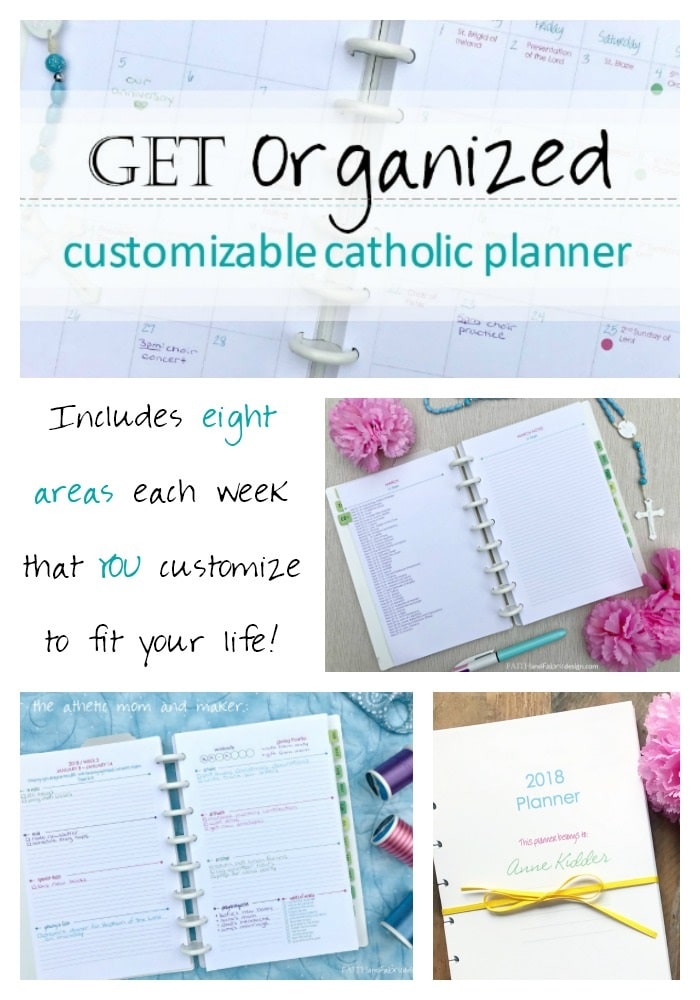 (Visited 2,792 times, 3 visits today)