You guys, I'm so excited to have a finish for TGIFF! It's the rollout of a looong overdue pattern called "Crosses Three Ways". I finished the pattern a few weeks ago, but sometimes life takes over, you know? That's kind of what happened with this one. First the fabric line was delayed in its rollout, then my son got sick-sick, then my machine had to go in for repairs. Oye vey – this is a long overdue Friday finish! This pattern comes in three different styles, all of which are included in the pattern itself. It was so much fun to play with the variation on this theme; I really like how the three quilts compliment each other but are completely different from one another.

There were so many tips and tricks to creating each of these quilt tops that I even pulled it into a video. Truth be told, I have way more fun editing the video footage than actually making the video! There's something strange about talking into a camera, you know?
I have my three quilt tops done now, and will be finishing them off in upcoming Free Motion Friday videos, which will make for three more Friday Finishes for me 🙂 I need goals – ha! They're on my design wall, as shown below, which means I need to get them finished before I start a new project. Leaving things on the wall is one strategy I've found to make sure they don't stay just quilt tops forever – I can't use the wall until they come off and are finished! Luckily, I already have the quilt backs and binding made, and all that's left is to assemble and quilt them.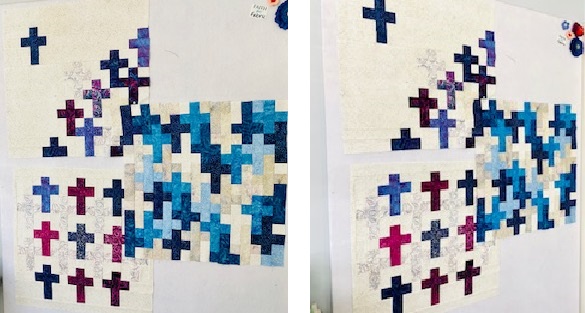 Your turn! Add your finish to the list, and leave me a comment sharing a bit more about your quilt finish. A huge congratulations to you on finishing your quilt!
You are invited to the Inlinkz link party!
(Visited 368 times, 3 visits today)