How did you spend Advent last year? For many (including me!) the time between Thanksgiving and Christmas has become a hectic season of preparations and premature celebrations. This year, as we're on the road, Christmas feels not only hectic but disjointed, too. When we packed up to leave on this trip back in July, I began to realize how challenging it would be to celebrate Advent and Christmas in our camper. We would have to do without the Jesse tree, Christmas tree, twinkling candles, and pine-scented wreaths. None of the decor we have, so many of which are part of our annual celebratory traditions, would fit.
So, knowing this year would be something different, I began to look for ways to add meaning to the season in a new way…one that wouldn't require a ton of extra time, effort, or cost (three things I'm already limited on today). I found, and am thankful to be part of, the Catholic Mom Bundle!
For 5 days, 20 incredibly talented Catholic businesswomen have pooled together their best resources for moms. With products for liturgical living, personal faith, emotional health, catechesis, creativity, family prayer, home organization, home management, and more, this bundle has everything our family could ask for – with the exception of the Christmas tree! It's been such a gift for my family that I want to share it with you, too.

This beautiful bundle includes:
Christmas Countdown Activity by Saongjai
The Question Jar: Cultivating Connections in Catholic Families by Sweeping Up Joy
Be Yourself Journal Coloring Pages by Prayer Wine Chocolate
Christmas Printables Pack by Trendzilly
Journey Through Advent: A Daily Devotional for the Catholic Military Woman by A Beautiful, Camouflaged, Mess Of A Life
12 Days of Mercy by Prints of Mercy
Biblical Nature of Essential Oils by Aroma Rosary
Teaching Your Dyslexic Child by Campfires and Cleats
Girl Talk: Build Your Relationship by Journaling with Your Daughter by Someday Saints
Grace Grows in the Trenches: 5 Minute Meditations for the Weary Catholic Mom (Plus an Advent Bonus Bundle) by Not So Formulaic
Montessori Games to Play: Advent Edition by Work And Play, Day By Day
Advent Runner and Placemats Pattern by Faith And Fabric (that's me!)
A Month for Your Marriage challenge cards by Surprised By Marriage
A Beauty-Full Advent: 24 Days of Beauty to Prepare for the Incarnation by Jill Simmons
An At Home Nativity Play by Catholic All Year
The Merciful Mama by Gathering Manna: Moment by Moment Spirituality for Moms
Our Lady of Sorrows: A Catholic Novena & Prayer Meditation Journal by Catholic Mommy Blogs
Wall Calendar for Everyday Catholics by Arma Dei: Equipping Catholic Families
Advent Candle Embroidery Hoop Pattern by Happy Nest Home Goods
Printable Gift Tags by Mary With You
With life as crazy as it is right now, it's such a gift to have all these resources ready for my family and I to begin using. I'm also thankful for the cost savings; purchased separately, the cost would be almost $250 USD…a price that just isn't in our budget. Being able to have all these resources for just $25 is a wonderful gift to my family, and might be one for yours, too.
I wanted to do something special, and let you know that I appreciate your support of my small business more than you know. As a small way for me to say thank you to you (thank you!), I'm including a copy of our Jesse Tree book for anyone who purchases through my link. Truly, your support means so much to me.
Wishing you and your families a wonderful and blessed Advent season!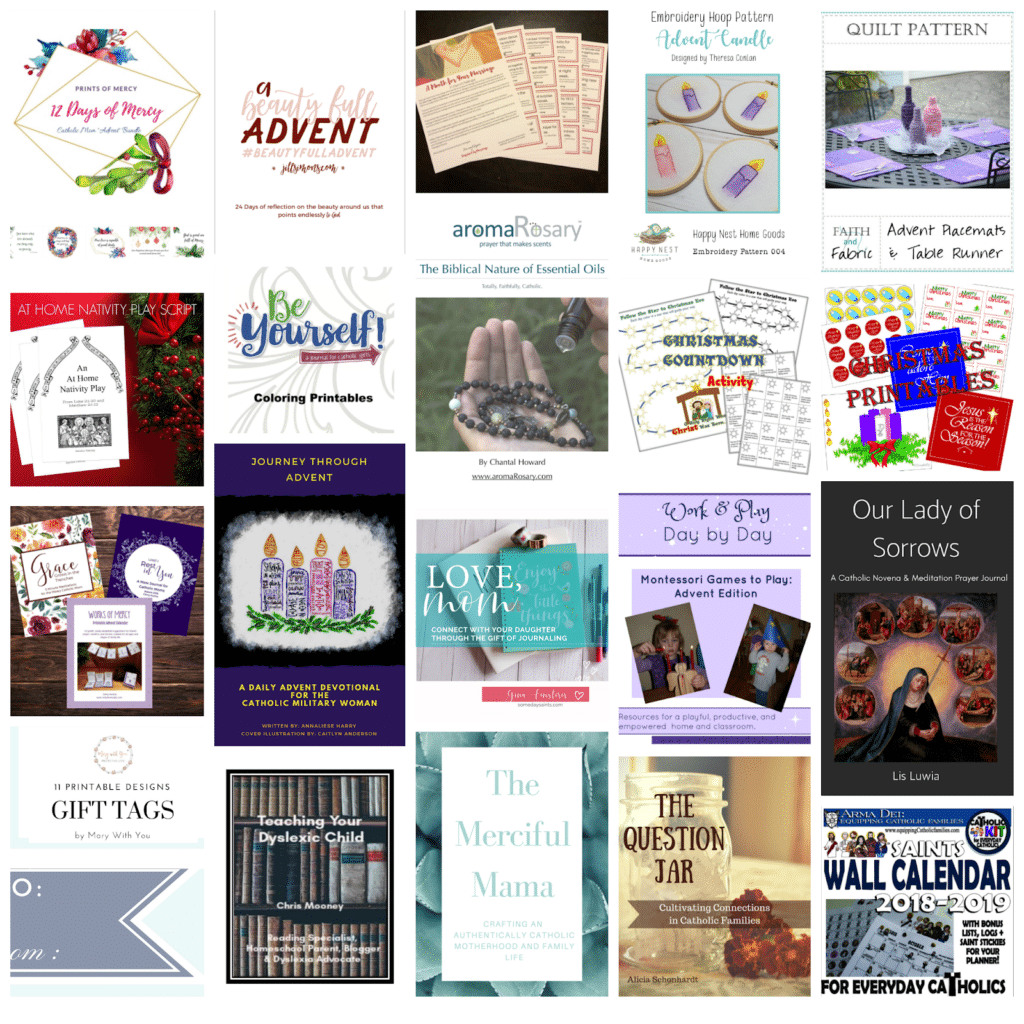 (Visited 351 times, 1 visits today)