Welcome to this week's edition of Building Blocks Tuesday! I'm so excited to host and thank Jen at Quilter in the Closet for the opportunity to connect with you all. By way of quick intro, I'm (like you!) a fabric lover, and am inspired to create quilts and patterns focused on my faith. Want a longer intro? Here you go 🙂
My share this week is a block that I've been working on for Maya, a woman in my quilting bee. Each month, a different queen bee picks a block – and fabric color placement in the block – and 12 of us make the block for her. Then, all month long, it's like Christmas as she receives our packages with her blocks in the mail!
Maya chose, for me, a unique block challenge. The challenge wasn't so much the block itself (as I had just made the block for a 4th of July runner). The double star pattern was the perfect choice for some country blues and reds that I had on hand, and I'm so happy with the way this runner turned out. It went to a good home as it went up for auction on Zelie and Co last week, and I'm so happy someone loves it as much as I do!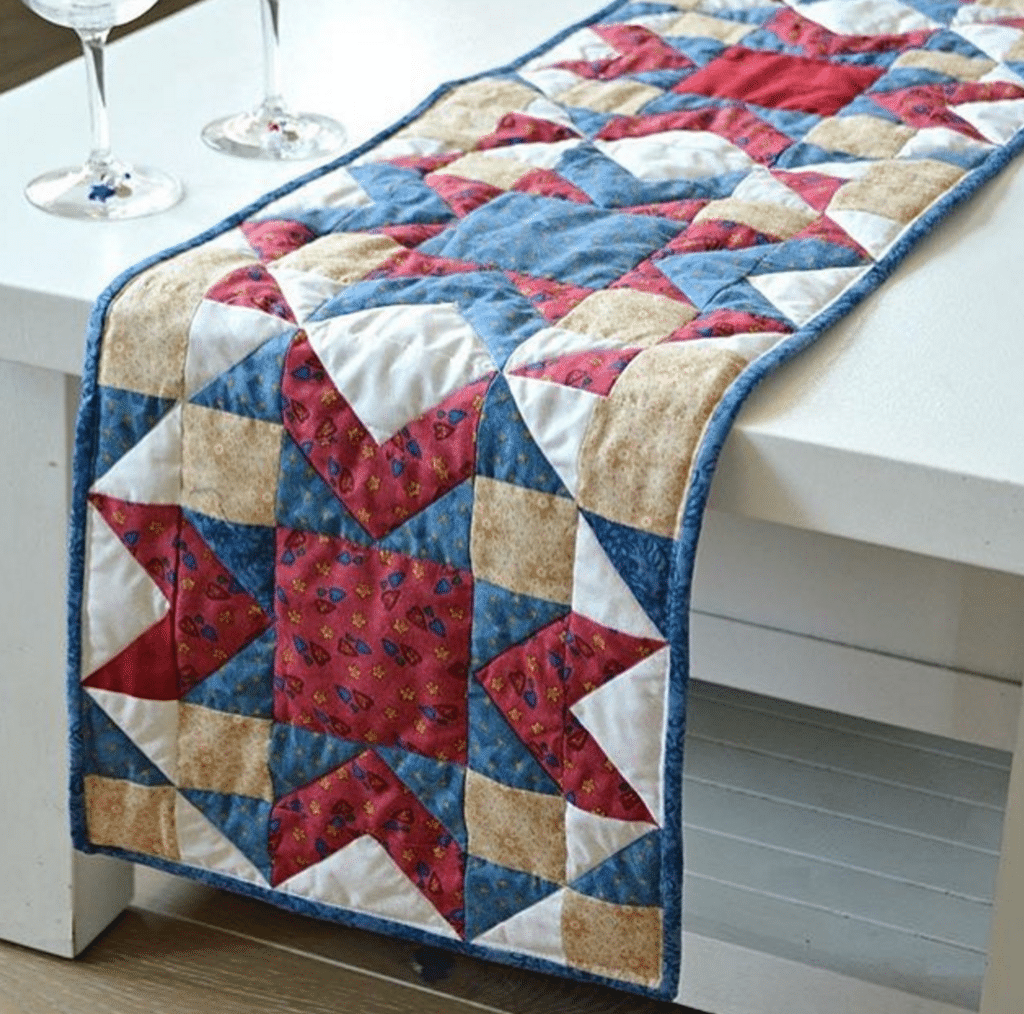 I must say…thethe end quilt turned out great, but I had quite a few tensions issues at the beginning. No matter what I did – changed the needle, rethreaded the top and bottom, adjusted tension – my fabric kept puckering. See that lumpy one below? Ugh. Finally, I switched to a different thread. Voila! It worked.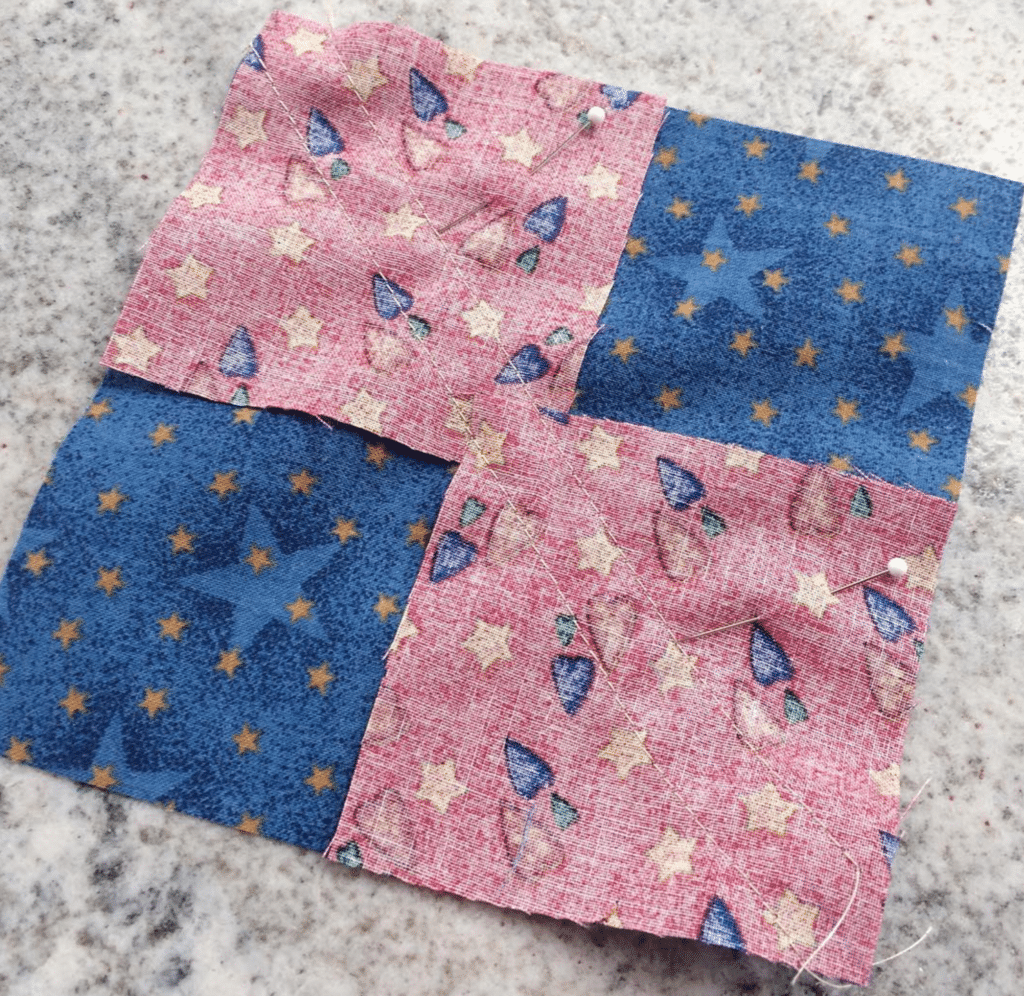 When it came to making Maya's blocks, she had a clear vision of what she was looking for. The challenge for me, though, was I only had one of the needed fabrics in my stash! Surprising, too, since I have *a lot* of fabric. Luckily, I was set to meet up with my mother in law, who is also a devoted quilter and whose stash puts mine to shame. I gave her the colors, and she came through with a great selection! Here's how the block, with Maya's requested colors, came out. It has a very civil war era feeling to it, doesn't it? It also radiates a bit more than mine do star-wise…I realized I flipped a subset of the blocks when piecing mine! Luckily, I flipped the same on all five, so the pattern still held true across the runner. Crazy!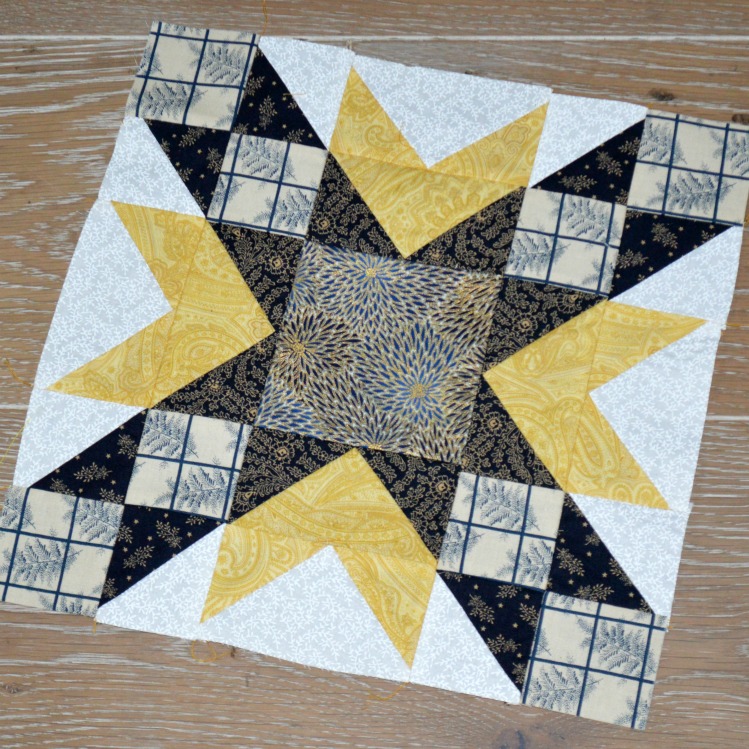 So what have you been working on this week? Let's link up!
(Visited 132 times, 1 visits today)