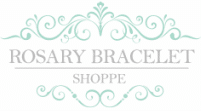 A few nights ago, I got together with some girlfriends and – over a cup of tea – we shared wonderful conversation by the fire while making rosary bracelets together. Aren't these beautiful? I was so excited to connect with Rosary Bracelet Shoppe, an online store where you can purchase either kits (for girls, boys, or adults) to make your own rosary bracelet *or* purchase fully made bracelets (if you're feeling less than crafty). They're great gifts for First Communion, Confirmation, or any other event. Within our group, a few of us made them for RCIA candidates who are going to be baptized at the Easter Vigil, for nieces about to receive First Communion, and more.

It was such a nice evening! The bracelets were easy to make, and the conversation was just wonderful. Having a chance to sit down together and talk with each other (without many little people, though we love them, interrupting). I'm so thankful to have such a wonderful group of friends to share the evening with – and a really creative group, too – did you see how nice our bracelets turned out?
Planning your own evening with friends is super easy – here are a few ideas on how:
Pick a non-traditional day to get together after the kids go to bed. We got together at 8pm on a Thursday, and it was perfect. It made the weekend feel just a bit closer, and gave the moms of younger kids plenty of time to put them down for bed.
Send an invitation – even if it's an eVite. There's something so fun about receiving an invitation these days as opposed to just a text that invites you over! Share that you'll be providing some tea, dessert, and ordering the bracelets. Send the invite three weeks before the event, and ask for RSVPs by the end of the week as you'll want to have at least two weeks between the time you order the bracelets and the event date just in case something comes up during shipping.
On the day of the event, label each rosary bracelet kit with the recipients name. Set out mugs, a selection of teas, and yummy deserts. Relax and have a great evening with friends! (We had such a good time, in fact, that it was well past midnight before everyone left!)
As for the bracelets themselves…aren't they beautiful? As mentioned, we ordered the rosary kits, so each of us had a kit (or two) to make a rosary from. Each kit contains not only the beads you need to make the bracelet, but a pretty little carrying/gift bag that you can put your bracelet in once you're done. If you order multiple sets of bracelet kits, you'll also receive a pair of pliers to assist in assembling them for free (so so handy). Each kit comes sealed in its own bag with instructions for even the newest bead maker.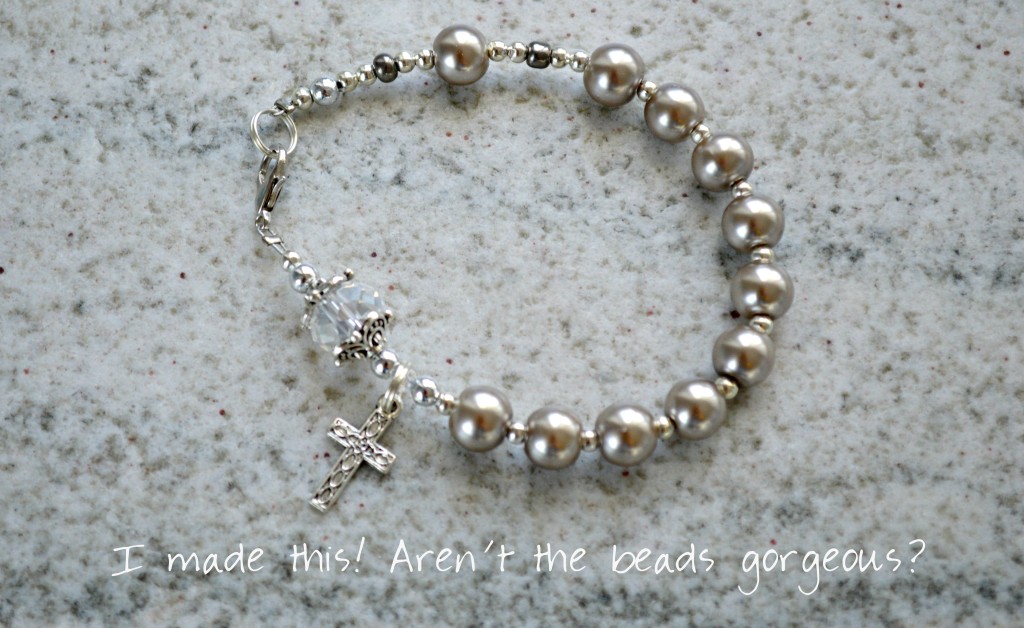 Esther and her team at Rosary Bracelet Shoppe are so helpful and so kind – it was a pleasure to work with them. As part of this review, I'm excited this week to bring you an opportunity to win a beautiful rosary bracelet set! There are multiple ways to enter, so pick those that are right for you – and good luck!


Just for fun, this post links up at these great Catholic and quilting sites!
(Visited 454 times, 1 visits today)