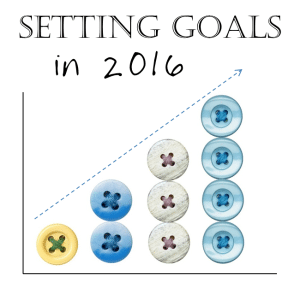 A few weeks ago, when I sat down to take a look at the business and see how things went for 2015, I was pleasantly surprised. Five quilt patterns, two free motion quilt patterns, and one book – each a fun project with a lovely result. In looking forward to 2016, I wanted to be a bit more focused in the work undertaken at Faith and Fabric. Part of this focus was to openly share some goals with you so you can get a feel of what to expect in 2016, and part of this focus was to make sure I was also meeting your needs and creating the kinds of quilt patterns that you most wanted to see.
First, let's look at what you – our talented quilters – are looking for in 2016. Here are the results of the survey from December:
QUESTION 1: In 2015, we had quite a few table runners; four of the five patterns released created a runner. I think it's safe to say 2015 was the year of the table decor! In looking at the survey responses, lap blanket quilts, as well as small wall hangings, came out on top with table runners and vertical banners ranked third and fourth. I'm excited to create a few patterns this year that are in line with these dimensions, and you'll be excited to know one of our first patterns released this new year – in about two weeks – is a blanket size.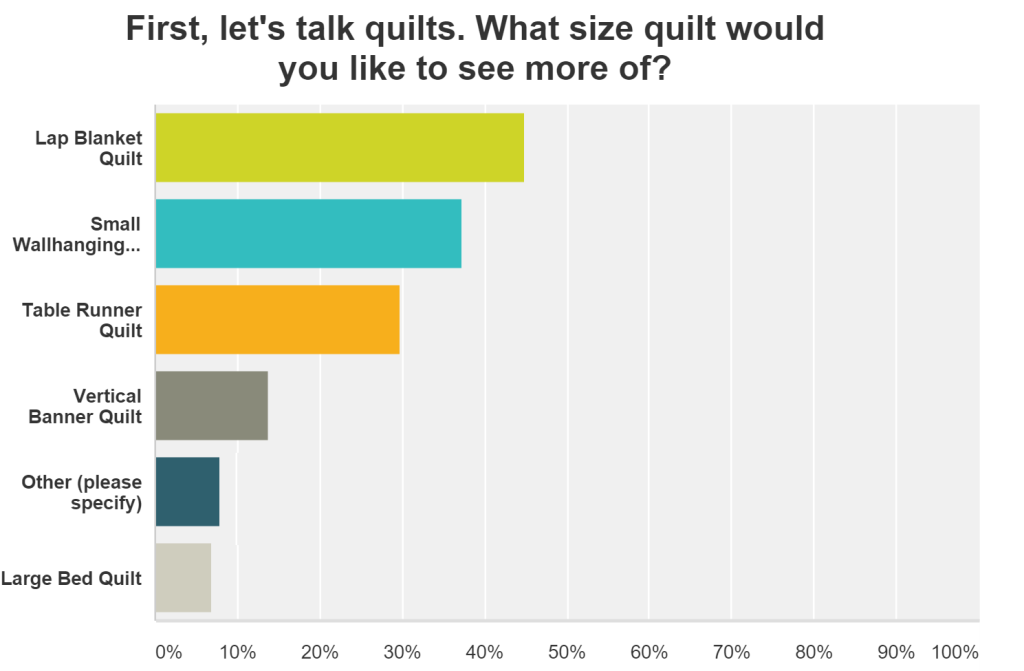 QUESTION 2: You guys must be mind readers as the first two patterns you most requested are in the works! Easter is such a beautiful holiday, and in a few weeks (hopefully by the end of January) a pattern for an Easter quilt will be rolled out. I'm also in agreement with you that we need a few Christmas patterns…after all, what fun is having two Advent patterns when you don't have a Christmas one to round it out? There are a few other specifically requested holidays as seen below, and they're a great inspiration as I finalize a few additional patterns for the year.
QUESTION 3: Each Monday, at 12pm PST, a newsletter is sent out full of ideas, projects, tutorials, and sharing. The content in the newsletter is a mix of quilting projects (~45%), faith-inspired crafts (~45%), and faith-inspired articles (~5%). The content's source comes both from Faith and Fabric, as well as others – because the best way to learn is from each other. In looking at the survey results, the vast majority of you feel that the mix is just right…so we'll be keeping that the same in 2016. 


QUESTION 4: The Weekly News newsletter takes a bit of time to write – and, conversely, a bit of time to read. In looking at how often you want to receive the newsletter, the majority of you (~75%) would like to continue receiving the news each week. That sounds good to me! For those of you that wish to receive it less often, no problem – you can always skip reading a newsletter in a given week if you're too busy and pick back up the following week when the next edition comes out.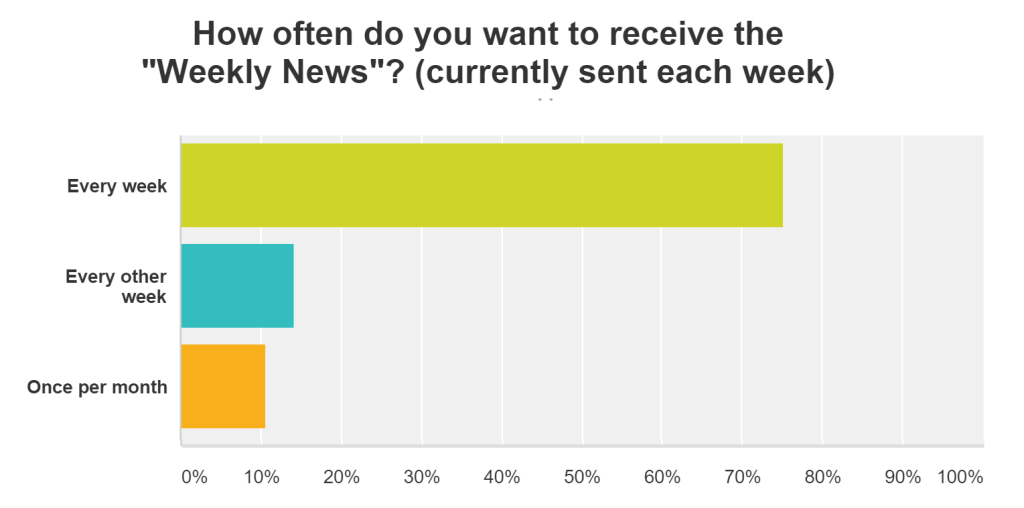 QUESTION 5: Lastly, I asked where you purchase your quilt patterns from. You'll see below that the majority of you selected "Other"; in going through the details of "Other", common responses were: Pinterest, quilt shows, magazines, and other blog posts. This is great information; I will continue to post our patterns to Craftsy (~42%), but will ensure to add them to my Pinterest board, too. I'm also excited to (hopefully!) be participating/selling in my first quilt show this summer so fingers crossed there, too.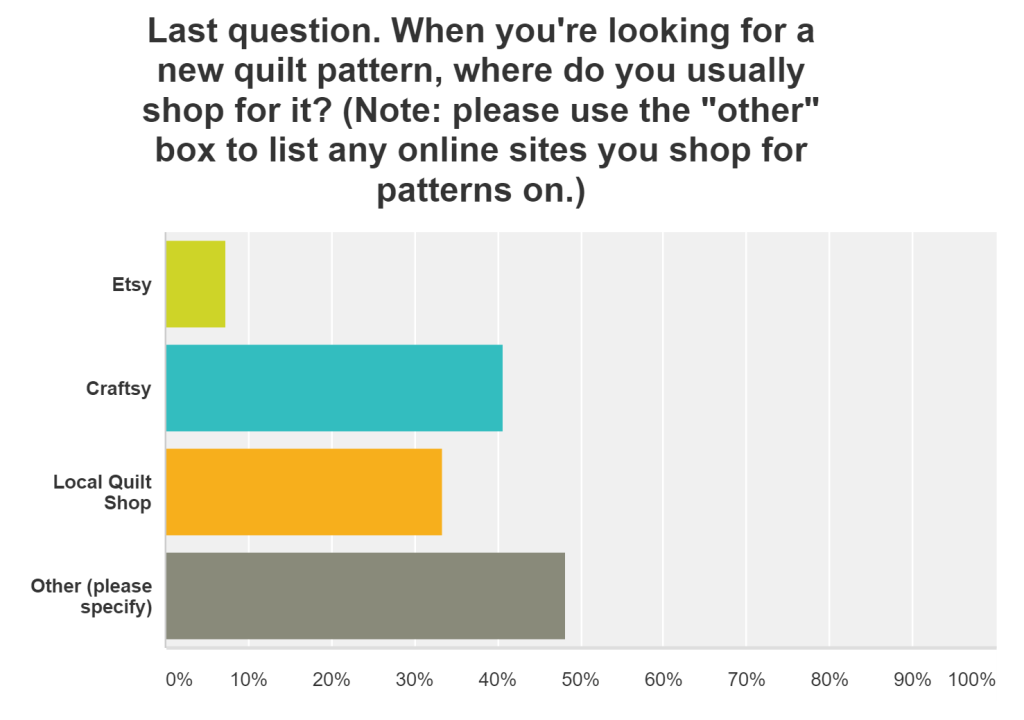 Thank you to everyone who took the time to reply to the survey; seeing your thoughts and responses has really helped me to set both direction and goals for Faith and Fabric in 2016!
Just for fun…this post links up some of these great Catholic, sewing, and quilting blogs!
(Visited 200 times, 1 visits today)