Each of us has three gifts we can share: Time, Talent, and Treasure. Today we talk with Allison Kinyon, of Rosaries by Allison, about the ways in which she uses her gifts to make a difference.
As each has received a gift, use it to serve one another,
as good stewards of God's varied grace.
1 Peter 4:10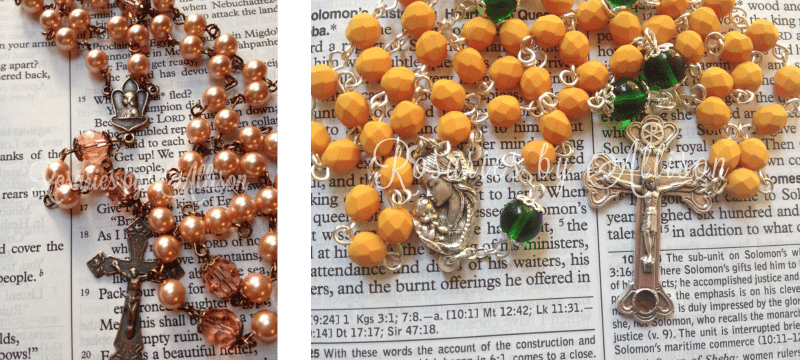 F&F: Welcome! Tell me a little bit about you.
Allison: Hi! I'm Allison! I am a WAHM living in the Seattle area with my husband of six years, Chris, and our beautiful daughters, Hannah, Nora, and Stella. We are Catholic converts and love to share and spread our Faith.
F&F: What kind of work do you do? Is there an area that you feel you've been gifted in and called to share?
Allison: I create custom rosaries and chaplets for the world. I work with all types of materials and within all price ranges.
F&F: How did you get started?
Allison: Shortly after conversion (Easter 2013) I was looking for a red Divine Mercy rosary. I could NOT find what I wanted, so I decided to give making one a try. I put this out on social media and had a few friends who were willing to be my testers, so I provided them with prototypes. Then people started talking about me and I've been taking orders ever since and haven't looked back!
F&F: Where do you draw your inspiration from?
Allison: I love to be out in nature, so I am inspired by a lot of colors, especially Autumn! Some of my favorite websites to purchase beads from have Swarovski mixes (5 or 6 colors in the mix) and I love to create rosaries around those. It's so much fun to design with clients, too. They will bring me an idea and we will toss ideas back and forth until the client is happy. If they're happy, I'm happy!
F&F: What role does your faith play in both your work and everyday life?
Allison: Praying the rosary didn't start out easy for me. Since I was (still am!) a new convert, the prayers were all new to me. I now know all the prayers of the rosary, and it is my goal to pray it every day; even a decade a day! I often pray a prayer as I string a bead as well 🙂
F&F: How do you get (and stay) involved with your local and online community?
Allison: I can be a very talkative person, if I get excited enough. We have two local Catholic bookstores nearby, and I have consigned at both of them after speaking with the owners. As far as online community, word of mouth has been huge in the blooming of my business! I like to chat on Instagram and Facebook with clients and potential clients.
F&F: Where do you like to play (aka: what social media is your favorite place to be?)
Allison: My favorite platform is probably Instagram. It gives a snippet of the rosary I have chosen to highlight. It's short, sweet, and to the point, and people can then click on the link to my Etsy shop to browse and shop.
F&F: Where can people go to find more information about what you do?
Allison: My Etsy shop is http://allisonkinyon.etsy.com I can also be reached on Facebook http://www.facebook.com/RosariesByAllison

Just for fun…this post links up at some of these great Catholic and quilt sites.
(Visited 440 times, 1 visits today)