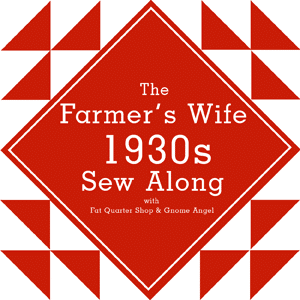 See all our quilt blocks for this quilt here!

This year-long quilt along is centered around The Farmer's Wife 1930's Sampler Quilt book by Laurie Hird. The book is comprised of 99 blocks, each inspired by a letter written during the Great Depression. The Farmer's Wife is a magazine started at the turn of the 1900's, featuring recipes, poultry keeping, stories, dress patterns, articles on the war and politics, and letters to the editor. A five-year subscription would only set you back $1, which added to its popularity. If you're not a quilter, buy the book anyway…you will love reading these beautiful, inspirational letters from such strong women! I can't help but think that our generation has lost some of the resilience that our grandparents (and great grandparents) had. One woman's letter from Minnesota says it all: "So let's not go around with long faces, talking of 'hard times'. Let's keep a stiff upper lip, make over our old clothing for the children, save where we may without sacrificing the health of the family, and help Friend Husband all we can. Let's do the best possible with what we have, and see what a happy home we can make." Truly, this was the greatest generation sharing advice we can live by today.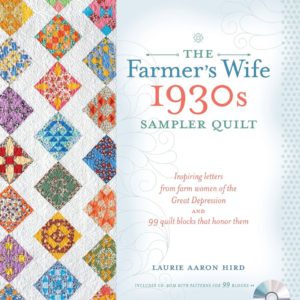 This QAL is being hosted by an incredibly talented team: Laurie Hird and Angie Wilson. Laurie is an accomplished author, having published several books; in fact, this is her second Farmer's Wife book. Along with Laurie is Angie – Angie is not only an amazing quilter, but recently added fabric curator to her list of talents. As part of this quilt project, she pulled together a beautiful bundle of colors and fabrics similar to those in the 1930's; it's available from Fat Quarters Shop. Angie is also the hostess-with-the-mostest, and you can check out the main QAL page here.
As for me – this will be my main QAL page, and each block will be linked up as it's finished. I've picked out my fabric, which was a huge decision in and of itself. I wanted something in beach tones, but a fabric that also had a bit of whimsical, feminine fun. After searching (and searching and searching), I came across the Saltwater Collection by Riley Blake at Fort Worth Fabric Studio – don't you love it?? The little mermaids and fish mixed in the sea-inspired blue, teal, and pinks are adorable. It has just enough print to be interesting, but solid enough that I don't think it will be overwhelming. Can't wait to start this at the end of September!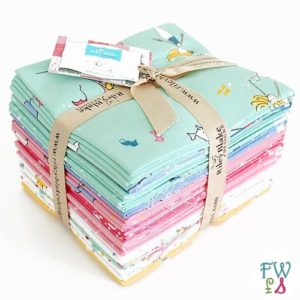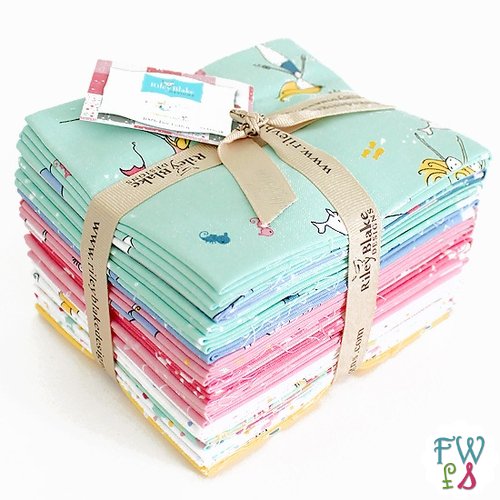 Just for fun…this post links up at these great Catholic, sewing, and quilting blogs!
(Visited 665 times, 2 visits today)