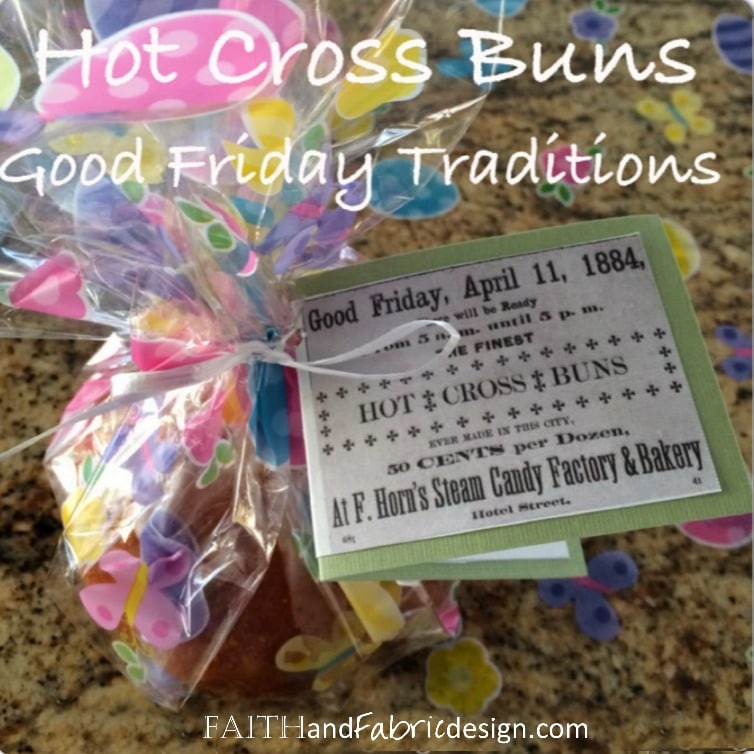 A wonderful Good Friday tradition of following a yummy hot cross buns recipe to make delicious rolls and then sharing them with your friends ties into a nursery rhyme you probably learned growing up:
Hot cross buns!
Hot cross buns! 
  One ha' penny, two ha' penny,
Hot cross buns! 
  If you have no daughters,
Give them to your sons.
  One ha' penny,
Two ha' penny,
Hot Cross Buns!
Hot cross buns were traditionally made during Lent and eaten up through Good Friday, with the cross on the bun symbolic of the Crucifixion. During the time of Queen Elizabeth I, a decree was placed that forbid their sale except on certain days, including Good Friday. Tradition was born, and enhanced by folklore: according to another rhyme, sharing a hot cross bun with another will ensure friendship throughout the coming year ("Half for you and half for me, Between us two shall goodwill be"). If you're into travel by boat, bake up a batch and bring them with you – another lore says hot cross buns protect against shipwreck.
This is the second year we've made hot cross buns together and passed them out to friends, and we're truly enjoying adding this to our Easter traditions. Since not everyone participates in the tradition, we made up these great hot cross bun gift bag tags that you can attach to the baggie when sharing your hot cross buns. It gives a quick intro to the buns and shares the rhyme above which you'll no doubt be singing for the rest of the day.
For recipes – my favorite recipe comes from the delicious kitchen of the Pioneer Woman (wish I could claim grandma's secret recipe here, but while I remember seeing them in the baskets that folks brought to the Easter Food blessing, I don't remember us ever making them from scratch). As for this recipe, I mean yum – look at that photo and tell me you don't want to make a batch. The only change I make is to use currants…I like the taste better than raisins and they're smaller, so mix more evenly. Click on over to her site for the
Hot Cross Buns recipe
, but be sure to download the free printable bag tag below so you can share this wonderful tradition with your friends and family this Good Friday.
WHAT YOU NEED
printer paper
small hole punch (optional)
yarn, string, or ribbon
plastic wrap or baggie
HOW TO MAKE
PRINT OUT THE PAPER & CREATE TAG
Option 1: Print out the printable on single-sided paper. Cut along the gray lines on the printable (step 1). Glue each side down onto a piece of paper (step 2), being sure to align them so that they are back-to-back on either side. This sounds way more complex than it is – just see the photo above 🙂  Fold in the middle, so the graphic is on the outside. You'll end up with a small square, kind of like a small greeting card.
Option 2: (easier) Print out the printable double-sided on a heavier card stock paper. Cut out along gray dotted lines.  Fold in the middle, so the graphic is on the outside. You'll end up with a small square, kind of like a small greeting card.
WRAP UP BUN AND ATTACH TAG
Punch a very small hole in the center of the tag. The spacing inside the card is such that you should be able to punch a small hole without removing/punching away text
Bake your buns, let them cool, put them in a cute bag, and tie closed attaching your card/bag tag as part of the closure. Seriously, though, wait until they're cool and the icing has hardened…otherwise they turn into a mushy mess.
Share with your friends & family and enjoy this wonderful Easter tradition!


Just for fun…this post links up at these great Catholic and quilting sites!
(Visited 725 times, 1 visits today)