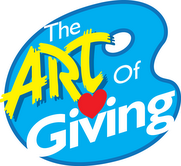 "In Honduras, one in every four kids suffers from chronic malnutrition. Deprived of food, shelter and love, these poor children lie awake at night praying for their next meal. But there is hope– Catholic kids across the US are reaching out with the love of Christ to feed their friends in Central America through The ART of Giving, an online art show." (c) Cross Catholic Outreach & Catholic Inspired.
Little man and I are participating in the program, and we'll be sharing our art with you on December 2nd. Looking forward to sharing our projects, and hope you'll join us in this project! This event runs through December 31, 2013, so you have an entire month to get involved!
GET INVOLVED!
1. View the Artwork & Donate

Please visit the site and view the beautiful artwork from our kids!
If you feel inspired, make a donation on behalf of their art. Proceeds go to an amazing cause, and the kids get to see the amounts tied to their pictures grow as people donate!
2. Submit Your Own Artwork
Submit a photo of your child's artwork, name and age to mpotter@crosscatholic.org. As photos are received, they will be posted on this site.
Participants can then encourage friends and family to visit www.crosscatholic.org/theartofgiving to make a donation on behalf of the submission by typing the child's name in the comment field upon making a donation.
Watch as your creativity makes a difference in the name of Christ!
This great event, brought to you by Catholic Inspired and Cross Catholic Outreach, is supported by:
(Visited 105 times, 1 visits today)