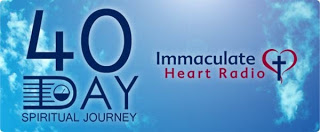 I was dropping off a few things left over from VBS this week at church, and saw a card for a "40-day Challenge". Immediately the competitive side of me perked up – a challenge? I'm in! I grabbed a card on the way out the door.
Turns out, the cards are a challenge from a wonderful radio station, Immaculate Heart Radio (IHR), and were actually left over from Lent. I had seen the bumper stickers on cars, and had even intended to listen to it a few times, but instead find myself listening (lately) to the Kingdom Rock VBS CD every time I'm in the car (you can blame my toddler for that one).
If you haven't listened to Immaculate Heart Radio, give it a try. You can find a station no matter where you live, listen online if you're at your desk, or download the app for your smart phone. They have podcasts available of many of their shows so you can catch anything you've missed.
Why listen? IHR has a few reasons why:

Two of my favorite programs they offer are:
– Right Here, Right Now – a great discussion each day on things impacting the faith today.
– Setting Things Right – a question & answer format where callers can call in with just about any question (and trust me, they do) and a panel of priests, deacons, and evangelists respond.
If you haven't given it a try, listen in for a bit today. Perhaps finding this card during Ordinary Time – and well past Lent – is a blessing in disguise. Things tend to be slower, and it's the perfect time for a challenge. Join me, and give Immaculate Heart Radio a try!
(Visited 310 times, 1 visits today)