"Live. Love. Laugh." … that's one of those modern day proverbs that seems to turn up everywhere. It's a pithy little maxim that can also be used as a nice piece of décor to fill a bare spot on the wall in your home. My wife Debbie actually has a tin sign with that saying on it in our kitchen hanging over the door. I also see it frequently in restaurants that feature home cooking and homemade pies; the type of family restaurants that make you feel like you're eating at grandma's house.
If you think about it, a kitchen is a great place for a saying like this. There can be a lot of living, loving, and laughing going on around the family table as we share our stories of the day. It seems there is far too little time spent around the family table with all the craziness in our lives. We, as married couples, need to make living, loving, and laughing a priority and set an example for those around us. If you can do that, then people will begin to wonder what you have that they are missing.
For Debbie and I, the key ingredient in the three part recipe of "Live. Love. Laugh." is the laughter. It's what makes the other ingredients rise. It's what we needed to get through the rough times and what we need to make the good times even better. We laugh about everything as a couple. We purposefully try to make each other laugh every day. We laugh at what's funny, but we also try to laugh in the midst of struggles.
Laughing about the troubles we experience in life can sometimes appear inappropriate and even seem like nonsense. But it's a necessary ingredient in living, as Dr. Seuss says: "it's a way of looking at life through the wrong end of a telescope. Which is what I do, and that enables me to laugh at life's realities." Laughter sometimes can a make a person appear like they are insane, but the reality is that laughter is what keeps you sane.
Laughter is the grease in the pan that allows the living and the loving to come out in your marriage. Laughter is the spice that makes others look at your relationship and want for themselves that secret ingredient that make it so good. I think Marilyn Monroe was onto something when she said: "If you can make a girl laugh, you can make her do anything." Remember to make laughter a part of your marriage during these hot summer nights and the heat generated from that will carry through all the seasons of your lifelong relationship until death due you part or you die laughing.
~~~~~~~~~~~~~~~~~~~~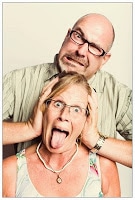 Deacon John Fredette was born and raised in New England and relocated to San Diego, California after marrying his wife Debbie. John and Debbie have been married for 21 years, they have six children and three grandchildren. Deacon John is an ordained permanent deacon in the Diocese of San Diego and is a self-employed IT Consultant. Currently John is working on a Master of Arts degree in Counseling Psychology.
~~~~~~~~~~~~~~~~~~~~
(Visited 511 times, 2 visits today)