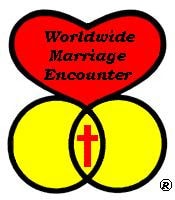 One hot July night in Phoenix in 1984, we got married. We
thought our passion would be as hot as that night forever. It certainly was for a while. But, like all marriages, we got pre-occupied
with our jobs, with the activities of our children, and with trying to meet our
own obligations to our families and friends. We thought we had a good marriage,
but we spent very little time on taking care of "us".
On a weekend in July, 2000, we attended a Worldwide Marriage
Encounter weekend in San Diego. By the end of the weekend, we were not just hot
for each other, we were on fire! We were
on fire for our relationship and even for our faith. The weekend renewed our
desire to have a "great" marriage – good was not enough.
Marriage is important to our church. Through our visible
love for each other, we make God real and present in today's world. This is an
important vocation, which we often tend to take for granted. On our weekend, we
renewed not just our vows but our genuine commitment to each other. Our
covenant relationship has been elevated and is a much stronger and faith filled
relationship. We listen better and more deeply than ever, forgive more readily,
and continue to make the daily decisions to love that let us know we are first
in the eyes of each other. Our children have seen how we treat each other, and
expect more from their own relationships as a result.
The weekend was presented by three couples and a priest.
There are a series of talks through which we discover more about ourselves, our
married relationship, and our relationship with the church. After each talk, we
write an individual reflection, then privately share it with our spouse in our
hotel room. There is no group discussion or counseling, just an opportunity to
discover more about ourselves and our relationships by listening to the
presentations and sharing what we've written with our spouse.
We made a commitment to continue the weekend by writing
daily "love letters" to each other after the weekend ended. We joined
a marriage encounter community that we meet with once a month or so to hear a
new talk, and privately share another reflection with our spouse. These
community couples provide the encouragement and accountability that helps to
keep our relationship strong. Today, 13
years later, we've written over 4,500 letters to each other. These letters are
a lasting legacy to our love and testament to our own growth and commitment as
a couple. Learning how to write and share these letters with our spouse is a
lasting legacy of our Marriage Encounter weekend.
The letters we write focus on our feelings about a specific
question or issue in our relationship. We communicate through our feelings as
they provide instantaneous windows into who we are, what concerns we have and
what we value. Think about it – an
argument about a misplaced sock is usually not about the sock – it is about the
value one spouse gives to the feelings and concerns of the other spouse. Since
feelings are neither right nor wrong, and we only write about our own feelings,
they provide opportunities to know us without any confrontation or blame.
Our Marriage Encounter weekend restored our marriage so we
were once again living in true togetherness as a couple. This gift is available to you as well. While
it is a Catholic weekend, you certainly do not need to be Catholic to attend. There
is not even a minimum or maximum number of years you need to be married to
attend a weekend, although experience has shown that couples married more than
3 or 4 years are more likely to benefit than those only married a couple of
years. You only need to have the desire
and to be open to making your marriage
better.
You can apply for a San Diego weekend through the local
website:
http://www.wwme-sandiego.org/
and you can get more information on the
weekends themselves or on locations elsewhere across the country at
http://wwme.org/
.
WWME Weekends were voted the "Best Marriage Enrichment
Workshop" in the 2012 reader's choice poll on About.com!
——————–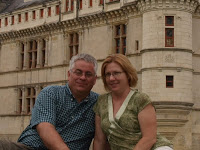 Kevin
and Patty Vogelsang have been married nearly 29 years and are parishioners at
the Church of St. Timothy in Escondido. They attended a WWME weekend on their
16th anniversary. They are a presenting
team couple for WWME. They have two
children, a 27 year old daughter and a 22 year old son.
——————–
(Visited 793 times, 1 visits today)