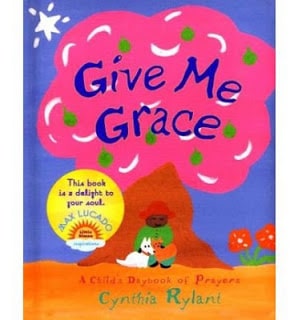 I love storytime with my son. We snuggle up together in the corner of the couch, and as he points and babbles at pictures in the books I simply breath him in. One of his absolute favorite books – and the go-to every time I let him pick one out – is Give Me Grace: A Child's Daybook of Prayers by Cynthia Rylant. He even brought it with him to the gym one morning – and the woman who runs the babysitting room said they read it over and over the entire hour he was there!
This wonderful children's book is a hard-cover board book with beautiful watercolor paintings illustrating each of the seven days of the week. Each day has a simple prayer in large print set in a sweet rhyming style. The paintings complement the day's prayer, whether they be focused on loving God's whole creation, asking God to be by their side, seeking grace, opening our eyes to the goodness around us, or trying to live a holy way.
The book can be read as you would normally read a book – cover to cover – or you can read a prayer for that day of the week each morning/night. We're still in the cover to cover phase, but I hope to make each prayer part of our nightly bed routine in the near future. What I love about the prayers is their sweet simplicity…each is 20-25 words long, and – with the rhyming pattern – so simple to memorize. In fact, that's often how I "read" the story to our son now – we all know them by heart!
I absolutely recommend this book for anyone with children. I've bought several for friends who are expecting, and hope their children will love them as much as mine love his book.
——————–
Overall Rating: 5 out of 5
Recommended Age: 0-adult (personal recommendation, as the daily prayers are ones I've found myself repeating at night!)
Return to Main Book Club Page


——————
(Visited 406 times, 1 visits today)