Holy Thursday, commonly known as Maundy Thursday, is the start to the Triduum leading up to Easter Sunday. While not a Holy Day of Obligation, the Mass of the Lord's Supper is a beautiful mass celebrating the last meal Christ had with his disciples before he was arrested and crucified. The solemn feel to the mass is in a stark contrast to the celebration set to take place four days later on Easter Sunday. Notice how little – if any – music takes place during your own Mass.
There are some beautiful things to recognize that are celebrated at this mass:
Take a closer look during the Liturgy of the Eucharist. It's a result of the Last Supper that we have the breaking of the bread and sharing of the wine. Luke 22, and most specifically 19-20, describe the Last Supper and the breaking of the Eucharist. Read Luke 22 and, at the Mass, appreciate the history in a whole new way.
Before Jesus sat down with his disciples, he washed the feet of his disciples. This act of love – act of humbleness – was captured in John 13:1. It's likely your Mass will include a foot washing service performed by the presiding priest. It's actually from this act that the term "Maundy Thursday" started. "Maundy" comes from the Latin word "mandatium", which means "commandment". Jesus commanded his disciples to love with humility by serving each other, just as he did in his humble act.

On a personal note, it's so touching – and so humbling – to both be at and be a part of this service! Last year we were asked to be a part of the service…or rather, our six-month old son was! I will never (ever) forget watching our priest wash our son's little pudgy feet.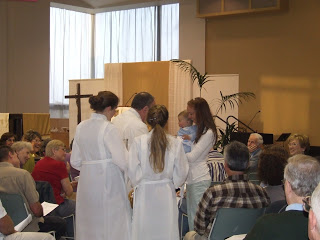 Our son's foot washing at Holy Thursday Mass
Imagine the importance of the discussion at this meal! Jesus knew this was his last opportunity to instruct his disciples. Not only did he leave them with his final words of serving each other, but I imagine he must have talked at length about how to continue the ministry in his absence! With the selection of Pope Francis today, I can only imagine the weight of the disciples – and Saint Peter – as they listened to what was being asked of them.
If you haven't already scheduled one, consider hosting a traditional Passover Seder meal. Celebrate with many of the foods that were typically eaten at that time (download a vintage menu here!). It's a wonderful way to celebrate Jesus's heritage and his Jewish origin.
The timing of the meal was so important. Traditionally, at Passover – or the Jewish holy day that celebrated the freeing of the Israelites from slavery under the Egyptians – a meal of lamb was served. As mentioned, Pope Benedict issued a decree in 2007 that there was no lamb offered at the Last Supper as Jesus, himself, became the Paschal Lamb the following day. You may want to make a butter lamb instead (besides, it's a great centerpiece, crazy adorable, and fun discussion item!).
So, go to the Holy Thursday mass this year, and celebrate with a
Passover dinner
afterwards. I'd love to hear how it goes for you.
(Visited 268 times, 1 visits today)