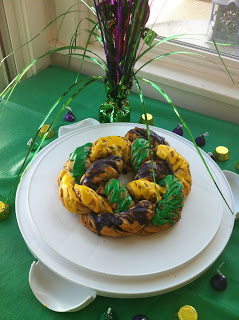 I'm notorious for falling in love with adorable dessert recipes (or amazing pancake creations that turn out less than amazing…remember my Candlemas attempt?), only to follow the recipe and have my end product look nothing like the one in the picture. I may share Martha's kitchen dreams, but in follow-through…I am not.
That being said, I love a simple recipe that gives a great result! …and if it involves cheating a few shortcuts along the way, all the better.
For this recipe, I wanted to find an easy way to make a simply delicious Kings Cake – and, as the mom of a toddler who wants to be RIGHT THERE every step of the way (and has no concept of nap time), I needed it to be something I could whip out super fast. Kings Cake are perfect additions to any Fat Tuesday celebration prior to the kickoff of Lent.
Inspiration struck when I was walking through the grocery store's refrigerator section – I used two cans of cinnamon rolls, made them into a braid, and added food coloring to the icing container. Voila! Simply amazing, totally delish, super festive, and beyond easy.
Here's how you can make one, too:


WHAT YOU NEED
2 cans of cinnamon rolls – they have to be the kind in the refrigerator section near the buns and croissants that are unbaked and still raw dough. Make sure the package you buy has the icing included
Food coloring (the standard four-pack should do)
Gotcha – that's it! Only two ingredients. See? Simple.
HOW TO MAKE
Open both cans of cinnamon rolls. Set the two containers of icing aside.
Divide the cinnamon rolls – still in their traditional shape – into three equally-sized piles
Starting with the first pile, unroll the individual rolls and combine into one long strand
Repeat with the other two piles until you have three long strands of yummy cinnamon dough
Braid the dough and form it into a ring
OPTIONAL: insert an almond into the ring. It should be hidden in the dough! (read the history of why you do this)
Bake according to package directions
Meanwhile, divide the icing equally into three bowls. Color one purple, one green, and  one gold.
Once rolls come out of the oven and slightly cool (again, refer to your baking instructions on the package for specifics based on the brand you buy), spoon the purple icing along one of the baked strands, the green along the second strand, and the gold along the third.
Enjoy!
(Visited 315 times, 2 visits today)