Love & Saint Valentine's Day…a feast day celebrating one of the greatest gifts we were given! Love! I love this. (I am also annoyed that there's not another word for love…if the Eskimos can have 12 different words for snow, why can't we have more than one word for love? After all, I love red wine and I love my husband, but in very very different ways.)
In a marriage, I don't think you can ever tell – or more importantly, SHOW – your spouse how much you love them. This year, celebrate St. Valentine's Day not just on February 14th but for fourteen days in a row. (Or, if you're celebrating World Marriage Day, 10 days in a row.) Why? Celebrating a single day of the month by going out to an overpriced dinner after a
long day of work and giving them an overpriced card that they're just going to throw away when you get home doesn't sound like romance to me. Sending your spouse a hand-written love note each morning? I'm swooning already.
To make this, I started with a simple heart border and played with the colors. On each card (each is completely unique so 14 different designs in total) I included a beautiful Bible verse about love. What better place to learn love from! Each card has enough space that I can write a short message to my SWAGTHDNP* husband each morning. He's usually up before I am, so I'm planning on leaving them beside the coffee pot each night after I close up for bed.
You can download a copy of the love notes template HERE and write your better half a love note each morning leading up to Saint Valentine's Day. On St. Valentine's Day itself, leave an extra special treat with this candy love note paired with an adorable heart healthy treat. What a great way to celebrate marital love!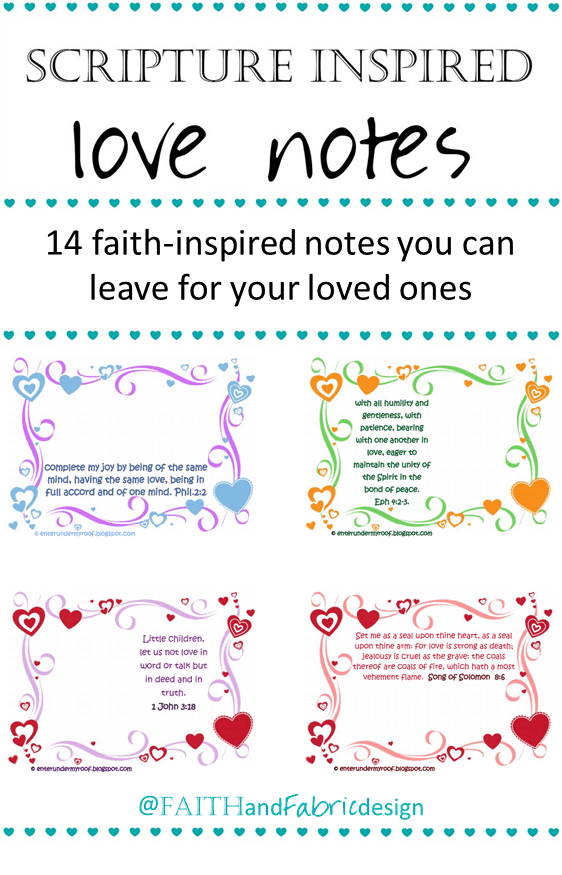 *simply wonderful amazing gorgeous talented handsome darn near perfect


Just for fun…this post links up at
Equipping Catholic Families
& 
CBN
.
(Visited 2,015 times, 2 visits today)