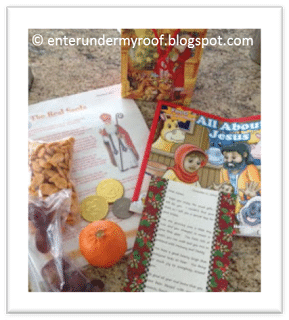 What a beautiful surprise to wake up to this morning!!! Saint Nicholas came to visit us last night – completely unexpected. I went to sleep last night remembering how Saint Nick would come to our house growing up and leave a half dollar in our shoes (thanks, Mom) and looked forward to the day when we could do the same with our son. Then, this morning, when hubby went outside to get the newspaper, he found a package from Saint Nick tied to the front door! We opened it and I couldn't help but tear up reading the beautiful letter from Saint Nick, as well as the story of Saint Nick behind what a truly giving, kind person he was. I loved the gifts he brought us…in addition to the grapes and goldfish (our son's favorite snack right now), he brought us an orange (a traditional Polish gift like my grandmother gave), coins, and a beautiful children's book called All About Jesus (Read and Sing Along). 
I wish everyone a wonderful Saint Nicholas Day and encourage you to not only start a tradition each December 6th with your family but to take the time to teach your children (and perhaps yourself?) WHO Saint Nicholas was and HOW he has "morphed" via the marketing industry into the modern day Santa Clause.
…and thanks, mom, for the beautiful gift this morning. You are more wonderful than you know.

Just for fun, this post links up at these great Catholic and Quilt sites!
(Visited 539 times, 2 visits today)