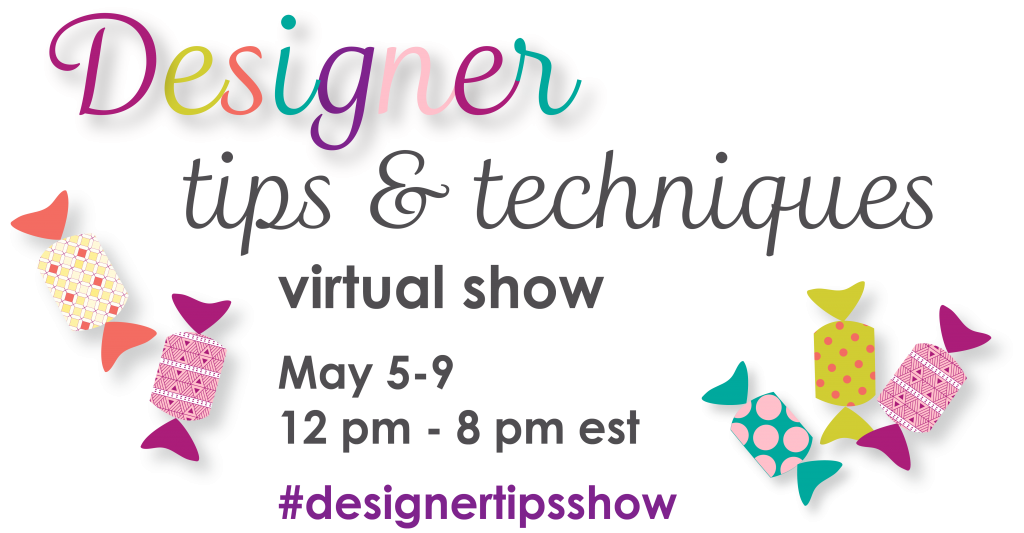 Are you looking to grow your quilting skills while at home? Ready to have a day filled with great tips and tricks to help take your sewing to the next level? We're so excited to bring the Designer's Tips and Tricks Virtual Quilt Show to you!
Each day, for five days, you'll get a tip on the hour – every hour from 12pm EST to 8pm EST – on Facebook. Prefer Instagram? We've got you covered! We'll be there on the half hour, immediately following the Facebook event.
I'll be sharing some tips and tricks TODAY (Tuesday, May 5) at 10:00am PST / 1pm EST on Foundation Paper Piecing as part of our Crab Quilt-Along. If you're part of the quilt-along, please do join in!
Here's the line-up – we can't wait to see you there…and, if you missed my show, you can watch Top Five Tips and Tricks for Foundation Paper Piecing here!
May 5 on Facebook
May 5 12pm ET Cherry Guidry – launch https://www.facebook.com/CherryBlossomsQuiltingStudio
May 5 12:30pm ET Janellea Macbeth www.facebook.com/scrapstashticquilts/
May 5 1pm ET Jen Frost https://www.facebook.com/faithandfabric
May 5 2pm ET Teresa Weaver https://www.facebook.com/yoursewingfriend
May 5 2:30pm ET Jo Westfoot – The Crafty Nomad Jo Westfoot – The Crafty Nomad https://www.facebook.com/thecraftynomad/
May 5 3pm ET Becca Fenstermaker (Pretty Piney Quilts) https://facebook.com/prettypiney
May 5 4pm ET Michelle Renee Hiatt https://www.facebook.com/sewonthego.net/
May 5 4:30pm ET Margaret Willingham-Eye of the Beholder Quilt Design https://www.facebook.com/EyeoftheBeholderQuilt/
May 5 5pm ET Marlene Oddie https://www.facebook.com/kissedquilts
May 5 5:30pm ET Annie Unrein https://www.facebook.com/patternsbyannie/
May 5 6pm ET Leanne Parsons https://www.facebook.com/devotedquilterdesigns
May 5 7pm ET Jennifer Fulton https://www.facebook.com/inquiringquilter/
May 5 7:30pm ET Reed Johnson https://www.facebook.com/bluebearquilts/
May 5 8pm ET Tammy Silvers – launch https://www.facebook.com/tamarinis/
May 6 on Facebook
May 6 12pm ET Sue Pelland https://www.facebook.com/suepellanddesigns
May 6 1pm ET Annette Ornelas https://www.facebook.com/southwind.designs/
May 6 2pm ET Kate Colleran https://www.facebook.com/SeamsLikeaDreamQuilts/
May 6 3pm ET Melissa Marginet https://www.facebook.com/melissa.marginet.quilter/
May 6 4pm ET Jackie Kunkel https://www.facebook.com/cantonvillagequiltworks/
May 6 5pm ET
May 6 5:30pm ET Melissa Merriman Harr https://www.facebook.com/toadallyquilts/
May 6 6pm ET Laura Piland https://www.facebook.com/sliceofpiquilts/
May 6 7pm ET Terri Vanden Bosch https://www.facebook.com/lizardcreekquilting/
May 6 7:30pm ET Swan Sheridan https://www.facebook.com/swanamitystudios
May 6 8pm ET Annie Smith https://www.facebook.com/anniesmithqs
May 7 on Facebook
May 7 12pm ET Lynn Kane, Puppy Girl https://www.facebook.com/puppygirllynn
May 7 1pm ET Cristy Fincher https://www.facebook.com/PurpleDaisiesQuilting/
May 7 2pm ET Debbie Wendt https://www.facebook.com/Wendt-Quilting-280123925340667/
May 7 3pm ET Shelley Cavanna, Coras Quilts https://www.facebook.com/CorasQuilts/
May 7 4pm ET Monique Kleinhans, Ladybug's Cabin https://www.facebook.com/ladybugscabin/
May 7 5pm ET Heidi Pridemore https://www.facebook.com/heidipridemorewhimsicalworkshop
May 7 6pm ET Jerry Stube, Jerry Stube Designs https://www.facebook.com/TheQuiltersQuarters/
May 7 7pm ET Simone Fisher, Simone Quilts https://www.facebook.com/SimoneQuilts
May 7 8pm ET Nicole Moore, Sew Much Moore https://facebook.com/SewMuchMooreInStore/
May 8 on Facebook
May 8 12pm ET Becky Campbell https://www.facebook.com/sewforeverquiltingbybeckycampbell/
May 8 1pm ET Tina Dillard – Quilting Affection Designs https://www.facebook.com/quiltingaffectiondesigns 9
May 8 2pm ET Beth Helfter – EvaPaige Quilt Designs https://www.facebook.com/EvaPaigeQuiltDesigns
May 8 3pm ET Sherri Noel – Rebecca Mae Designs https://www.facebook.com/rebeccamaedesigns/
May 8 4pm ET Kathleen McCormick – Kathleen McMusing https://www.facebook.com/kathleenmcmusing
May 8 5pm ET On Williams Street – Kimie and Missy https://www.facebook.com/onwilliamsstreet
May 8 6pm ET Andi Stanfield – True Blue Quilts https://facebook.com/Anditruebluequilts
May 8 7pm ET Nancy Scott – Masterpiece Quilting http://www.facebook.com/MasterpieceQ
May 8 8pm ET Lisa Ruble https://www.facebook.com/LoveToColorMyWorld/
May 9 on Facebook
May 9 12pm ET Sherry Shish https://www.facebook.com/poweredbyquilting
May 9 1pm ET Cristina De Miranda / Ships & Violins https://facebook.com/shipsandviolins
May 9 2pm ET Toni Smith/Quiltoni https://www.facebook.com/Quiltoni/
May 9 3pm ET Hexadoodle Quilts/ Alison Stothard https://facebook.com/hexadoodlequilts
May 9 4pm ET Bobbie Gentili ~ The Geeky Bobbin https://facebook.com/geekybobbin
May 9 5pm ET Ebony Love – LoveBug Studios https://facebook.com/lovebugstudios
May 9 6pm ET Carolina Moore facebook.com/AlwaysExpectMoore
May 9 7pm ET Kathryn LeBlanc of Dragonfly's Quilting Design Studio https://www.facebook.com/dragonflysquiltingdesignstudio
May 9 8pm ET Tammy Silvers/Tamarinis – wrap up presentation https://www.facebook.com/tamarinis/
May 5 on Instagram
May 5 12:30pm ET IG Cherry Guidry – launch https://www.instagram.com/cherryblossomsstudio/
May 5 1:00pm ET Janellea Macbeth https://www.instagram.com/scrapstashticquilts/
May 5 1:30pm ET IG Jen Frost https://www.instagram.com/faithandfabric
May 5 3:00pm ET Jo Westfoot – The Crafty Nomad https://www.instagram.com/thecraftynomadfleet
May 5 3:30pm ET IG Becca Fenstermaker (Pretty Piney Quilts) https://instagram.com/prettypiney
May 5 4:30pm ET IG Michelle Renee Hiatt https://www.instagram.com/mshellhiatt
May 5 5pmET Margaret Willingham-Eye of the Beholder Quilt Design https://www.instagram.com/eobquiltdesigns/
May 5 5:30pm ET IG Marlene Oddie https://instagram.com/marlene.kissedquilts
May 5 6:00pmET Annie Unrein https://www.instagram.com/patternsbyannie/
May 5 6:30pm ET IG Leanne Parsons https://www.instagram.com/devotedquilter
May 5 7:30pm ET IG Jennifer Fulton https://www.instagram.com/inquiringquilter/
May 5 8:00pm ET IG Reed Johnson https://www.instagram.com/bluebearquilts/
May 5 8:30pm ET IG Tammy Silvers – launch https://www.instagram.com/tamarinis/
May 6 on Instagram
May 6 12:30pm ET IG Sue Pelland @suepellanddesigns
May 6 1:30pm ET IG Annette Ornelas @southwind_quilts
May 6 2:30pm ET IG Kate Colleran @seamslikeadreamquilts
May 6 3:30pm ET IG Melissa Marginet @melissamarginet
May 6 4:30pm ET IG Jackie Kunkel https://www.instagram.com/quilter623/
May 6 5:30pm ET IG
May 6 6:00pm ET IG Melissa Merriman Harr https://www.instagram.com/toadallyquilts/
May 6 6:30pm ET IG Laura Piland https://www.instagram.com/sliceofpiquilts/
May 6 7:30pm ET IG Terri Vanden Bosch https://www.instagram.com/lizardcreekquilting/
May 6 8:00pm ET Swan Sheridan https://www.instagram.com/swanamity
May 6 8:30pm ET IG Annie Smith https://www.instagram.com/anniesmithqs
May 7 on Instagram
May 7 12:30pm ET IG Lynn Kane, Puppy Girl https://instagram.com/puppy_girl_lynn3
May 7 1:30pm ET IG Cristy Fincher https://www.instagram.com/cristycreates/
May 7 2:30pm ET IG Debbie Wendt https://instagram.com/debbiewendtquilting
May 7 3:30pm ET IG Shelley Cavanna, Coras Quilts Www.instagram.com/corasquilts
May 7 4:30pm ET IG Monique Kleinhans, Ladybug's Cabin https://www.instagram.com/ladybugscabin/
May 7 5:30pm ET IG Heidi Pridemore https://www.instagram.com/whimsicalworkshop/
May 7 6:30pm ET IG Jerry Stube Jerry Stube (@stubej) on Instagram • 1 photos and videos
May 7 7:30pm ET IG Simone Fisher, Simone Quilts https://www.instagram.com/simonequilts
May 7 8:30pm ET IG Nicole Moore, Sew Much Moore https://www.instagram.com/sewmuchmoore/
May 8 on Instagram
May 8 12:30pm ET IG Becky Campbell https://www.instagram.com/sewforeverbybeckycampbell/
May 8 1:30pm ET IG Tina Dillard – Quilting Affection Designs https://www.instagram.com/quiltingaffectiondesigns/
May 8 2:30pm ET IG Beth Helfter – EvaPaige Quilt Designs www.instagram.com/evapaigequilts
May 8 3:30pm ET IG Sherri Noel – Rebecca Mae Designs https://www.instagram.com/rebeccamaedesigns/?hl=en
May 8 4:30pm ET IG Kathleen McCormick – Kathleen McMusing https://www.instagram.com/kathleenmcmusing/
May 8 5:30pm ET IG On Williams Street – Kimie and Missy www.instagram.com/onwilliamsstreet
May 8 6:30pm ET IG Andi Stanfield – True Blue Quilts https://www.instagram.com/truebluequilts
May 8 7:30pm ET IG Nancy Scott – Masterpiece Quilting www.instagram.com/MasterpieceQuilting
May 8 8:30pm ET IG Lisa Ruble https://www.instagram.com/lisaerin1121/
May 9 on Instagram
May 9 12:30pm ET IG Sherry Shish https://www.instagram.com/poweredbyquilting
May 9 1:30pm ET IG Cristina De Miranda / Ships & Violins https://www.instagram.com/shipsandviolins
May 9 2:30pm ET IG Toni Smith/Quiltoni https://www.instagram.com/quiltoniquilts/
May 9 3:30pm ET IG Hexadoodle Quilts/ Alison Stothard https://www.instagram.com/hexadoodlequilts
May 9 4:30pm ET IG Bobbie Gentili ~ The Geeky Bobbin https://instagram.com/geekybobbin
May 9 5:30pm ET IG Ebony Love – LoveBug Studios https://instagram.com/lovebugstudios
May 9 6:30pm ET IG Carolina Moore instagram.com/craftmoore
May 9 7:30pm ET IG Kathryn LeBlanc of Dragonfly's Quilting Design Studio https://www.instagram.com/dragonflysquiltingdesignstudio
May 9 8:30pm ET IG Tammy Silvers/Tamarinis – wrap up presentation https://www.instagram.com/tamarinis/
(Visited 348 times, 1 visits today)