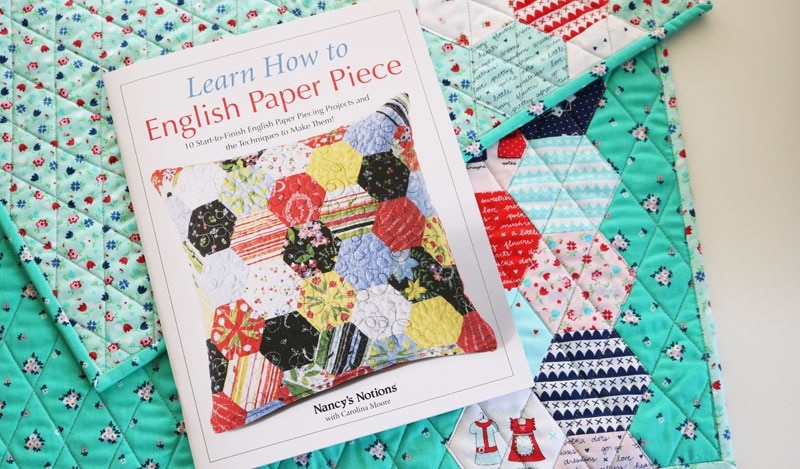 Last August, my family and I left for a one-year cross country journey. We packed the essentials into a camper, and the rest – including my beloved sewing machine – into storage. It was hard; for me, sewing has always been my creative outlet in the morning hours before everyone wakes up, or evenings after a long day of work.
No sewing machine hasn't meant the end to sewing, though. I've learned to English paper piece (EPP), which is a wonderful slow-sewing method and perfect for our on-the-go lifestyle. When I learned that Carolina Moore was going to publish a book all about EPP, I was so excited to pick up a copy and learn even more!
Her book, Learn How to English Paper Piece, includes ten adorable projects like hexie pillows, zippered pouches, diamond totes, and my favorite – mason jar pouches! Seriously, how cute are these little bags?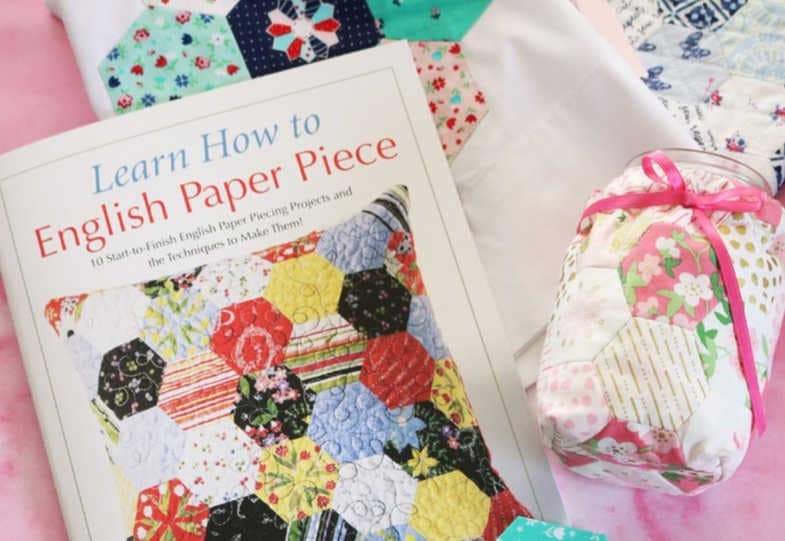 What I like about this book are the photo-rich pages. Every page in the book is filled with step by step instructions alongside colorful photos, guiding you throughout the process. It's kind of like a cookbook, where you only want to cook the recipes that have photos, no?
I found the photo-rich images especially helpful when I started the base for the coasters, which use diamond shapes. I've never done any EPP with diamonds, so after ordering the foundation papers, this project felt like a great place to start. With clear instructions on how to baste the diamonds, and how to handle those little tails, I feel comfortable in tackling them!

She also had a great tip on how to keep the sharp points of your EPP shapes after you take the paper out…but ssssh! It's a secret and you'll have to pick up a copy of the book to find out!
In the mean time, I've been following her step-by-step instructions to make the hexagon pillow. I've been loving these fabrics by Island Batik, and cutting into them was like creating a color explosion. Just beautiful. I've just about finished the hexagon top layer, and – once done – will set this aside to properly sew into the pillow once we get home in July. Sewing on a zipper isn't something I want to tackle hand sewing!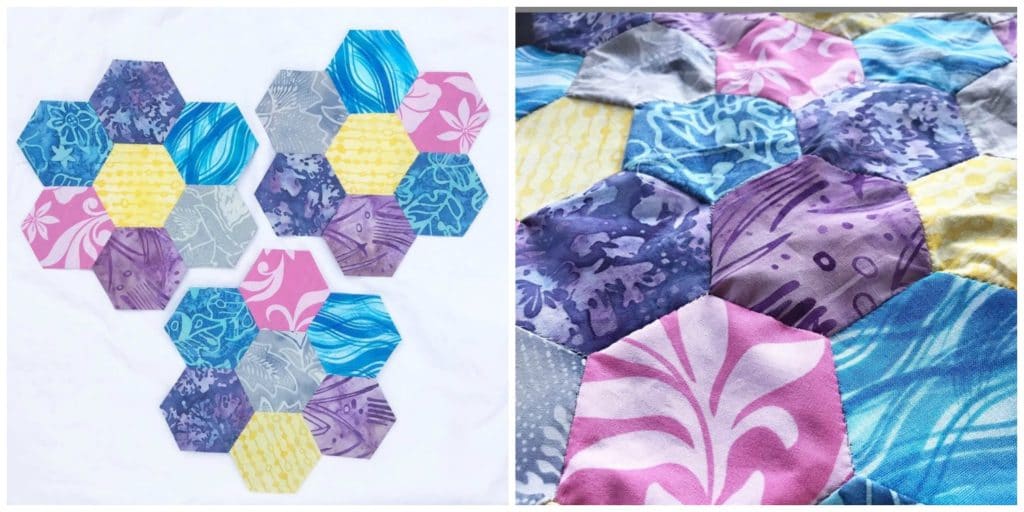 There are some really awesome other folks on this blog tour, so stop by and check out the projects they've been making with this great EPP book!
Friday, January 25th: Carolina from Always Expect Moore
Saturday, January 26th: Linda from Linda B Creative and Havalah from Sisters, What
Sunday, January 27th: Teresa from Sewn Up, Teresa Down Under and Stephanie from Modern Sewciety
Monday, January 28th: Jen from Faith and Fabric (that's me!) and Alicia from Sew What Alicia
Tuesday, January 29th: Sherry from Powered by Quilting and Marie from Underground Crafter
Wednesday, January 30th: Brooke from Brooklyn Berry Designs and Melody from Two Maker Chicks
Thursday, January 31st: Ali from Home Crafts by Ali and Sarah from Quilted Diary
Friday, February 1st: Bobbie from the Geeky Bobbin and Gemia from Phat Quarters
Saturday, February 2nd: Beth from Garland Girl Quilts and Bobbi from Snowy Days Quilting
Sunday, February 3rd: Kirsty from Bonjour Quilts and Simone from Charmed Life Quilting
Monday, February 4th: Aimee from Things Small and Simple and Mathew from Mister Domestic
Tuesday, February 5th: Kathy from Kathy's kwilts and more and Kim from Stitched in Purple
Wednesday, February 6th: Audrey from the Cloth Parcel and Anorina from Samelia's Mum
Thursday, February 7th: Laura from Slice of Pi Quilts and Lauren from Molly and Mama
Friday, February 8th: Sarah from Saroy and Stephanie from Swoodson Says
(Visited 824 times, 3 visits today)