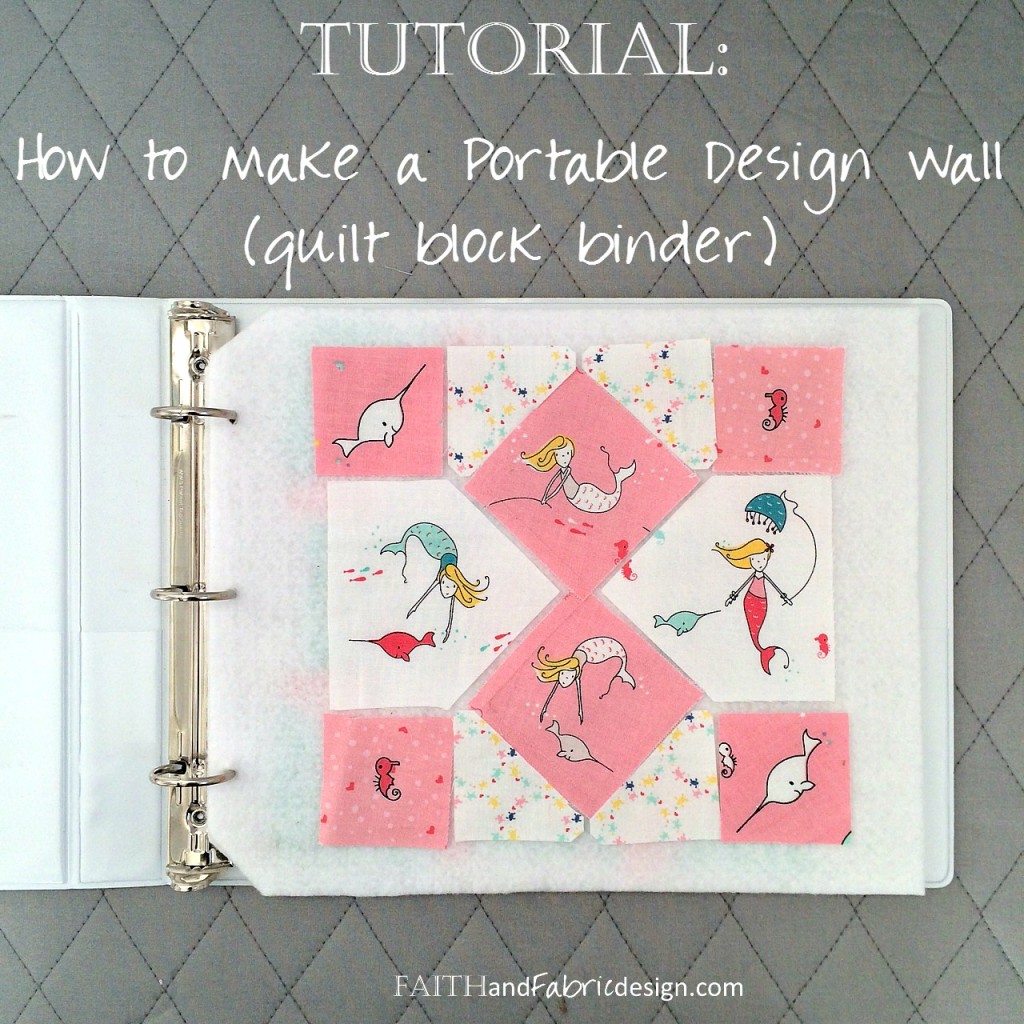 Quilters – and crafters of any nature, really – are naturally social (or should I say sew-cial?). It's not nearly as much fun to create your latest block by yourself as it is surrounded by friends, having great conversation, and sharing a glass of wine.
One challenge I've run into is what to do with the pieces of fabric that I've prepped for a 6-inch block quilt that I'm working on. I would cut the pieces, and slip them into a plastic baggie – but then they would get quite wrinkled, and it would take time to figure out how to reassemble…especially if it was a fussy cut.
So, I created a portable design wall for quilt blocks! This simple quilt block binder allows you to create quilt blocks anywhere and safely store the cut pieces in the proper arrangement without getting misplaced. The felt makes the perfect surface for the cut fabric to stick to, and the smooth side of the canvas ensures that the cut fabric on the following page won't come loose. The streamline size of the quilt block binder lets you cut and save many blocks until you're ready to sew, and keeps your larger design wall empty for other projects. TIP: Don't forget these other must-haves for when you're packing to sew on the go!
Ready? Here's how:
WHAT YOU NEED
HOW TO MAKE
Spray your adhesive glue to one side of the felt. Arrange the canvas so that the felt covers the canvas. Don't worry if one is larger than the other as we will trim in a later step. Set aside and let dry.

Once dry, trim:

measure the length and width of your binder. Trim your canvas/felt page to be the same width and height as the space to the right of the three-ring allows. In the photo, you'll see that the pages are trimmed to 8.5″ x 11″.
using the three-ring as a guide, hole punch three holes in the canvas/felt page so it will fit into the binder.
trim the corners of the canvas/felt page to accommodate the tabs in your binder (if needed)

Insert pages into binder – you're done with your portable design wall!


Just for fun, this post links up at these great Catholic & quilting sites!
(Visited 1,970 times, 4 visits today)